FRANK by OCBC x Yik Keat—Patience, Prudence, and Photography
Yik Keat is a self-taught urban photographer and is a highly sought after creator who is known for his colour technique and ability to bring personality to street photography. He puts his heart and soul in every photograph and wants his audience to be captivated by every shot.
If there's one thing the social media age has taught us, it's that anything is possible—starting a business, advocating a cause, or even launching a career, which is exactly what Lee Yik Keat, or YK as he's better known, has done. Despite being just 23 years old, the young photographer's vivid and cinematic images have led him to amass over 237,000 followers on Instagram, and garnered him many opportunities, from working with renowned brands from Adidas to Apple to landing a gig as an official photographer for Ultra Singapore for two consecutive years; as well as numerous features on magazines and websites, both locally and overseas.
In person, YK's lean frame and reserved demeanour belie the stature of his accomplishments and grandeur of his work—if he's proud of his achievements, you don't get the sense of it at all. While it might be easy to dismiss him as another one of those 'influencers' who are in it for the fame and fortune, YK's thoughtful, considered replies to each of our questions show us that this prolific creator is not only wise beyond his years, but well aware of the privileged position he's in, and determined to carve out a career that will last long after the popularity of Instagram wanes. It would also come as a surprise to most to hear that YK is entirely self-taught—he started experimenting with photography through an iPhone 4, through which he learnt the basics and formed his foundation. Having spent such a long time on Instagram, and having seen the coming and going of various trends, YK is keenly aware that visual styles are increasingly easy to replicate, so what drives him is the instinct to delve in beyond just the aesthetic value of the image to tell a story and deliver emotion. We got to see YK in action for the better part of a day, first as he visited In An Instant, the ongoing Polaroid-themed exhibition at the National Museum Singapore, and as he traversed the familiar streets of Little India. In between, we heard from him on how he got started, how he's figuring out his finances along the way, and how he plans to grow and evolve down the path of what we're sure will be an extensive and successful career.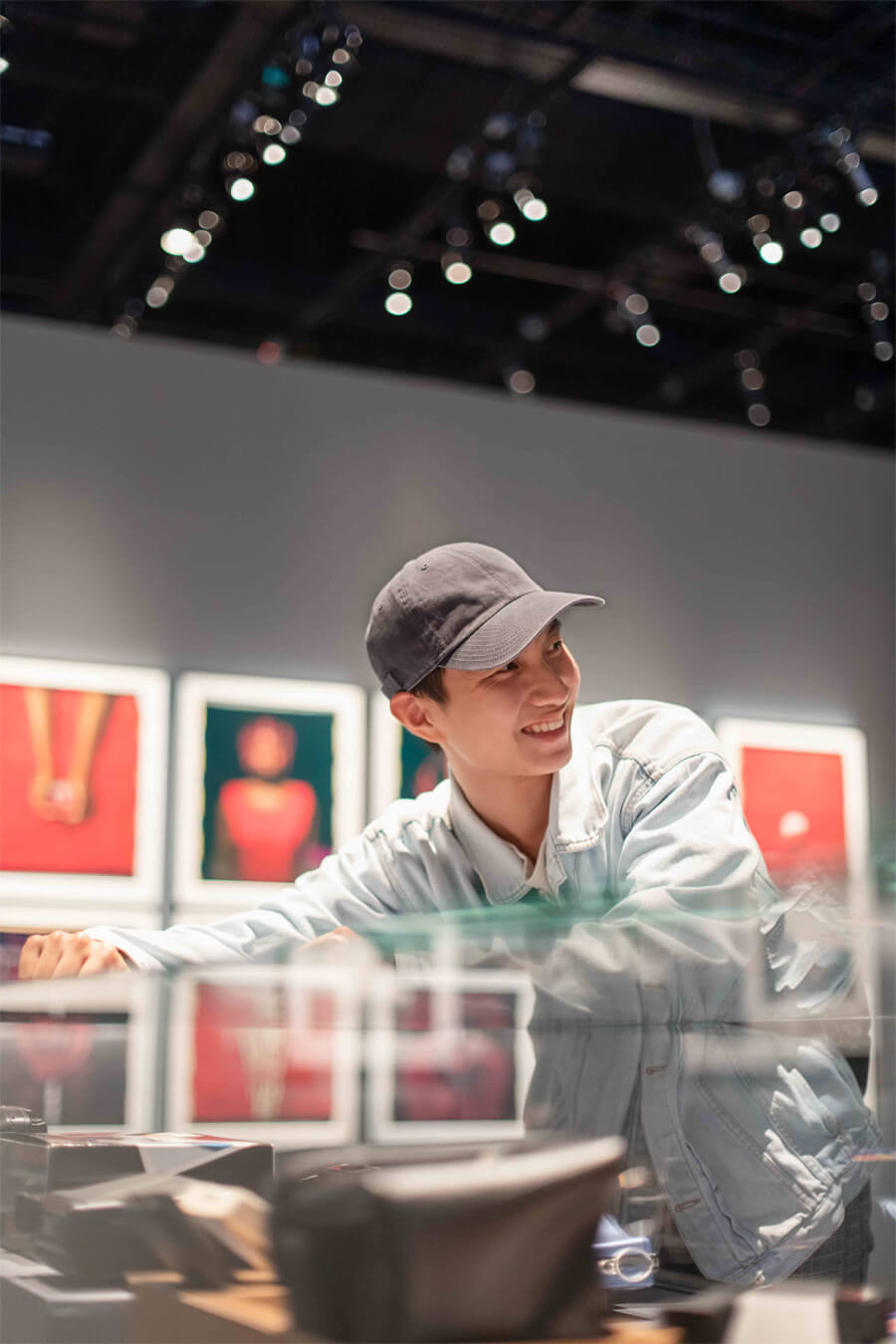 You picked up photography 6 years ago—how did you get started, and what kept you going?
It started purely out of curiosity. Instagram had just started then, and I saw users uploading beautiful images shot on phone cameras, and that inspired to give it a try because I didn't think it was possible. I was helping my relatives out with their delivery business at the time, and in between, I started taking photos. I started on an iPhone 4 (laughs), and shot all my images on that for about three years. Before I shifted to a DSLR, shooting on my phone taught me a lot about photography fundamentals, such as composition, framing, and lighting. I found myself developing a particular interest in urban life, and the ability to capture something different every time kept me going.
How would you say your photography style has developed and changed across the years?
The images I captured in the beginning were all very minimal—pictures of spiral staircases, architecture, clean backgrounds like white walls, and a lot of them used negative space and people to create a sense of scale. Later on, I shifted towards urban architecture and visual storytelling in the urban environment. My style and process have definitely changed a lot, but the drive to create a story for the audience is the same. Now that Instagram is more popular, users tend to be saturated with content, so I felt that my images had to tell a story and be more relatable in order to be impactful and stand out.
What are some of your favourite places or subjects to shoot, and why?
I love shooting in alleys with different shops and work spaces; there's so much life in there and you can capture something interesting and different at every angle. I find Chinatown interesting because there are a lot of raw and genuine characters there, such as the stall owners who are very passionate about what they do. Aside from Chinatown, I like Little India because it also has a lot of character. It's almost like a movie set in a way, with so much going on.
Outside of Singapore, my favourite country to shoot in is Japan, even though I've been there six or seven times. I love that everyone's very engrossed in what they do, so you capture genuine emotion, and they're also very camera-friendly, which makes it easy to photograph them. With all the signs and neon lights, the streets are also aesthetically pleasing in terms of colour and structure, which is perfect for composition. Barcelona is another favourite of mine for its rich Gothic architecture—the buildings are well-structured and incredibly detailed; it's a heaven for architecture photographers.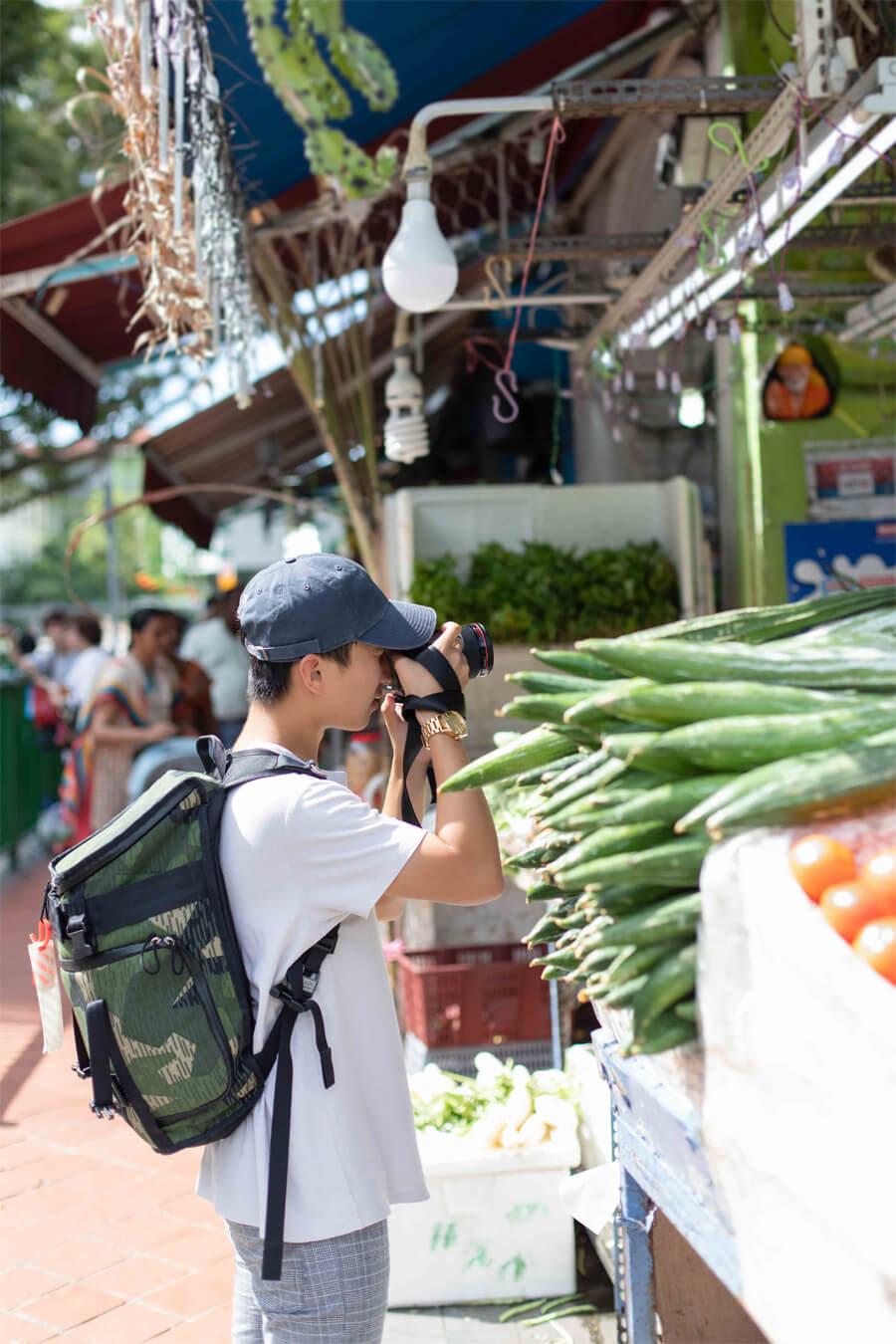 What are some common misconceptions that people have about being a photographer?
People think that photography is all about clicking a button, but there's a lot that goes on behind it. A shoot for a client isn't as easy as just shooting the images—you have to plan the moodboard, communicate your vision to the client, and then come to a compromise, so it's a mixture of professional and personal relations. After the shoot there's a lot of post-processing and colour- grading, and the client has to approve it, which isn't always as free and easy as everyone thinks.
Tell us more about your creative process.
I usually source for inspiration for the brief when I get it, and pin down some locations for the shoot. Next, I'd go down for a recce and shoot for an hour or two to get a feel of the location. After the shoot, I usually process the photos at home; I personally feel like I need the private space for creative flow.
When I'm shooting on the streets, I make an effort to interact with the subject that I'm shooting. If someone's working in a store, I'd go in, see what they sell, then shoot some images of the store owner or the person inside. I'd try to get to know them and their background a little bit more, and give more context to my images to tell the story. It starts with knowing their craft, and then trying to convey that in the photo.
Can you share three tips for taking a good photo?
1. Light is everything. Master outdoor lighting and shoot in soft light, like sunset or sunrise.
2. If it's a planned shoot, have a backup plan in case the weather goes bad. For me, it's either to shoot indoors, or wait about half an hour to see if the weather clears up. If not, my Plan B is to shoot elsewhere.
3. Frame the image with real-life props, like railing and walls. It's important to convey a story through the image you capture, whether it's about the place or where the subject comes from.
Camera equipment, lighting, editing software, accessories—photography can be quite an expensive career. Where did you begin?
I started with an iPhone, and built up a foundation from there. You can begin by getting a decent camera body and lens, and once you start to get paid jobs here and there, save up and then purchase more things. Investing is really a process of snowballing your income, saving money whenever you can, and getting paid jobs so you get your investment back, and buying new gear to get even bigger jobs.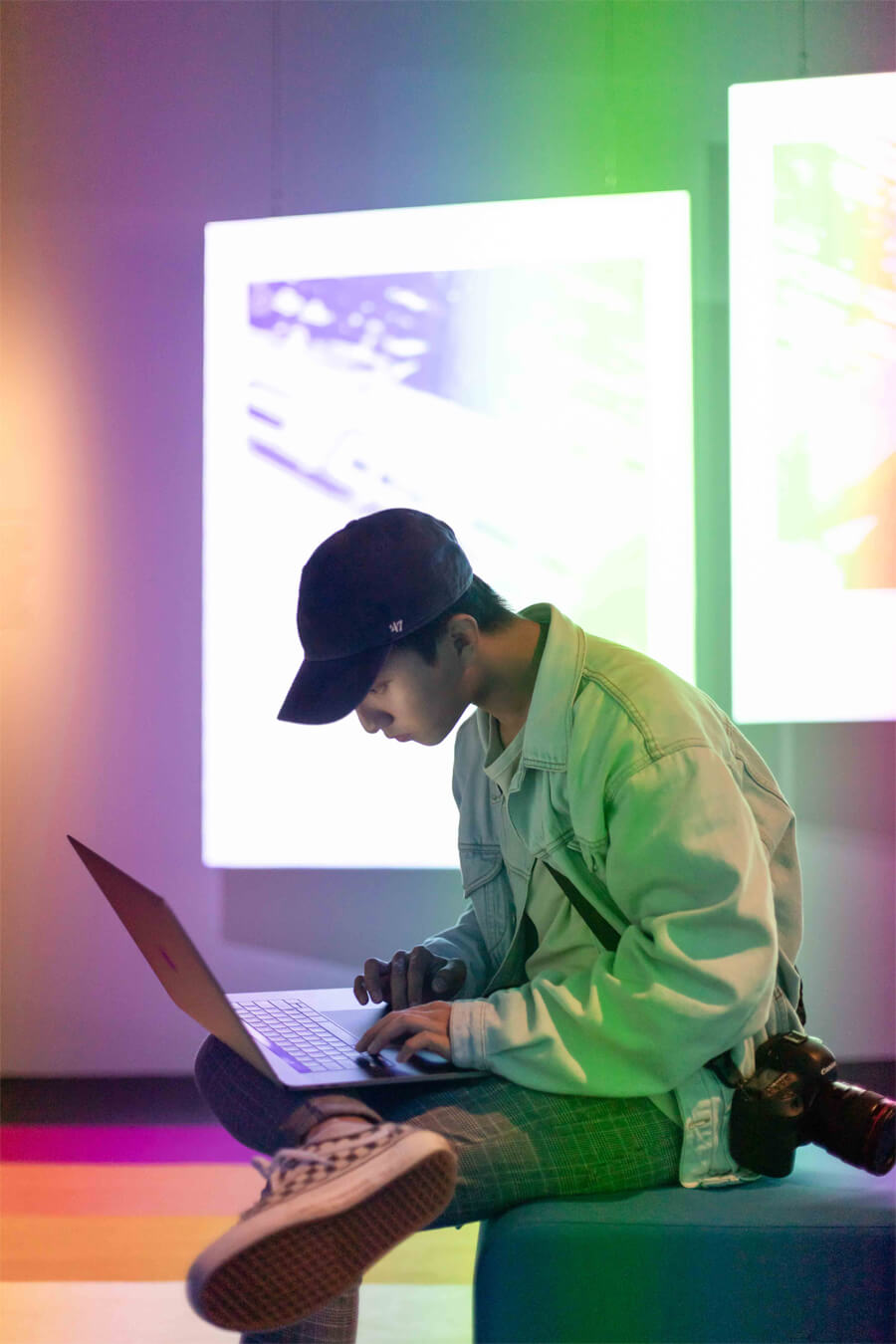 What are some ways you can save?
In general, I try to take public transport whenever possible and save on food. Photography-wise, even though it's pricey, it's good to invest in things that will protect your equipment like a dry box, because they prevent fungus and mould from developing. Even though photography equipment is usually pretty durable, they can last even longer if you learn to take care of them well.
Buying second hand equipment is also a good option for beginners because they don't have to invest so heavily in fresh gear, in case it doesn't work out for them. Software is expensive, and in the long run it can add up a bit if you don't have a steady source of jobs, so new photographers can use free softwares. Of course, they're not as good, but it helps you learn how to use the basic functions before you purchase the actual software.
What has been your best investment, and an investment you regret?
My best investment has probably been a powerful editing computer—if you're editing video, the capacity to process and render the video is important, but if you're just working with photos, it's usually enough that your computer can handle basic Photoshop and colour grading. The investments I've regretted are props that I've only used once or twice. There have been times where I bought certain props like prisms or kaleidoscopes to create specific effects for images, but never used them again after that. They're generally not worth the investment, so I'd advise people to rent such items.
What was the moment that changed your attitude towards money/finances?
When I was in the army, and still taking photos then, I realised that my limited pay meant that I needed to manage my finances for the present and future. Usually, I plan for the projects that I want to do. If it involves an overseas location, then I have to plan for travel and accommodation, and set aside money for that. I read an article that said something along the lines of how you should take the amount you want to spend and divide it by your salary. It's about how many hours you'll have to work to earn back the amount you spent; that way you can see if a purchase is worth it or not.
I don't really have a fixed percentage or number that I set aside, because I'm not the type of person to do that. It can get very frustrating when I keep looking at the numbers, so I gauge it based on feeling. If I earn more in a certain month I'd give myself a bit of leeway to spend, but if I earn less then I'll control myself. It's about self-discipline.
You started taking photos while you were helping your relatives out with their delivery business. What is the importance of family to you, and do you see your photography work as a way to contribute to your family's expenses?
Family is very, very important. They keep me rooted and support me no matter what—they're the first people I share everything with, and they're the backbone of my whole life. Now, my income has only a very small impact on the family's expenses, but I'm also glad to be able to contribute to my family, even if it's just a little bit. If I wasn't doing this I'd be studying, and taking more money from them. Now, I'm able to make my own income and live off that.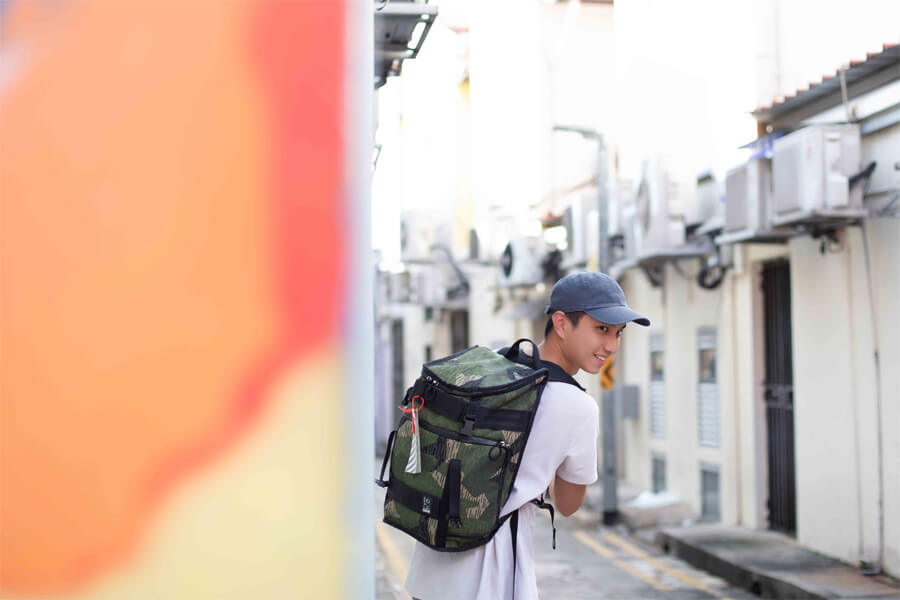 You've worked with big brands such as Adidas, Volvo, Leica, and Apple—as a freelancer, how do you make sure that you and your work are protected?
The main thing that locks you in is a black and white contract, so whenever there's a contract, make sure you proofread it and have someone who is experienced help you out with the small print, because it's often those details that young photographers with little experience are unaware of. What I do sometimes is get a more experienced photographer who knows all the details to help me state what I want.
Do you have any tips for aspiring photographers, be it investing in equipment, or honing their skills or eye?
As I mentioned, you should find an experienced photographer to guide you on things that you can't learn online, and you can also tap into their networks to get to know more people. Social media and photography studios are good places to meet such experienced photographers. I was fortunate that a client paired me up with someone whom I clicked well with.
If there are certain genres of work you want to venture into, you can build your portfolio up first with personal projects before reaching out to potential clients. If car photography's something you want to do, for example, you can start with taking photos of your friends' cars. Try to experiment with different styles, and put your work online so you have something to show to clients.
You also share some editing tips, presets, and respond to Q&As on your Instagram—tell us more about why you do that.
Having started on Instagram myself and building that community from scratch, sharing is my way of giving back, and sometimes it can be a way to learn something new as well, as users give me feedback that can be very helpful.
Nowadays, on Instagram, you tend to see the same angles/compositions/editing styles popping up again and again. How do you stay ahead of the game?
Experiment. I'd try to shoot something that's similar to my current style, then manoeuvre a little bit —not a complete flip—but slowly change and find the identity of a new style. Sometimes it depends on the audience; sometimes they like the new style, and sometimes they don't, but it also depends whether I'm satisfied with it, personally.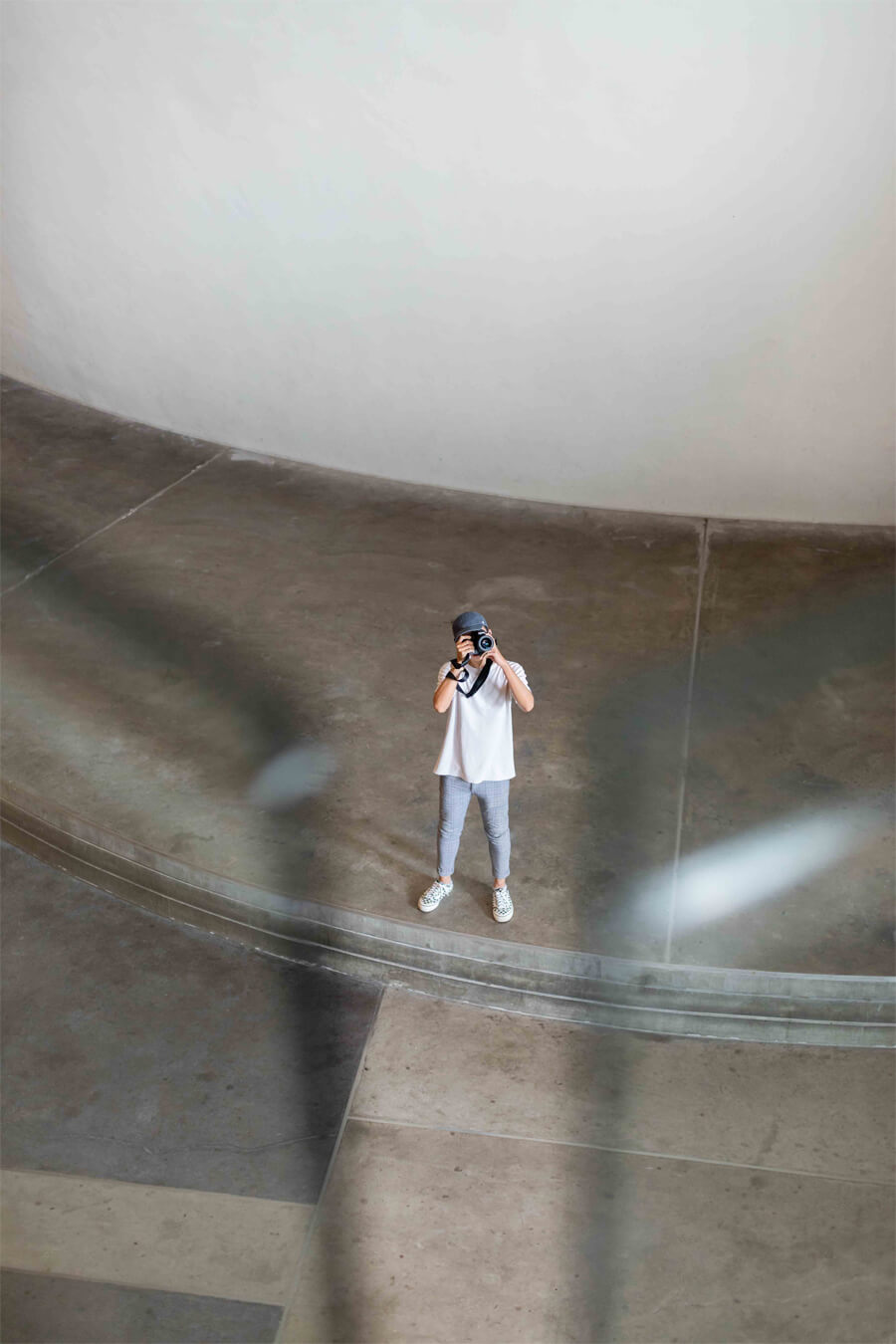 The title and theme of the ongoing exhibition at National Museum Singapore is 'In An Instant' —what are your thoughts on Instagram and 'accessible' or 'pop' art, and how do you think this has changed photography?
Originality doesn't last as long as it used to. A photo can be replicated within hours, because information and images are shared so fast. But the good side is that photography is accessible and available to everyone; it's easy to be shared. In the past it was hard to convey your photographs to an audience but now it's so easy—just a click of a button and you can upload it online for so many people to see. On both the creators' and audience's ends, the whole circle is smaller, making it easier to learn and share.
Youth is such an ephemeral period, always sought for but always changing. As a young photographer yourself, what are your views on this?
The good thing is that you can have a very long career ahead of you if you start early, and people are more inclined to take care of you, so you can afford to make small mistakes if you're starting out. That might not be the case when you have more experience and more expectations placed on you. The bad part is that your lack of experience means that people often don't take you seriously, and if you're competing for a job against a more experienced photographer, you probably won't get it because your portfolio and network are smaller.
Tell us about the concept behind your card design for FRANK.
I am very inspired by cinematic movies—colours, the environment, and atmosphere play a huge part in that. The image for the card was shot when I was in Poland, just outside the airport when I was about to leave the country. It was a freezing cold night and I thought the fog looked really cinematic and would make for a great photo. So I set up my frame and then it was just about waiting for the right person to walk into it—I waited about 10 minutes in the cold to get that shot.
That, to me, is what photography is about—patience. I wanted to convey the message that we need to look deeper, be more patient, and let the work you have done speak for itself. I called the design Resurgence because the process reminded me of life: it's messy, it's chaotic, it's unexpected. However, if you've found your dreams, you need to set your vision for it, and chase it with all your might and against all odds—even if you never know whether the right person will walk into your frame at just the right time in the dead of night.
Here's Yik Keat's card design for FRANK, titled 'Resurgence'. Available for a limited time only, so get yours here!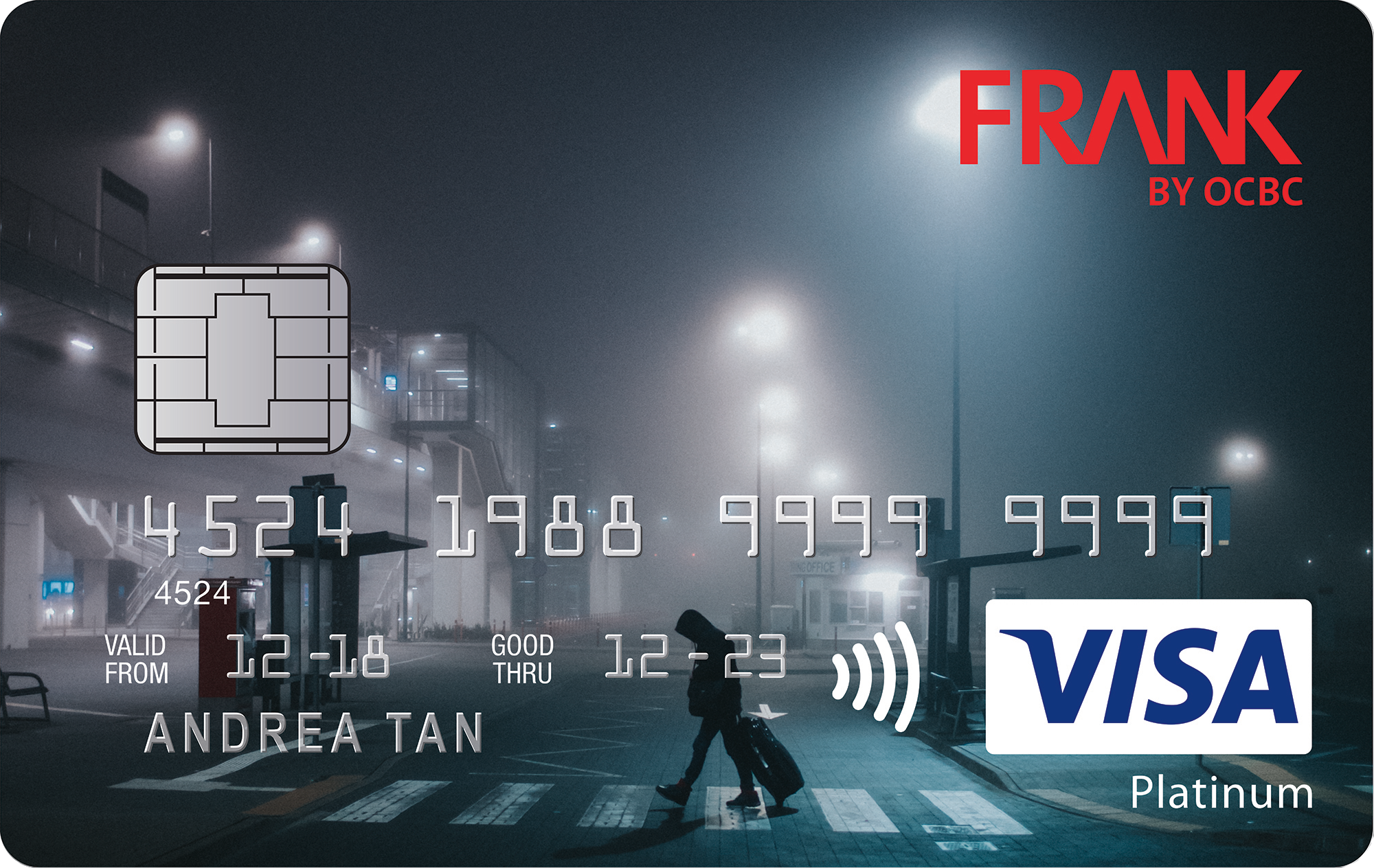 Click here to find out more about the FRANK by OCBC collaboration with Yik Keat and the National Museum of Singapore.
Knowledge is money
What to read next