FRANK by OCBC x cliothewindow: passions and relationships
Clio is an illustrator and visual designer from Singapore. She loves churning her observations and emotions through a messy imagination. Her resulting artwork? A whimsical and playful take of the reality around her.
Meet the creative force behind the enchanting sketches that capture life's simple joys in the most endearing way possible—cliothewindow. Her artistic journey began in the classroom of her secondary school, where her fascination for art took root. As with almost every Asian parent's advice of "Art will not feed you", she decided to pursue a degree in Information Engineering and Media at Nanyang Technological University.
In 2019, Clio's brainchild found its online home on Instagram. This platform became the canvas on which she shared her passion for art. And in 2022, her creative venture expanded to TikTok, ushering in a new chapter of her artistic adventures.
This year, FRANK by OCBC collaborates with cliothewindow, the multi-faceted and talented illustrator. Enamored by her distinctive and whimsical illustrations, we embarked on a venture to grace FRANK Debit Cards with her signature flair. FRANK by OCBC also had the privilege of engaging in a candid conversation with cliothewindow, delving into the inception of her side-hustle. Her journey stands as a beacon of inspiration for today's youth, a testament to the potential that lies within determined individuals.
The collaboration between FRANK by OCBC and cliothewindow culminated in the creation of 5 romanticised Debit Card designs, each inspired by various facets of relationships. A celebration of modern connections and youthful dynamism, these cards seamlessly unite to form a captivating whole. Beyond their practical use, and whether in a relationship or not, they also serve as keepsakes, reflecting cliothewindow's adorable illustrations. Join us as we embark on a journey through Clio's creative universe, where imagination meets passion and everyday moments are transformed into timeless expressions.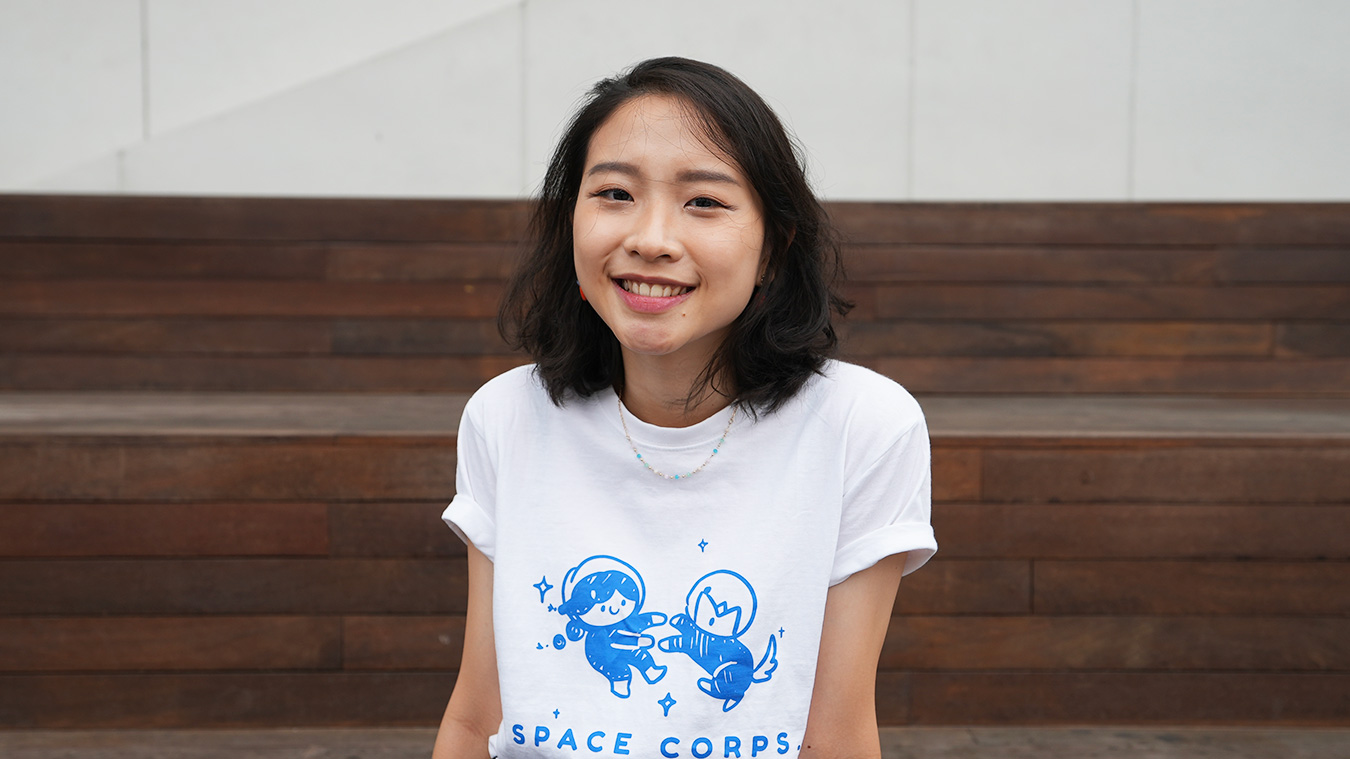 Who is cliothewindow?
I'm Clio Chuang, also known as CliotheWindow, I'm 23 this year, I graduated from NTU just last week, and I'm an illustrator. cliothewindow is an extension of Clio Chuang, stemming from a clever Chinese translation wordplay where "Chuang" resembles "窗口," meaning window. My friend came up with this idea during secondary school, and after Junior College, I realized it was a great idea for my art account, so I just went ahead with it!

My journey began in an art program during secondary school. Even though I paused during Junior College, I continued nurturing my artistic passion on the side. My university major was in engineering, yet I never let go of my art. After graduating from Junior College, I started cliothewindow. I posted on and off initially, but it gained momentum starting last year, to which I started to focus on it a little more.

Currently, Clio Chuang and cliothewindow are synonymous, one and the same. However, as I started to unveil cliothewindow merchandises together with another friend Shu Huai, cliothewindow sort of transformed into a personality on its own.

To venture into TikTok was an idea of a friend, Chun Wei, who encouraged me to share my work online. The positive response surprised me, with the MRT drawing garnering the most virality.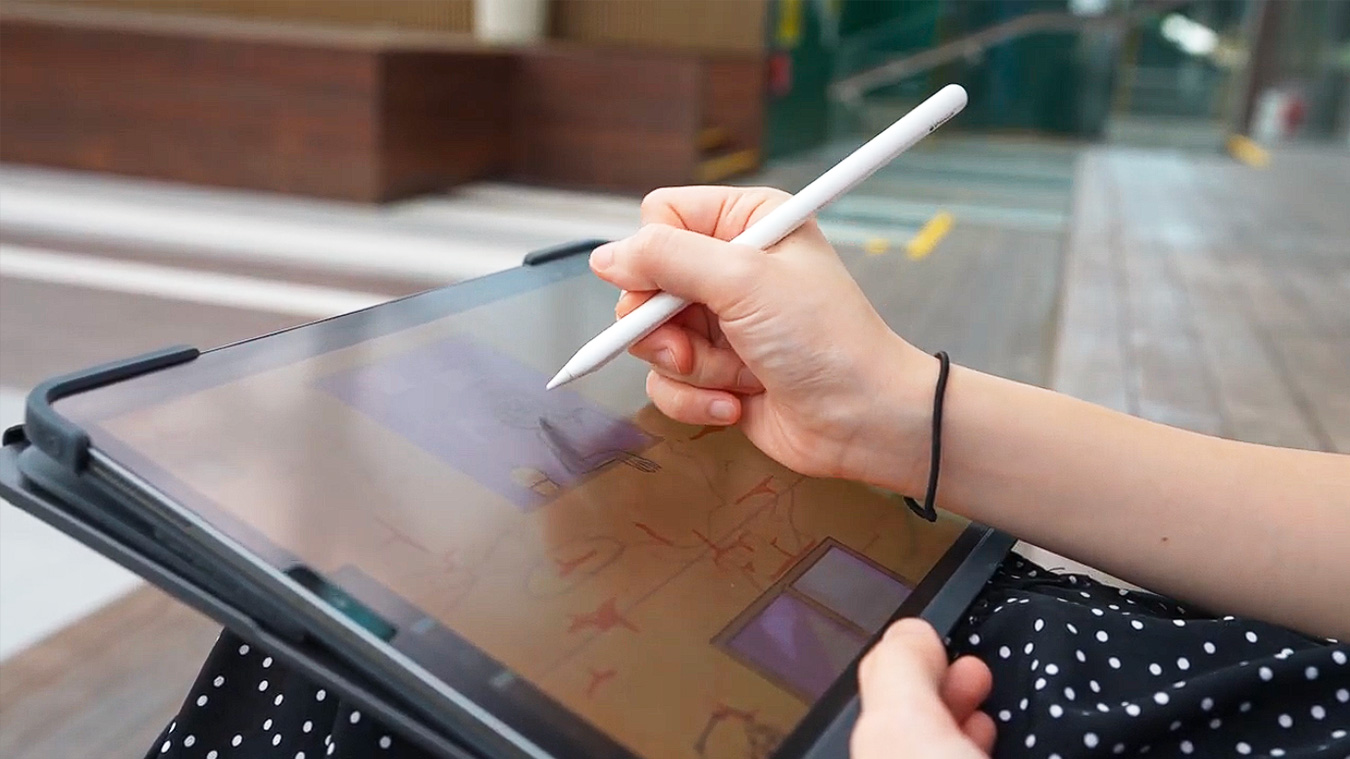 How has your art style evolved from its inception to the present day?
My first artwork published on Instagram was a watercolour drawing done for one of my friends, and it was my favourite piece back then. It was inspired by @maruti_bitamin, and has a different flavour to my art style today.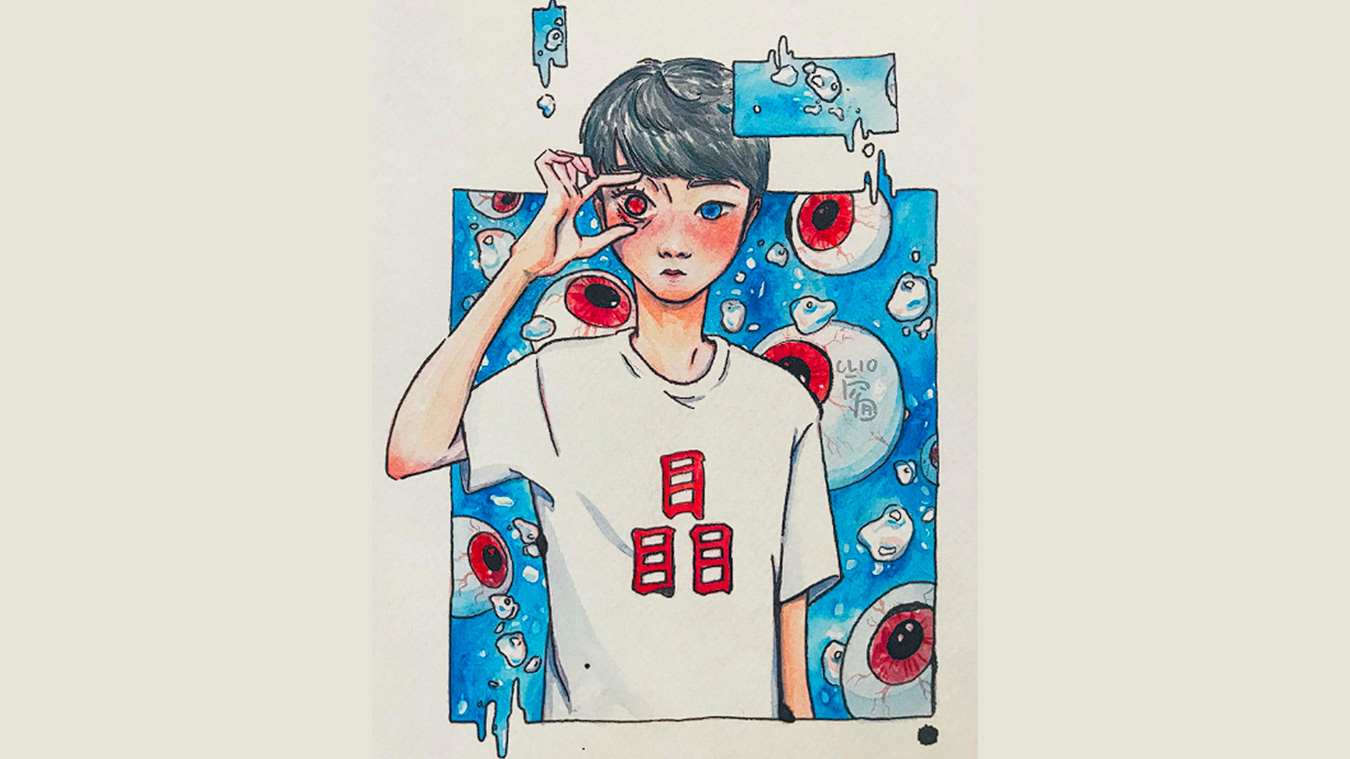 Source: cliothewindow Instagram
My most recent illustration was full-on cutesy, a big shift from my previous style. The change in style grew alongside the influences around me and the tools I attained. Initially, I was very anime and manga influenced, which reflected how I was like in Junior College, but after I started digital illustrations, my drawings became cuter, happier, and even brighter in colour.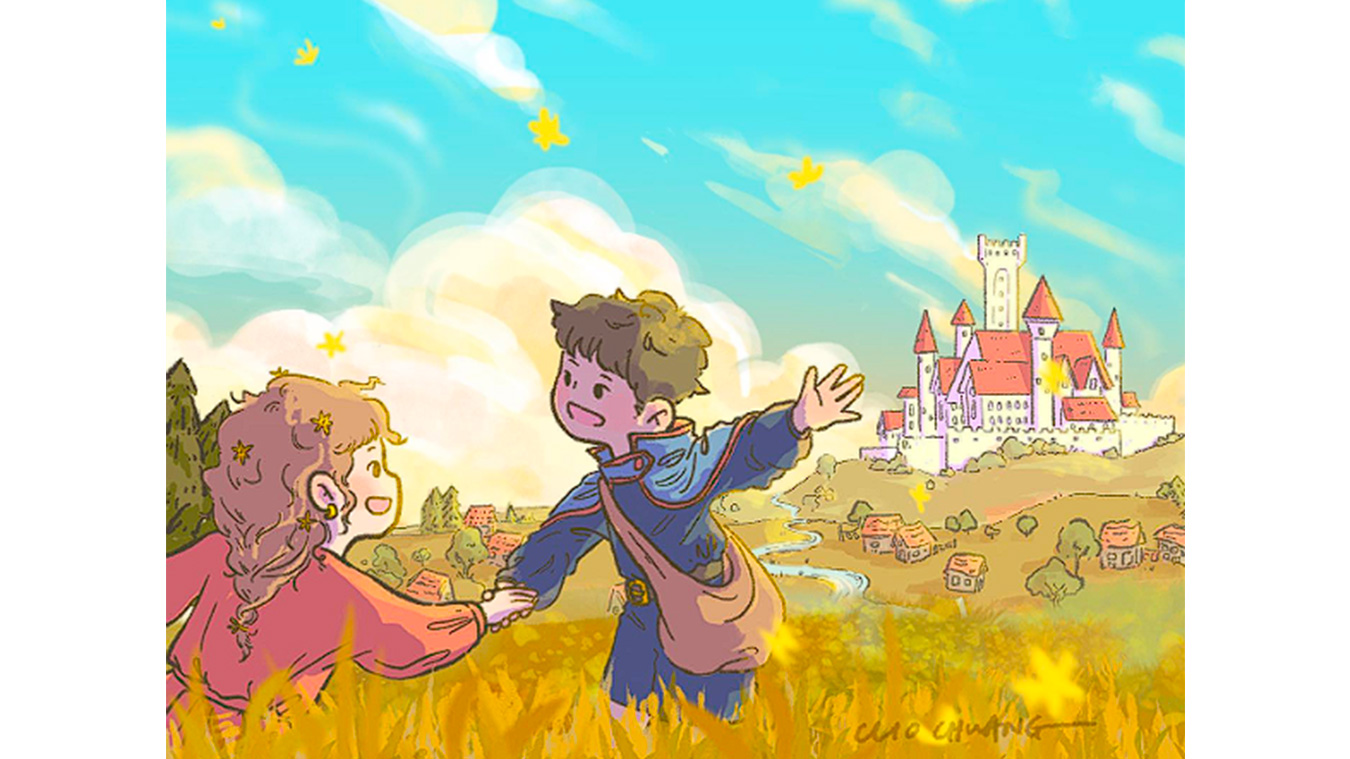 Source: cliothewindow Instagram
My current favourite illustration is "Flower Sale", which I sold in my booth at the Illustration Arts Festival (IAF) 2023. Lots of effort and though have been put into conceptualising this piece instead of just going with my feelings, which I usually do. I absolutely fell in love with this piece because of all the thought process that I have gone through to create this piece.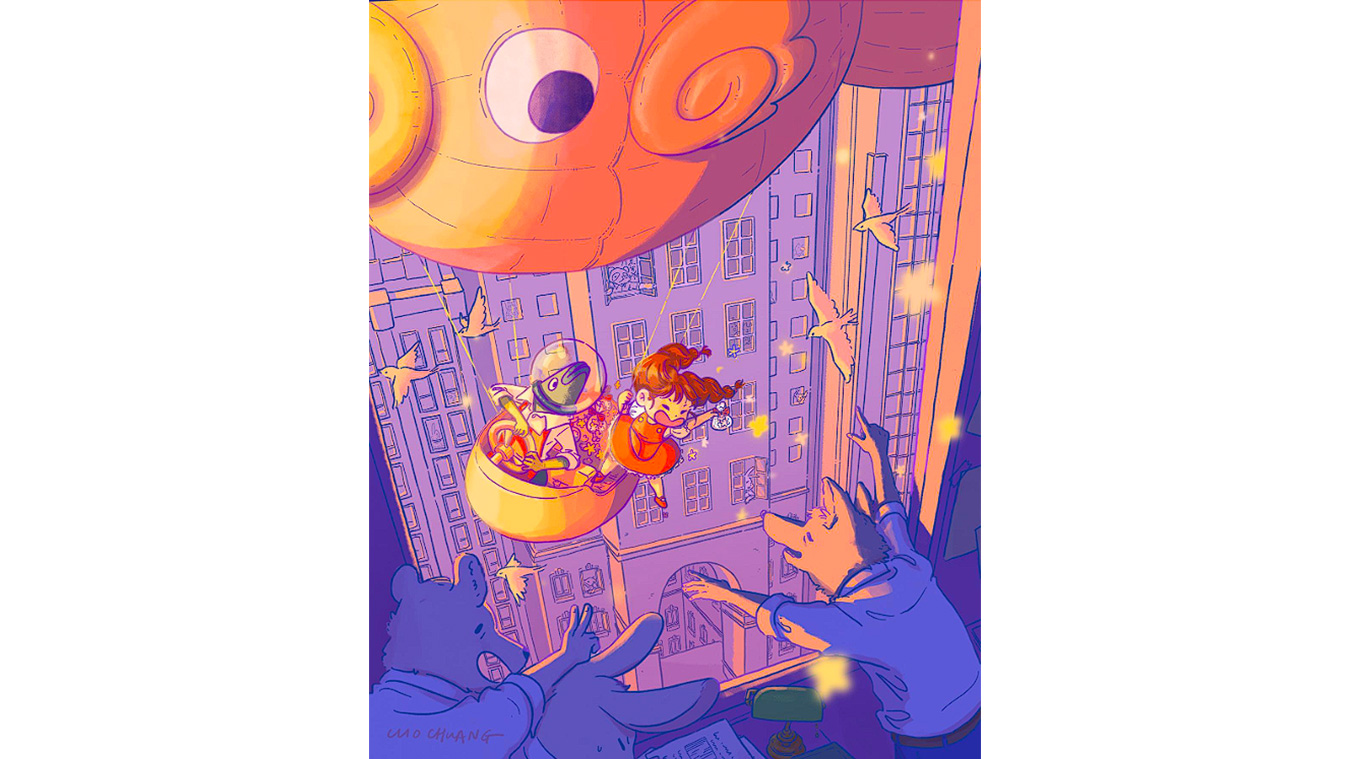 Source: cliothewindow Instagram
Where do you find your inspiration from?
I recently had a booth at IAF, where I had the privilege of meeting numerous artist whom I genuinely adore. Among my sources of inspirations are artists like @maruti_bitamin, as well as the world of manga and anime art in general. I'm also deeply influenced by animations, particularly those from Disney. During my time at IAF, I also got to connect with amazing creators like @rollround and @eatdansleep who inspired me to do more interesting styles in my illustrations. Being around the different creators gave me a wealth of inspiration and motivation to continue exploring creative avenues.
While creating content, I occasionally encounter art blocks. When I initially started using TikTok, I wanted to produce a multitude of videos, which led me to draw for the sake of creating drawing content. When I didn't have any content ideas, I'd sit there until I could find something. When faced with art block, I simply refrain from drawing! Nowadays, I'm more relaxed. I practice sketching to keep my skills honed, and when it comes to illustrations, I draw them when a concept strikes me.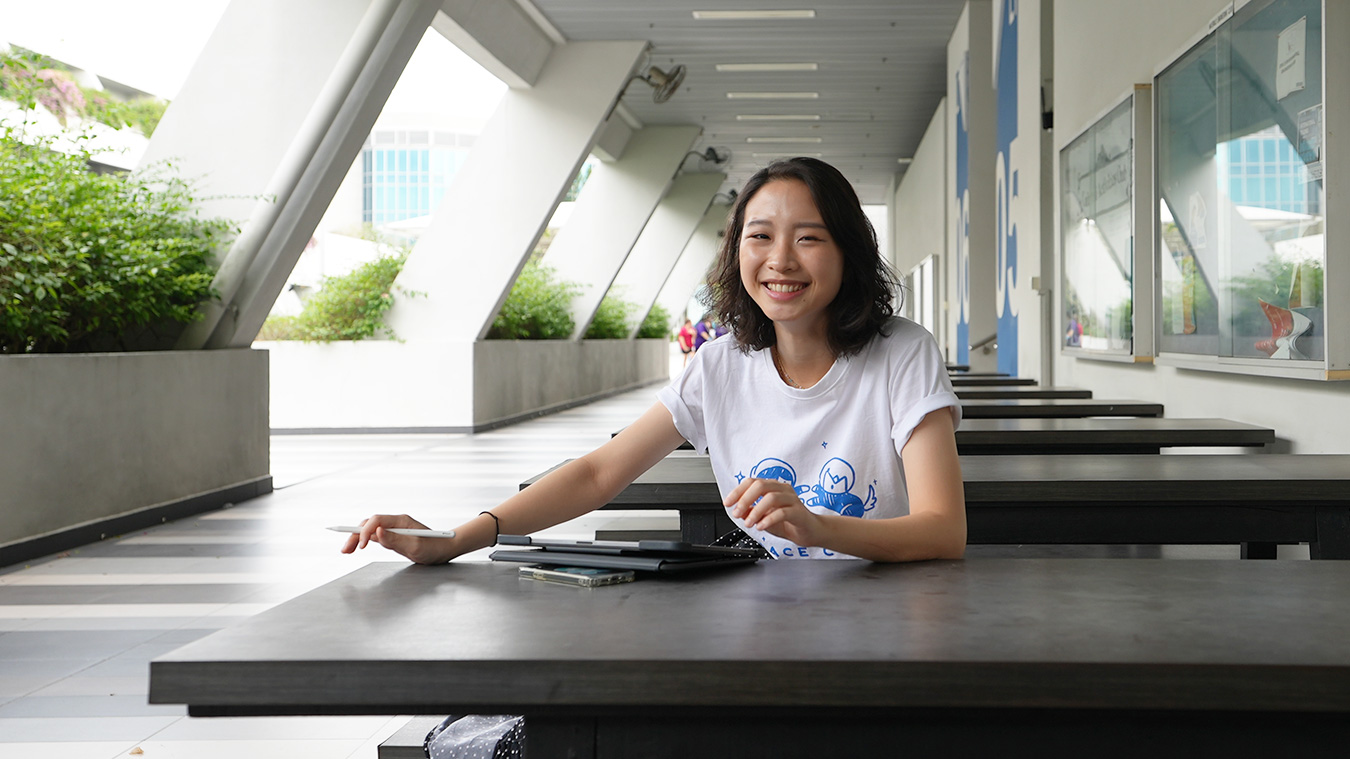 How did you go from drawing strangers to getting your first client?
Some of my most well-received videos are of drawing strangers and drawing in cafes. Then there's also occasional 1 or 2 illustrations that boomed. After a period of inactivity last year, I resumed by sketching casually and documenting my iPad drawing processes. I uploaded these videos to TikTok and received positive feedback, which motivated me to create more content. Because it was quite well received, I wanted to make more! I started documenting other parts of my art creation too, which gained more traction, so I decided to concentrate even more on this.

While drawing strangers gained a lot of virality, it serves mainly as a personal practice for me. My own illustrations were the ones that I dedicate more energy on. Interestingly, my first client was before I started my TikTok account. I was the branding director for EEE club in 2020, and the EEE office reached out to me to design an EEE welfare poster and foolscap cover. That was when I earned my first buck from illustrating! I felt very accomplished because I have proven my mum wrong, I can make money with art!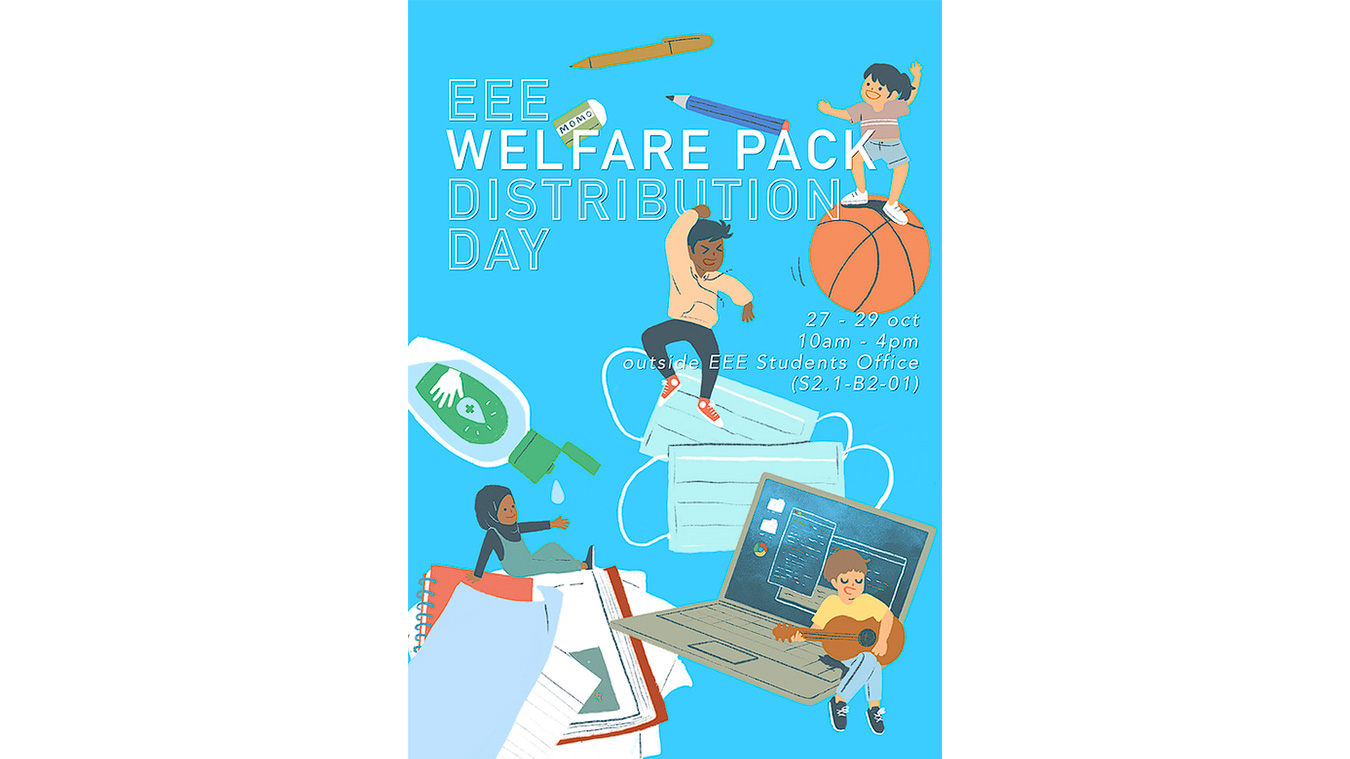 Source: cliothewindow Portfolio
How close do you think you are to success?
To me, success entails the ability to pursue my passions without worrying about basic needs. Currently, I am happy where I am. My primary aspiration is to ensure the well-being and happiness of my family and myself, enjoying a comfortable life while also having the time to engage in activities I love.

Interestingly, cliothewindow initially wasn't driven by a desire for financial gain; it served as a means to document my artistic processes. However, I've been fortunate that my work resonated with people, leading to commissions and support. My vision for cliothewindow doesn't involve grand plans for monetary success; it remains a labor of love. This endeavor provides me the opportunity to explore diverse creative avenues, such as multimedia design and other unexpected ventures.
Recently, I've also delved into selling merchandise. Since secondary school and JC (Junior College), my friends and I frequented art and illustration festivals where creators showcased impressive merchandise. Creating and selling my own merchandise became a personal goal, and as my following grew, I felt it was the right time to venture into this endeavor. Thankfully I'm not sitting at my house with unsold merchandise around me and wallowing in a bunch of merchandise, so, thank you to everyone who supported me!
Though I must say, creating merchandise wasn't easy, especially when it comes to the logistics and operations. I teamed up with a friend, Shu Huai, to help me with the logistics and operations so I can focus on the art! I recalled when she brought back 50 shirts, and while it sounds modest, it was a huge bag! When I first brought the boxes of merchandise and shirts, my mum was like "The heck! What was going on? Why was there so many random stuff in the house?!". I'm really thankful that I have Shu Huai to take some of that workload off me so… All is good!
How did you feel about the collaboration with FRANK by OCBC?
The idea of my designs being featured on a Debit Card left me pleasantly surprised and a bit overwhelmed. I find it truly fascinating that people will have the opportunity to consistently view the card's design, especially when they use it for transactions.
Upon crafting the couple designs, my aspiration was for these designs to evoke a sense of resonance in the couples who encounter them. Ideally, the designs would serve as a reminder of each other. This regular interaction with the card would hopefully prompt them to reflect on their partners and loved ones. Naturally, as I strived to blend loving sweetness and a tinge of cringe, I chose to incorporate joint designs into the collection. These designs come together when two halves are united, forming a complete and meaningful whole.
What's the inspiration behind the designs?
Through discussions and brainstorming sessions, we conceived the idea of crafting designs inspired by relationships. To equip myself for this endeavor, I immersed myself in various sources, including watching K-dramas like Goblin and delving into Manga such as Horimiya.
The concept underpinning CPL0001 and CPL0002 stem from the notion of long-distance relationship. This concept is not limited solely to couples; it extends to friends as well. The essence lies in the notion that even when individuals find themselves physically distant or in different circumstances, they remain interconnected in their hearts. This evokes a sense of longing and missing each other. My intention was for the card to serve as a memento, a tangible reminder that they can gaze upon when they yearn for one another, much like gazing at the moon. This particular set of designs is my favourite!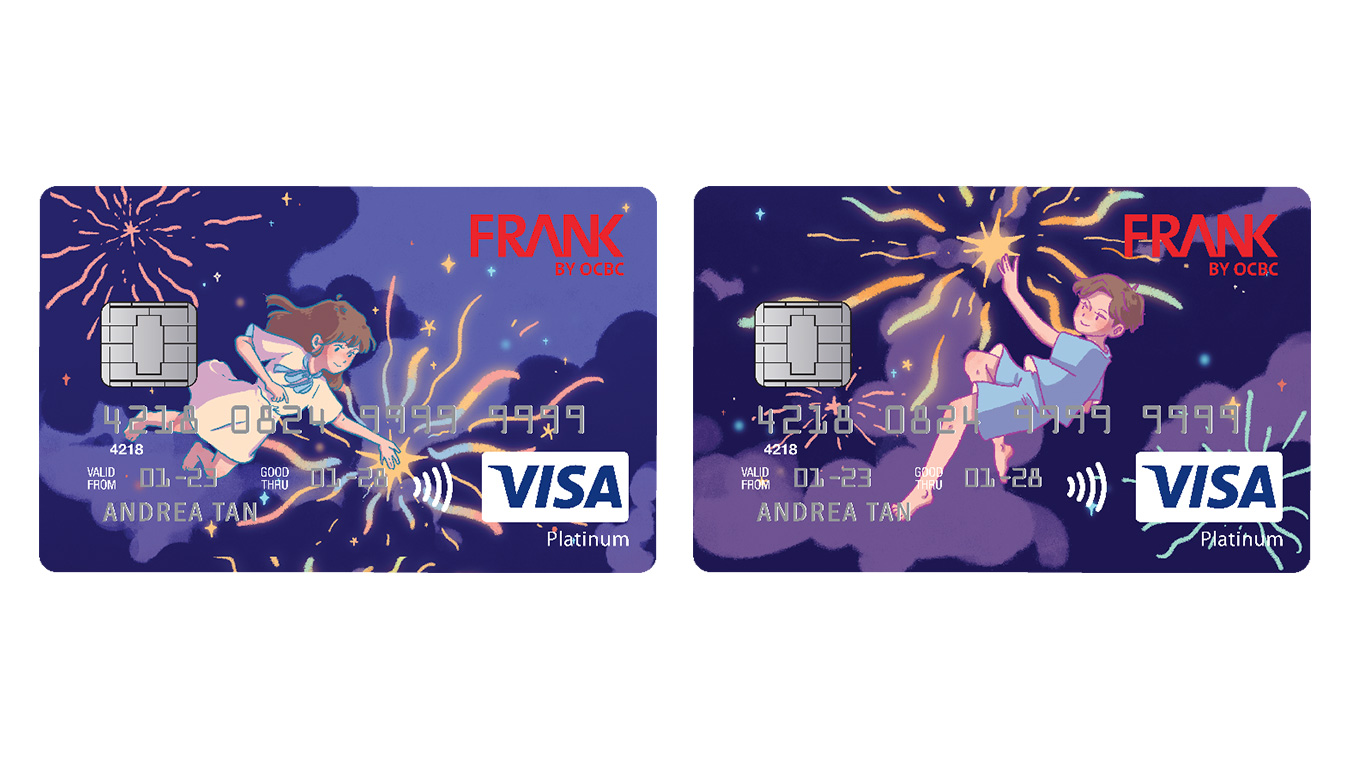 Left: CPL0001, Right: CPL0002
As for CPL0003 and CPL0004, my inspiration drew from the ambiance of K-dramas and the preliminary stages of a relationship. During this phase, the two individuals are navigating the terrain of understanding each other better, often characterized by moments of awkwardness, uncertainty, and tension. They hold a mutual admiration for each other, yet engagement remains somewhat tentative. This phase embodies the thrill of the heart fluttering with anticipation, akin to a situationship or the initial dating phase.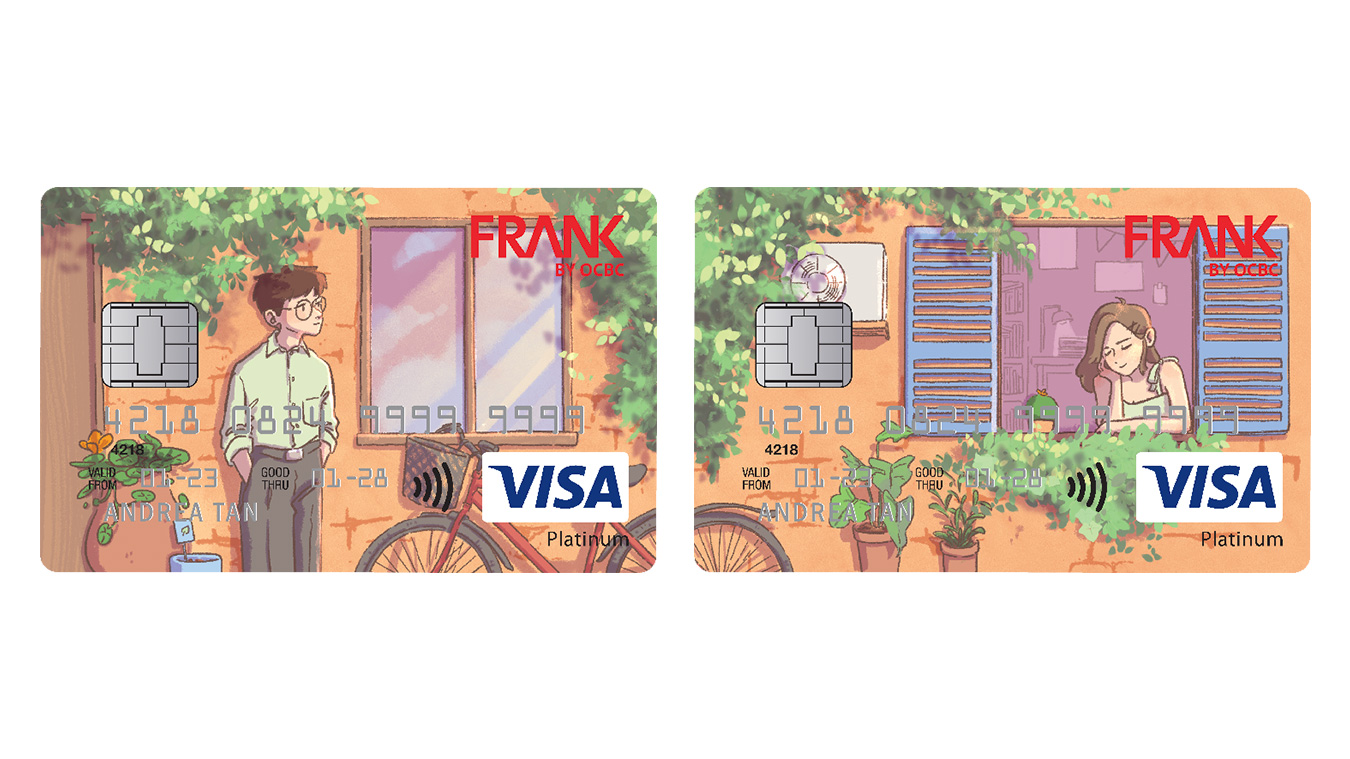 Left: CPL0003, Right: CPL0004
CPL0005 was the culmination of all the insights I gathered, and it proved to be an immensely enjoyable creative process. I even sought input from my mother regarding the type of dates she would cherish with my dad. Her ideas, such as visiting a park and enjoying the scenery, inspired me to design something that exudes a sense of "fuwa fuwa", fluffy and cutesy charm. This design incorporates elements like flowers, bubbles, and the shade of a tree, reflecting the romantic gestures and couple activities I envisioned during its creation. The process of conjuring these scenarios was remarkably enjoyable and added an extra layer of depth to the design.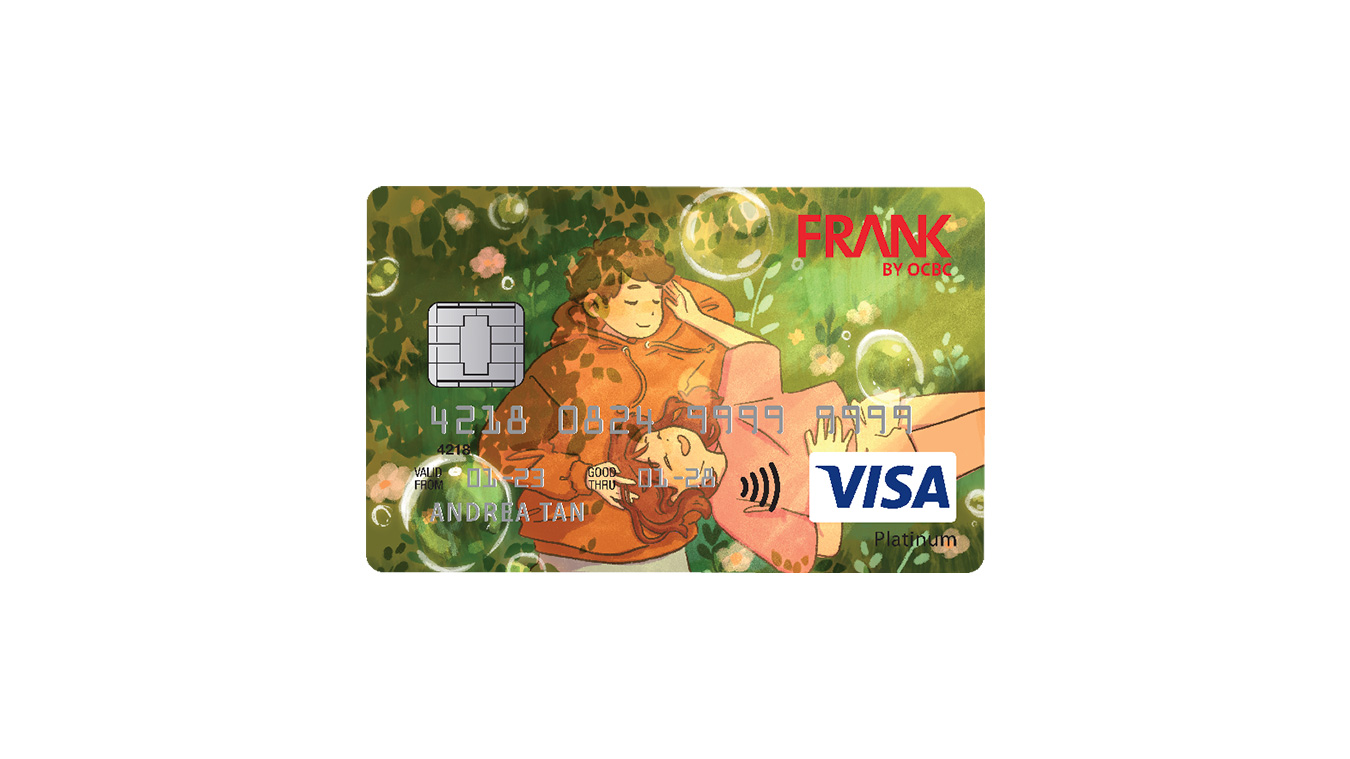 CPL0005
FRANK by OCBC: Ready to say "ai stead mai"? Find out more on how you can apply for these FRANK Debit Card here!
How do you budget as a student?
I ACTUALLY DON'T BUDGET! Being a student, I'm fortunate to still receive support from my parents, and I generate additional income through internships and part-time jobs. For the most part, I save up most of it, while using the remainder for essentials like food, family, and occasional small random purchases.
Since establishing cliothewindow, the income I generate from it is exclusively reinvested into the business and kept distinct from my personal finances. The earnings from cliothewindow are allocated towards various investments, including art supplies, applications, a laptop, and managing the logistics associated with my merchandise.
Do you have any principles in your personal finance?
I prioritise purchasing necessities, and don't really have the desire for luxury items while I'm still in university. My focus is on fulfilling my needs, and if I can afford something I genuinely want, I may consider making that purchase as well. Usually I have a rough amount of money set purely for expenses, then I consider and allocate my purchases according to that set amount.
My parents' advice to save for a rainy day certainly influenced the way I save, which is to put everything I have in the bank. While I don't have a specific target for my savings, I've heard people discuss the responsibility of caring for aging parents, which makes me realize that it's an ongoing process and I need to keep saving diligently.
I don't consider myself highly financially literate, I mostly just focus on saving cash. I observe those around me investing and the concept of money growing money, but I lack a deep understanding of how to start investing, so I tend to keep my money in the bank, taking a rather conservative approach. I'm aware that some of my peers began investing during university, but I never found the motivation to start. Perhaps more education on the topic could drive me to take action. I feel I need a better grasp of the fundamentals before diving into investments. I simply haven't found the energy to explore it yet. The primary area where I invest is in growing cliothewindow, such as purchasing merchandise and acquiring equipment for my artistic endeavors.
What are some of the financial knowledge would you want to equip yourself with?
'm eager to expand my knowledge about investments and enhance my skills in managing assets. My aim is to achieve financial stability, ensuring I can provide for both my parents and myself, and fulfill my aspirations.
At the outset of my journey with cliothewindow, I considered whether to integrate it with my personal finances or maintain it as a separate entity. Ultimately, I chose to keep it separate. This decision stems from my desire to treat it as a side-hustle, nurturing its growth independently and giving it the attention it deserves.
---
Disclaimer
This is for general information and does not take into account your particular investment and protection aims, financial situation or needs. You may wish to seek advice from a financial adviser before making a commitment to purchase an investment product. In the event that you choose not to seek advice from a financial adviser, you should consider whether the investment in question is suitable for you.
This advertisement has not been reviewed by the Monetary Authority of Singapore.
IMPORTANT NOTICES
Any opinions or views of third parties expressed in this document are those of the third parties identified, and do not represent views of Oversea-Chinese Banking Corporation Limited ("OCBC Bank", "us", "we" or "our").
This information is intended for general circulation and / or discussion purposes only. It does not consider the specific investment objectives, financial situation or needs of any particular person.
Before you make an investment, please seek advice from your Relationship Manager regarding the suitability of any investment product taking into account your specific investment objectives, financial situation or particular needs.
If you choose not to do so, you should consider if the investment product is suitable for you, and conduct your own assessments and due diligence on the investment product.
We are not making an offer, solicit to buy or sell or subscribe for any security or financial instrument, enter into any transaction or participate in any trading or investment strategy with you through this document. Nothing in this document shall be deemed as an offer or solicitation to buy or sell or subscribe for any security or financial instrument or to enter into any transaction or to participate in any particular trading or investment strategy.
No representation or warranty whatsoever in respect of any information provided herein is given by OCBC Bank and it should not be relied upon as such. OCBC Bank does not undertake an obligation to update the information or to correct any inaccuracy that may become apparent at a later time. All information presented is subject to change without notice.
OCBC Bank shall not be responsible or liable for any loss or damage whatsoever arising directly or indirectly howsoever in connection with or as a result of any person acting on any information provided herein.
Investments are subject to investment risks, including the possible loss of the principal amount invested. The information provided herein may contain projections or other forward-looking statements regarding future events or future performance of countries, assets, markets or companies. Actual events or results may differ materially. Past performance figures, predictions or projections are not necessarily indicative of future or likely performance.
Any reference to a company, financial product or asset class is used for illustrative purposes and does not represent our recommendation in any way.
The information in and contents of this document may not be reproduced or disseminated in whole or in part without the Bank's written consent.
OCBC Bank, its related companies, and their respective directors and/or employees (collectively "Related Persons") may, or might have in the future, interests in the investment products or the issuers mentioned herein. Such interests include effecting transactions in such investment products, and providing broking, investment banking and other financial services to such issuers. OCBC Bank and its Related Persons may also be related to, and receive fees from, providers of such investment products.
You must read the Offer Document/Indicative Term Sheet/Product Highlight Sheet before deciding whether or not to purchase the investment product, copies of which may be obtained from your relationship manager.
Any hyperlink to any third party article, or other website or webpage (including any websites or webpages owned, operated and maintained by third parties) is for informational purposes only and for your convenience only and is not an endorsement or verification of any such article, website or webpage by OCBC Bank and should only be accessed at your own risk. OCBC Bank does not review the contents of any such articles, website or webpage, and shall not be liable to any person for the same.
Knowledge is money
What to read next