Costs and benefits of an overseas University education
Choosing local university or studying overseas can be a tough choice to make. We'll help you break down the cost and benefits of studying overseas.
You're about to graduate from JC, poly or a bachelor's degree course, and you'd like to embark on further studies. One option is to enroll at an overseas university.
Studying abroad will possibly cost more financially than remaining in Singapore, but can also be a lot more rewarding as it enables you to grow more as a person.
And because you want to be prepared before you decide where to study, it's a good idea to analyse the costs and benefits and of an overseas university education so you can make the right choice.
Tuition fees
Tuition fees at overseas universities vary greatly across the board depending on which country and school you are going to.
You could be looking at a 6-figure sum to undertake a 4-year bachelor's degree at some of the most expensive schools in the US. On the other hand, some universities in countries like Germany, Austria and Norway are free.
In addition, if you obtain a scholarship or bursary, you can end up getting a significant discount on your university fees.
Living expenses
Other than tuition fees, you should also prepare to foot the cost of accommodation and other living expenses. It is likely to be the first time in your life you will be living away from your parents, and you will soon learn that the cost of rent, groceries, utilities and so on can really add up.
Here's a table indicating the average living expenses you might encounter when living in some of the most popular cities for Singaporean students. All figures are taken from Numbeo, which provides cost-of-living figures based on user-contributed data.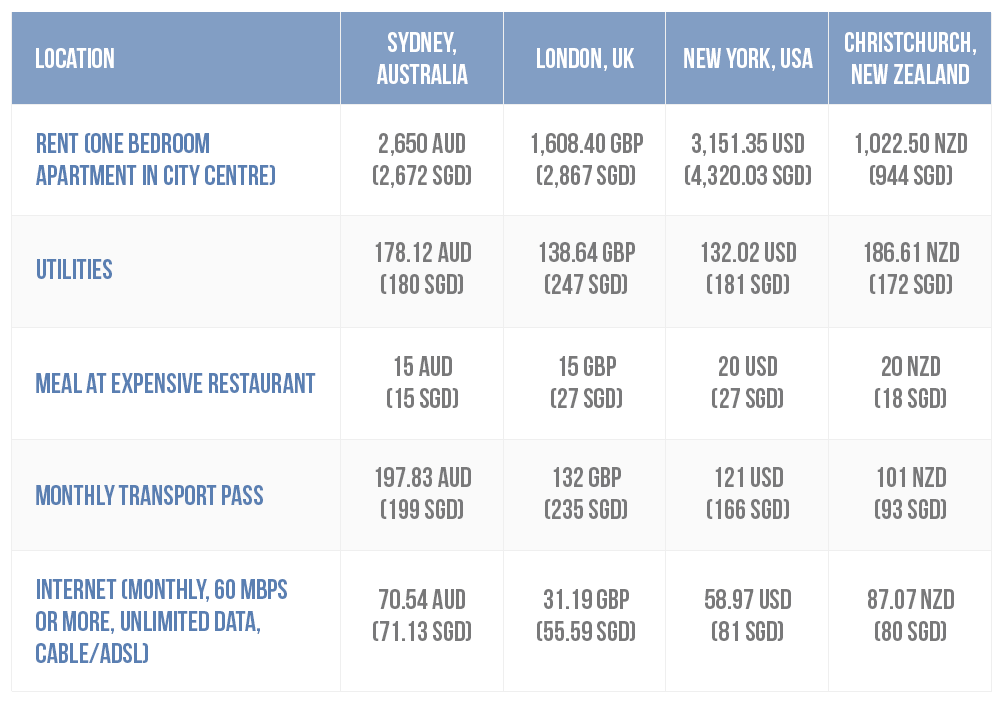 If the above costs seem high to you, rest assured that expenses can vary greatly from student to student, as well as from city to city.
There are many things you can do to cut costs, such as choosing to live further away from the city centre (bearing in mind that not all campuses will be located in the city centre anyway), cooking at home exclusively or at least more often, living on campus if your university provides accommodation, and renting a shareflat with several other people. If you live close to your campus, you can also save a lot on transport costs.
The school that you pick will also have a huge impact on your living costs. Studying in Sydney or Melbourne is for instance a lot more expensive than studying in Tasmania.
Your student visa will usually allow you to work a certain number of hours per week as well, so consider getting a part-time job to help with your living expenses. You can explore other alternative means to managing your money here.
There are many benefits to be enjoyed from studying abroad. While everybody's experience is different, you can expect to enjoy the following:
Advantage in Interviews
– Studying abroad is often perceived as an asset in job interviews. Overseas graduates are frequently viewed as resourceful, flexible and creative. Your overseas experience will also give you some great anecdotes to mention in interviews.
Global Mindset
– The Singapore economy thrives thanks to multi-national corporations with a global approach. Exposure to foreign cultures will equip you with a global mindset that is attractive to such employers.
Cultural sensitivity
– Living in a foreign country will enable you to develop cultural sensitivity that will make you more effective in careers that require you to deal with and liaise with people from across the world.
Overseas experience
– Many Singaporean students who study abroad enjoy the experience so much that they decide to stay on and work in their host country post-graduation. Studying in-country will make it easier for you to stay on and look for work there. There is great demand amongst Singapore employers for employees with international experience for those who later return.
Personal Development
– The personal growth you will undergo while living independently in a foreign land is priceless! You will emerge more confident, more self-reliant, and more appreciative of the family and home that you left in Singapore.
Taking out an education loan to finance your studies
One way to make your dreams of an overseas education a reality is to take out an education loan.
Don't get scared when you see the total sum! You will have plenty of time to repay it.
What's more, the FRANK by OCBC Education Loan offers several repayment methods so you can choose the best one according to when you think you'll be ready to start paying off your loan.
Here are some of the ways you can choose to repay your FRANK by OCBC Education Loan.
Standard
– Start paying monthly instalments comprising principal + interest once your loan is disbursed.
Graduated
– Pay only interest while you're studying, and then start paying principal + interest after you graduate.
Graduated Plus
– Pay only interest while you're studying and in the year after graduation. Pay principal + interest from your third year onwards.
The repayment scheme you pick will have a large impact on your budget when you are studying overseas.
For instance, the Standard repayment scheme will require that you factor in not just your rent and day-to-day living costs when drawing up a monthly budget, but also your loan installments. On the other hand, if you pick the Graduated or Graduated Plus payment plans, your monthly expenditure will be much lower.
When picking your repayment scheme, consider your current finances and whether you feel comfortable enough to start repaying your loan right away, or prefer to wait until you've got a full-time job. Choosing the right loan can be daunting but here are the key items you need to look for.
Studying abroad will equip you with priceless soft skills and life experiences. The FRANK by OCBC Education Loan makes an overseas education possible. Click here to apply.
Knowledge is money
What to read next