What to consider when taking out an education loan
Thinking about taking up a loan but don't know where to begin? Here we answer some of your top questions
Taking up an education loan is the first step towards making an overseas education possible. Such loans are meant for students who may not necessarily be able to start repaying the loan until they have graduated and found a job.
Taking up an education loan enables you to concentrate on your studies and enjoy your overseas experience to the fullest.
Knowing that your school fees are being paid for will take a huge load off your mind, whether you're studying for exams or hanging out with friends in your new country. You'll be able to concentrate on making the most out of university life without being forced to work to make ends meet.
Here, we answer some of your top questions about education loans.
How much are the interest rates?
Education loans are designed to be affordable. As such, interest rates are usually lower than those for personal loans, for instance.
When signing up for an education loan, it is important to understand the difference between the regular interest rate and the effective interest rate.
The regular interest rate is calculated as a percentage of the amount of money you are borrowing. Thus, if you borrow S$10,000 at an interest rate of 5%, based on the regular interest rate you will pay S$500 interest. Easy!
But the effective interest rate is a different beast. This applies when you are repaying your loan over a longer period. In such cases, the effective interest rate is always higher than the regular interest rate. That is because each year, you will be paying interest on the entire sum that has yet to be repaid, which may include accumulated interest from previous years.
How long is the repayment period?
Repayment of education loans typically takes place over a number of years.
You will have the option to indicate the repayment period length you prefer. The length of your repayment period will affect your monthly instalments and effective interest rate.
A longer repayment period means that your monthly instalments will be smaller. However, in the long run, the total amount of interest you will pay over the life of your loan will be higher.
What are the repayment methods?
One of the great things about education loans is the variety of repayment methods they offer.
You can decide whether you wish to start repaying your loan right away, after it is disbursed, or at a later stage, such as when you have completed your studies.
The FRANK by OCBC Education Loan, for instance, offers the following repayment methods:
Standard
- Begin paying monthly installments (principal + interest) once your loan is disbursed at the beginning of your studies.
Graduated
- Pay only interest while you are studying, and commence paying principal + interest after you graduate.
Graduated Plus
- Pay only interest while you are studying and in the year after graduation, after which you commence paying principal + interest.
If you or your parents are able to handle repayment of the loan right away, the Standard repayment method will let you get a head start.
However, if you prefer to wait until you've landed a job and have a full-time income before starting to repay your loan, the Graduated repayment method will let you do just that.
The Graduated Plus repayment method gives you a bit of time after you graduate to look for your dream job, as you only need to start repaying the principal sum a year after graduation.
The repayment period method you pick will have an impact on your interest rates and monthly installment amounts. The below table illustrates how.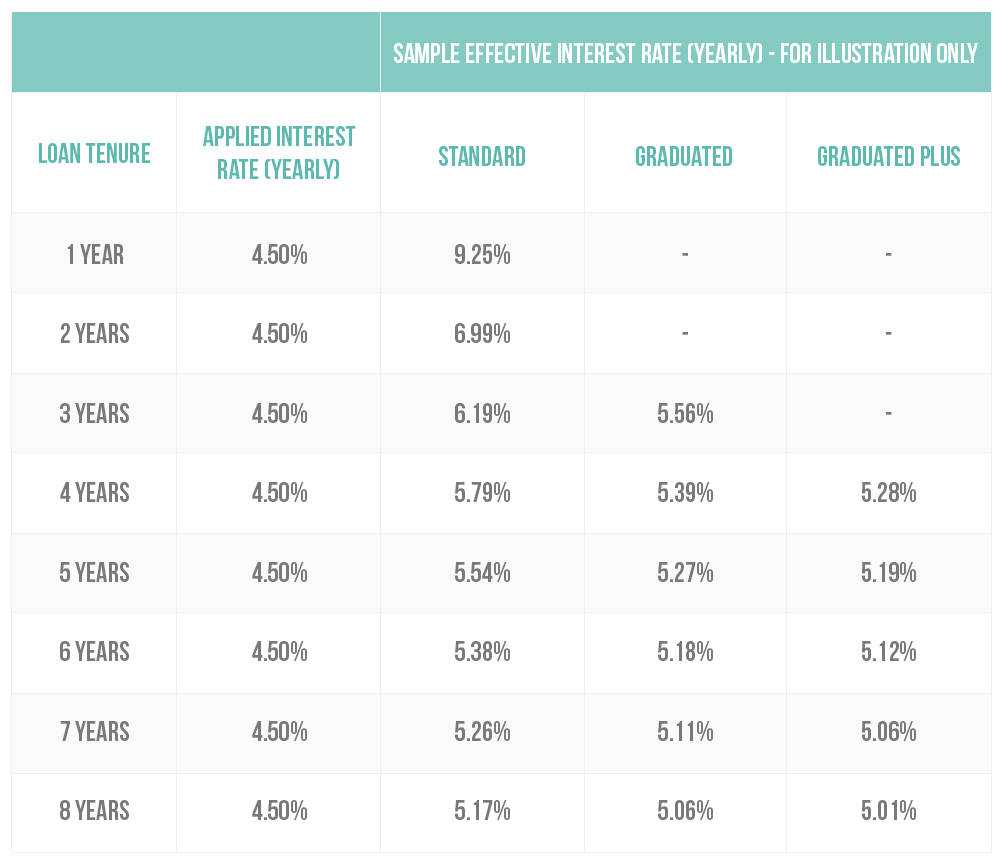 Are there any extra charges I should know about?
Here are some charges you might encounter during the course of your loan, and how to avoid them.
Processing fees
– You will typically be asked to pay a processing fee calculated as a percentage of the approved loan amount when the loan is disbursed. For instance, the FRANK by OCBC Education Loan charges a processing fee equivalent to 2.5% of the loan amount.
Cancellation fees
– Cancelling your loan after you have signed the loan agreement will attract cancellation fees. Once again, this can be avoided with careful consideration prior to committing to a loan. A typical cancellation fee is 1% of the loan amount.
Late payment charges
– If your loan repayments arrive late, you will be made to pay late payment charges, which could be about S$50 a month. This can be avoided by always preparing your repayments in advance, as unexpected problems such as a delayed money transfer or a mistake on a cashier's order can cause your repayments to arrive late.
Prepayment fee
– If you wish to pay off your loan early, you will have to pay a prepayment fee in addition to your repayments. For instance, you might be charged a prepayment fee equivalent to 1% of the remaining loan amount. To avoid this, you should avoid choosing a repayment period that is much longer than what you think you need.
What currency can I take the loan in?
Your loan amount will be computed in SGD, but your disbursements can be converted to SGD, GBP, AUD, USD or NZD.
If the currency of your dream destination is weak vis-a-vis the SGD, you can take advantage of the favourable exchange rate to study abroad.
What is a joint applicant and do I need one?
As a student, you probably do not have an income. You will thus need a joint applicant, usually a parent or relative, to apply for the loan together with you.
Your joint applicant will be responsible for your loan if you are unable to make your repayments. It is thus important that your joint applicant be willing and able to repay your loan on your behalf if you are unable to. Do your best to plan your finances in earnest so as to prevent your joint applicant from facing any inconvenience.
Taking out an education loan can open doors for you, but also requires that you understand what your obligations are and plan your finances responsibly. Once you have done so, you'll be well on your way to making your dreams of studying abroad a reality.
Study abroad with the FRANK by OCBC Education Loan. Click here to apply.
Knowledge is money
What to read next