Every brushstroke a story
Joanne's journey to becoming one of Singapore's foremost calligraphers was not without its downs, and even debt. Learn how she got to where she is now.

Watch now : Joanne and The Letter J Supply
4 mins
If start-up capital is holding you back from diving into your passions, Joanne has proven otherwise. With just S$200, and enough for a year's worth of rental (at S$300/month for her first space at Shaw Towers), she has grown her business into one of Singapore's foremost Calligraphy studios.
Joanne often attributes her successes to faith, but peeling back the layers, we discover the risks, and the many incremental steps she took along her journey. She proved that success really takes time, along with necessary mental space devoted to trial and error.
One such misstep was a loan she took on without "reading the labels"; she wasn't clear on the terms and conditions of the loan, and only found out its limitations after-purchase. That not only set her back financially, it affected her psyche – not an ideal experience for someone with a fledging business.
The early days were truly testing. Watch the video above to find out how dire things got, and how she picked herself up and moved on.
Quotes
Joanne #sayingitasitis
"You can grow your passion with just a few hundred dollars. Start small and work with what you have, however little it may be. This includes giving yourself room for failure and learnings."
"Unlike my friends with regular jobs and stable incomes, growing a business from scratch meant that I had to cut back on my indulgences, drastically change my lifestyle, and be mentally prepared for low points in life."
Frank's view
Advice for those starting on the same journey
Do you need huge amounts of capital to be a freelancer?
Yes and no. Joanne started out small, and it eventually worked in her favour. No matter how much you start out with, as long as you have proper financial habits you should survive. Some of the best tools you can use are the FRANK saving goals and money insights to track inflow and outflow of funds.

You can also tap on SkillsFuture S$500 credit to build skills by attending the right courses to compliment your existing knowledge. Courses range from urban farming to barista training!
How do you know when you can freelance full-time?
Joanne gave herself a certain timeframe to to prove to herself that it could work. This deadline approach works, and it forces us to go all in. Along with a time frame, you can also measure based on income. Can you hit a certain income within the timeframe so you can quit your full-time job?

Once you finally make the jump, it's important to cover yourself financially for irregular income, and ensure that you have basic insurance to cover hospitalisation and personal accidents. These are often done by your previous employer, and is an often overlooked area for many new freelancers and entrepreneurs.
Where do I get started?
Joanne mentioned the importance of finding a mentor early in your journey. This saves you time, effort and money by following the footsteps of someone who's done it before. Why reinvent the wheel when you can invent new ways to use it?

FRANK conducts regular career workshops, and curate advice from mentors and youth entrepreneurs. These places are great sources of inspiration and you can gleam a lot of useful advice from their stories.
the 'Brave' card
hand written with love, 'brave', by the letter j supply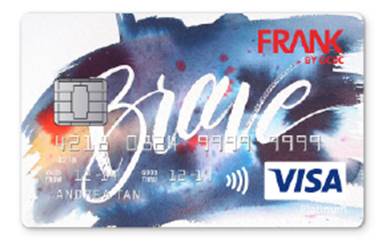 Learn more about the inspiration behind "Brave" here.

Click here to get this card design for your next FRANK Debit or Credit Card.
Workshop
Modern Calligraphy Workshop (Fully subscribed)
Sat, 2 December 2017
10 am - 1 pm
The Letter J Supply Studio @ 30A Seah Street, S188386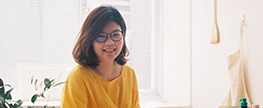 Joanne (The Letter J Supply)
Trained as a graphic designer, Joanne picked up calligraphy whilst on holiday in New York. She believes that words are powerful and that art can change an atmosphere of a space.

Currently running The Letter J Supply, Joanne makes customised pieces for clients, and retails her work at lifestyle shops in Singapore. You can find her workshops here.