TO BUY, OR NOT TO BUY. THAT IS THE QUESTION.
You're a young working professional. You've gotten your first pay cheque. And you catch yourself circling around a store thinking how many Frappucinos you might have to forgo for the rest of the month – just so you can afford to take your next purchase home
Here's a guide to help you make better spending decisions:
1. DENIM JEANS: INVEST
Good denim – whether in the form of jacket or a pair of jeans – lasts a lifetime. You can dress them up for work with a darker wash or by throwing on a pair of heels. Plus, they don't require washing after each wear.
Every brand's fit and sizing is a little different, so take your time and go try as many as you can before tapping your card. We recommend investing in a few pairs in a classic cut and a denim wash of your choice.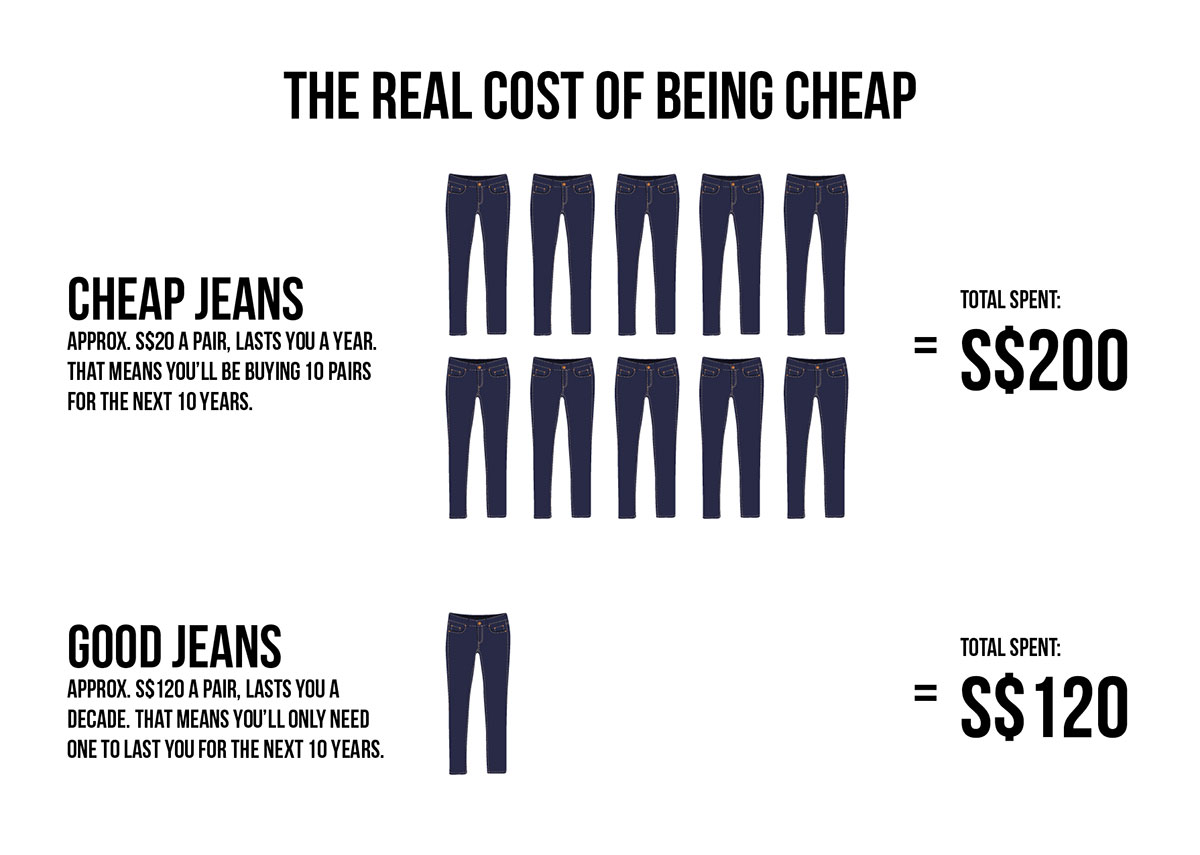 Remember when chokers were a thing? And then they weren't? Accessory trends come and go fast, and you'll find affordable options easily. Plus, just by throwing on a pair of chunky earrings, or a statement necklace – they're the easiest way to make your outfit more work-appropriate.
The usual suspects include H&M, Forever 21 and Louvisa – but you might also want to raid your mom's jewellery box. You'll never know what's making a comeback next.
3. SNEAKERS AND SHOES: INVEST
This comes with a bit of a caveat: we're not telling you to go buy the latest pair of Yeezy's. But when it comes to something you have to put your feet in every day, it should last long, feel comfortable, and look good. Carousell is a great place to find awesome kicks under their retail price – just remember to read the seller's reviews and ensure your shoes are authentic.
When life gives you Lululemon, make wiser spending choices. We know it's important to keep fit and look good while doing it – especially if you're going for yoga classes with fitspo colleagues and friends. Find affordable options without compromising on quality at Nike and Adidas outlet stores at Queensway or Changi City Point, or even at your neighbourhood Cotton On branch.
BONUS: NEVER UNDERESTIMATE A PLAIN WHITE TEE
Whether you identify with normcore or extra, a basic white tee can be styled in an infinite number of ways. It goes with everything. And you won't have to spend extra money trying to find the "perfect" matching top or bottom.
Dress it down with a denim skirt, or dial it up with a blazer and some jeans and heels. You can also add pins or patches to give your basic tee more personality.
Pro-tip: ASOS.com sells basics in packs of 2 or 3 so you get more bang for your buck.
Knowledge is money
What to read next