FRANK X WEI JIANG: Shifting Gears, Steady Hands, and Sound Decisions
Wei Jiang is best known for his architectural photos and collages which present everyday objects and familiar landmarks in a new light. Shooting under the name Orhganic, his black and white images often draw chuckles from followers, as well as acknowledgement of the creativity and effort it takes to put them together.
Looking at Ng Wei Jiang's surreal, fantastical images, it's easy to imagine their creator as a dreamer, perpetually gazing skyward. However, closer inspection makes it apparent that they are more than just flights of fancy, and come from a deeply meticulous and organised nature.
Wei Jiang tells us, "I find it fascinating to think about the amount of people living or working in one building, each with so many untold stories of their own," and through his photographs, we see a patient observer, someone who sees wonder in the everyday. The ability to find joy in the simple illustrates his down-to-earth nature—he enjoys quality time spent with his family, sets aside a portion of his monthly income to give to his parents, and often heads out for photoshoots dressed simply but comfortably in shorts and slippers.
While making a full-time career out of art is a dream for many, Wei Jiang is content with having his photography remain mostly a passion project for now, and credits his day job as a graphic designer with providing him the financial stability and freedom of choice to take on the projects that interest him, without needing to rely on them for income, or worrying about his next paycheque. Wei Jiang manages his finances with the same rigour as his photos, balancing between saving for the future, necessary expenses, and his hobby of modifying his car, a Suzuki Swift Sport that he takes meticulous care of.
As we spent a day with Wei Jiang, first going about a regular morning in the neighbourhood, followed by some time shooting and editing his images, and watching him at work at M Social Singapore, where he shot the images for his FRANK card designs, we got to learn more about his process when he shoots, how he prioritises his income and expenditure, and his dreams for the future.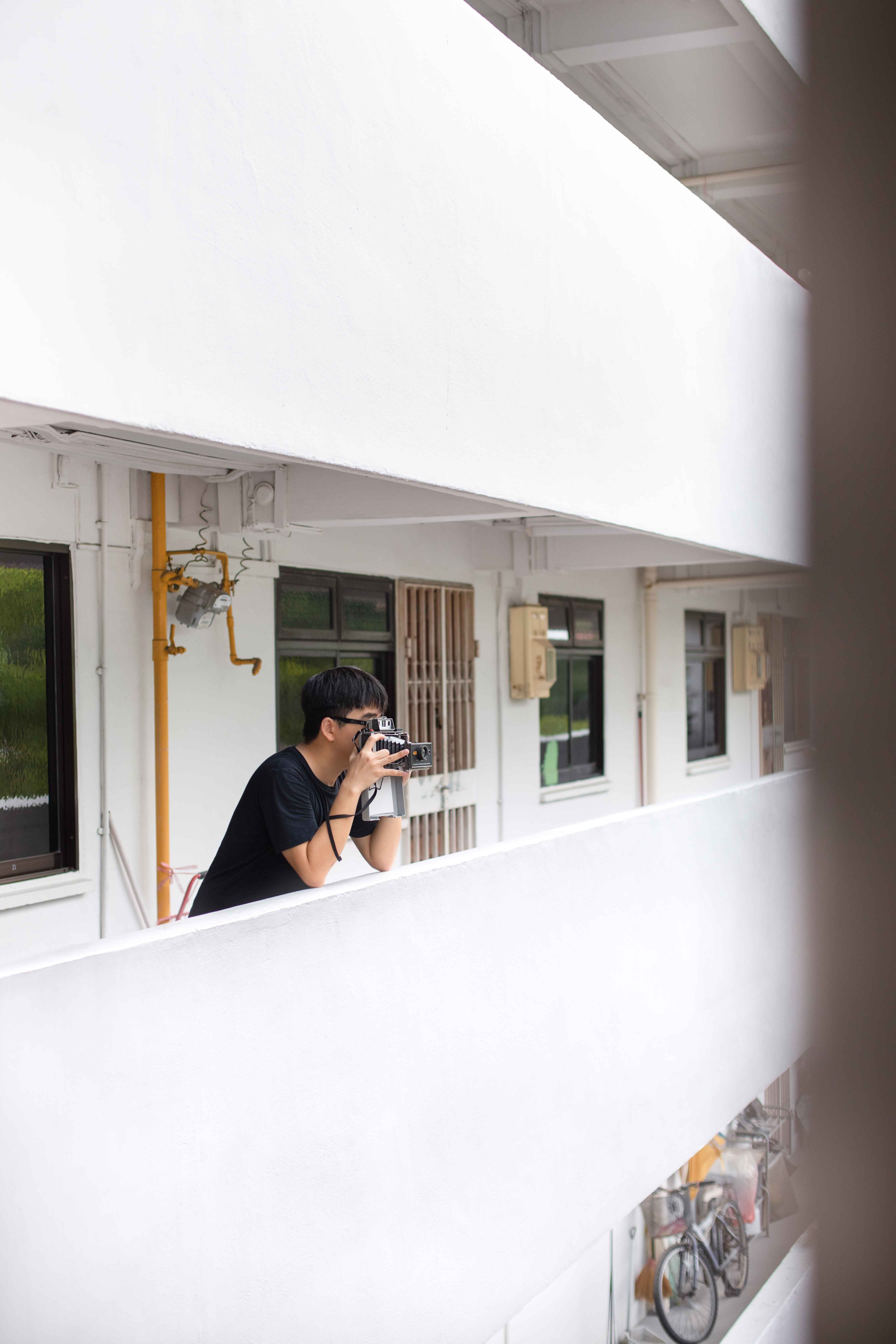 When and how did you pick up photography, and what do you enjoy about it?
I first experimented with photography at 15. I'd just received a hand-me-down film camera, and with handphones starting to have built-in cameras, I had a number of options to explore. While I did badly for my streaming exams in Secondary 2 and ended up pursuing Higher Art as an O-Level subject, it actually worked out pretty well for me. I chose to work with photography for my coursework and did well, and since then art and design have always been part of my academic path. While some photographers like to shoot with a small group of friends or join larger groups for photowalks, I prefer to go out alone when I shoot. I enjoy the solitude and alone time I get, because it allows you to observe the world around you without being part of it, and that's when you notice the little interesting things that would otherwise be passed off as mundane.
What does photography mean to you, personally?
In a sense, I'm lucky that photography worked out for me because I wasn't all that academically inclined. This hobby gave me an avenue to take my mind off the things that I didn't enjoy as much, and eventually opened doors for me, allowing me to meet people and bringing me opportunities that I wouldn't have come across otherwise. If not for photography, I would probably be working at a job I hate and living a boring life.
What do you do when you find yourself in a creative slump?
There are a couple of things that I do. The first is to take a good look at my surroundings and the things around me, and sometimes I find the answers right there and then. If that doesn't work, I'll get out of the house and take a walk, usually with a camera. Like sketching random ideas, it helps to clear the mental block. Another thing that works really well for me is to take a shower—I don't do it on purpose to get out of the slump, but many of the better ideas I've had have come to me out of the blue when I'm bathing.
What are some milestones you've experienced in your photography journey so far?
I received the Singapore Young Photographer Award in 2010 and had my work shown at the National Museum, which was a big deal for 18-year-old me. Some of my works have also gone viral and been featured on websites, as well as local and overseas magazines, but I guess the achievement I'm proudest of would be Adobe buying licensing rights to my afro mugshot collage.
What type of photography do you enjoy the most?
I enjoy street photography that tells stories of unsuspecting subjects and paints voyeuristic images. Like the paintings of Edward Hopper, the appeal of this voyeurism lies in highlighting the parts of life that are often overlooked. There's some joy in being an invisible observer and being slow and quiet while watching people go about their daily routines. Hopper's work has a sense of tranquillity which is aligned with what I enjoy about photography.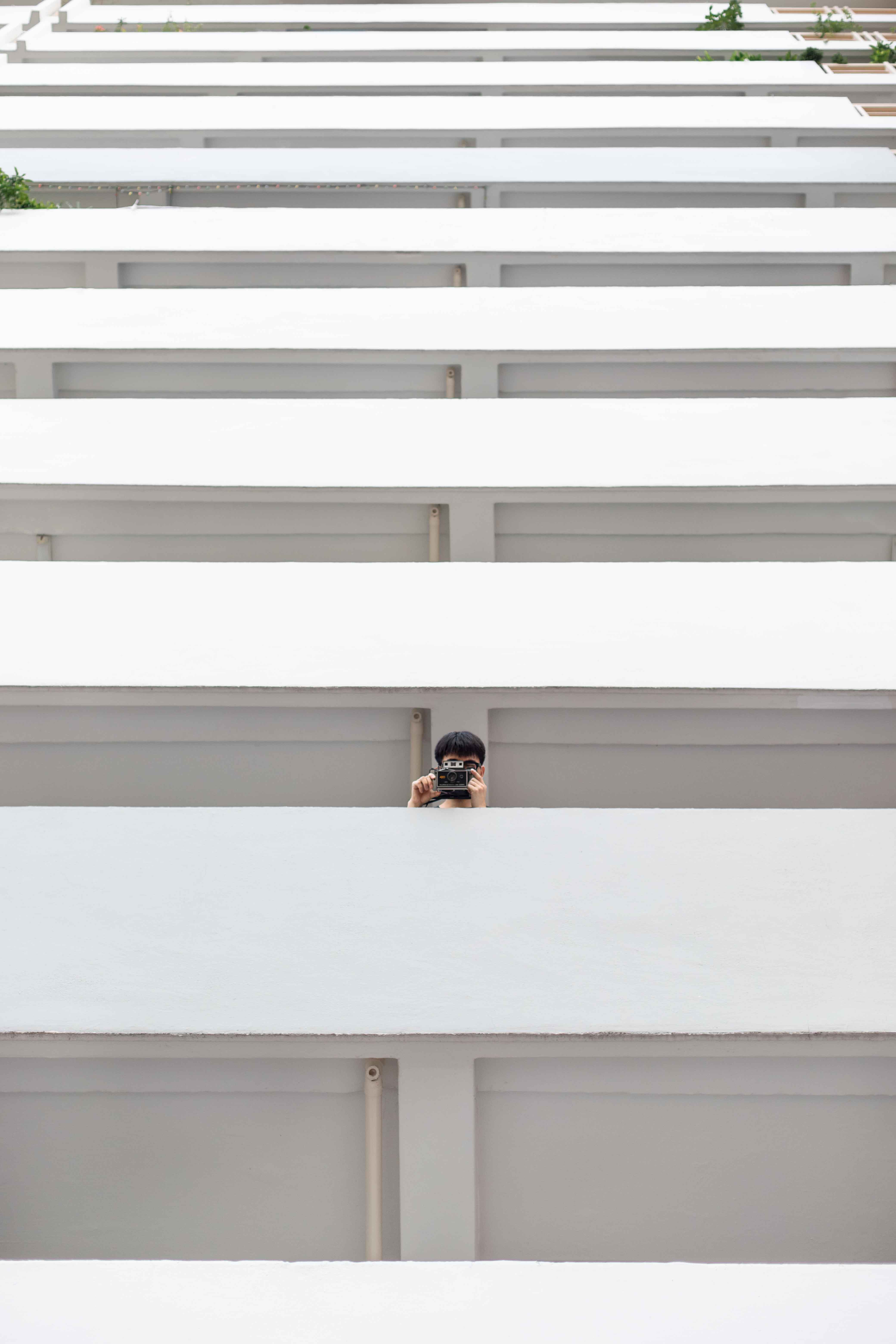 How would you say your photography style has developed and changed across the years?
I'd describe it as going around in circles, but each time the circle gets bigger, because I tend to revisit old styles and incorporate new elements as I go. I'd say the most significant change in my style has been making graphic works from my photographs. I love making weird and quirky images, so some of the graphic works have taken on that style, while my usual photographs have become more mellow.
Can you talk us through your usual process of a shoot e.g. receiving a brief from the client or conceptualising your own shoot; the planning and recce stages; the actual shoot; the post-production?
Being someone who's kiasi ('scared of death', or afraid of failure), I usually work out a rough idea of the end product before starting on a project. It might not be the best process when it comes to creative work, but as with many other things in life, it's how I usually work. I make sure that I'm also open to changes and ready for surprises, and this method of working speeds up the process because recce sessions can also be spent on finding secondary options or possible improvements to the concept. During the shooting stage, I will already have the post-production process planned out in my head, and the post-production phase can be spent on putting the best options together for the final work.
One thing that stands out about your architecture photography is how you view places, and present them in an uncommon manner. How do you find locations or go about looking for them, and what are things you look out for when you're shooting?
If I shoot at a certain location on purpose, chances are that I passed by that area while commuting and thought it was interesting. Otherwise, I usually shoot wherever my errands bring me. I tend to look out for subjects that have patterns or strong lines and shapes. If I'm planning to use them for collages, the subjects are typically high up against the sky, or against a plain white background like a wall. But half the time I would be looking out for unexpected moments, because those make for the best shots.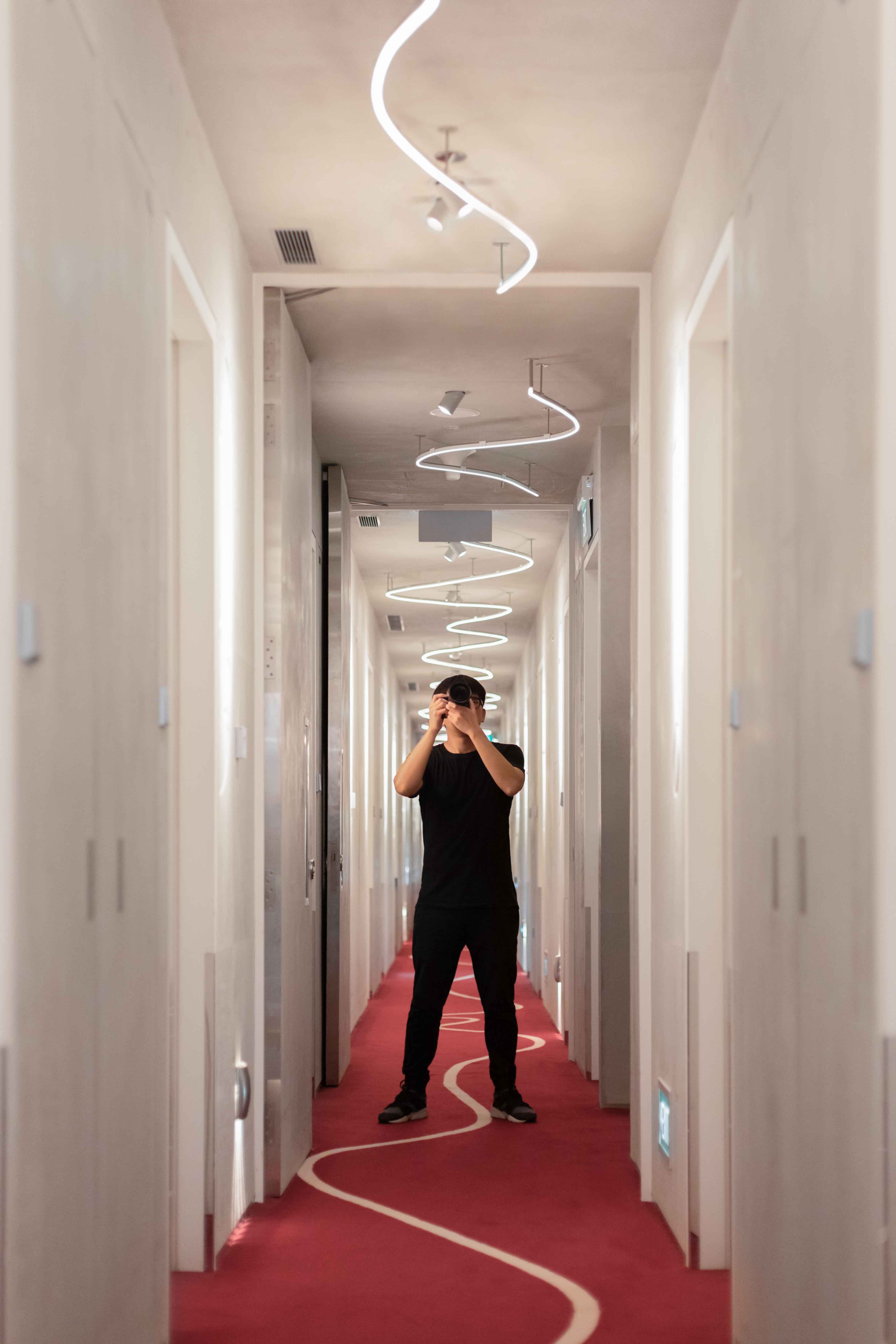 Another part of your work that you're known for is your collages that connect disparate objects in a whimsical and amusing manner. Where and when did you first get the idea for that, and how do you decide which objects to combine?
The idea actually came to me before the architecture collages. The first one was just an experiment to create one full image with three different ones, so they were pulled out randomly. The focus there was to ignore any sense of scale, and instead just link the shapes and lines. Eventually I created more of them with random items around me that I felt could work. I try to link living with non-living things, soft items with hard ones, and subjects that are of different sizes.
We understand you also have a day job as a graphic designer. Why did you choose to do what you do?
I wanted a stable income so that I can save up for the future, plus I also gathered that I wouldn't have the discipline and time to go freelance. Plus, it helps that I have regular working hours and an office near my home, so it allows for family time after work and also to work on any personal projects.
Do you have any plans to turn photography into a full-time career? Why or why not?
I haven't given this much thought, but I don't see it as a full-time career at the moment. My current job requires knowledge in photography, so I can apply what I know at work, and also leaves me free to pursue my own style of photography on the side. There's a part of me that's not so sure about turning something I enjoy into a career, which might end up in me not enjoying it. For now I'm happy to have a full-time job which means there's no stress to rely on photography as my only source of income.
Can you share three tips for taking a good photo?
1. Don't be afraid to get into an odd position to get the perfect shot. If you need to, climb up for a higher point of view, or even lie down for that low angle.
2. Take a few shots at slightly different angles, and give yourself options. Sometimes, standing on tiptoe or moving one step to the left or right can result in a better image.
3. Make use of your surroundings—that fence beside you can provide a decent bokeh effect, and a rubbish bin might serve as a makeshift tripod.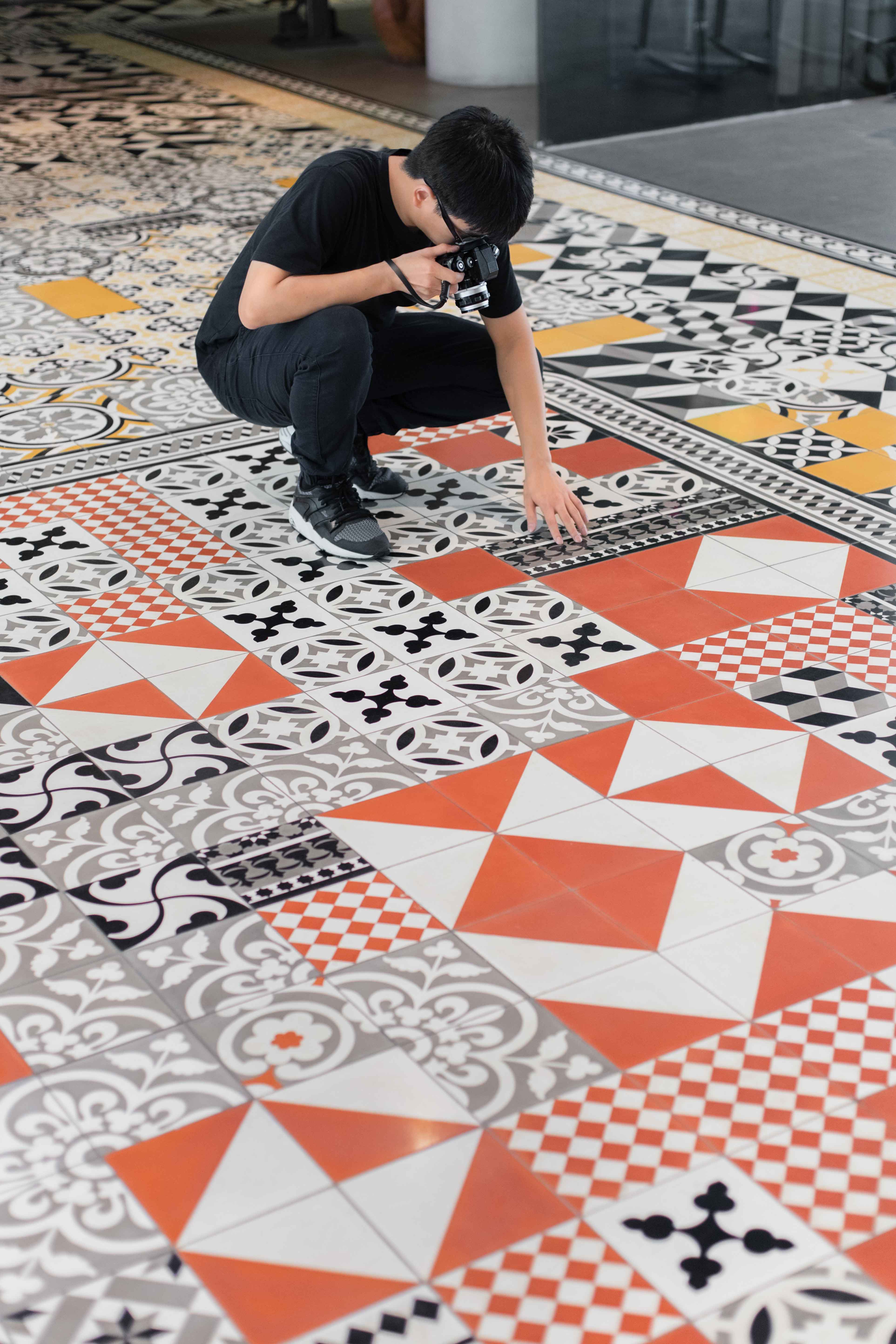 Take us through your decision-making process with your photography equipment. How do you decide whether to buy or rent certain pieces of equipment, and what are some key investments that you've made along the way?
When I get a new system, I would shoot with the kit lens for a couple of months. That would tell me what I need, and from there I proceed to pick the range of lenses or accessories if I need them. When it comes to film cameras, I tend to buy the cheapest working cameras since most of them are for leisure and collection. I've not had the need to rent equipment for the kind of photography I do, but like most people, I would rent those that are only needed for one job. Otherwise, second-hand equipment would work as well.
What has been your best investment? And an investment you regret?
My best investment has been my external flash—I don't use it all the time, but it has saved my life more than a few times, whether on paid or personal jobs. I think my 135mm f/2 lens would be the regret. It was a piece of equipment I'd dreamed of for years, and even though I got it brand new and it was a steal, I haven't been doing it justice.
We understand that you have a passion for cars, and enhancing your car is something you spend on. Can you tell us more?
It all started with the live-action movie adaptation of Initial D. While I later found that it was a poor rendition of the original manga, it changed my life and got me hooked on cars. When it comes to looking for car parts for modifications, I hunt for second-hand pieces online and try to figure out how to install them myself because I'm a hands-on person, and I get to save on the labour fee. My dream car would be my first love, the Toyota Sprinter Trueno AE86, all done up like an exact replica of the car from Initial D.
Between the modifications for your car, maintaining your photography equipment, and saving/investing for the future—how do you plan your expenses and strike a balance between spending and saving?
Saving for the future is a priority for me, so it has to be done every month. I have a savings account that has a fixed sum automatically transferred into every month. With all the other expenses allocated, this leaves me with a small sum for the month and keeps my spending in check. Every month I weigh my needs and wants—if I have a car servicing due that month, I try to spend less on food, and limit myself to shooting one roll of film instead of three.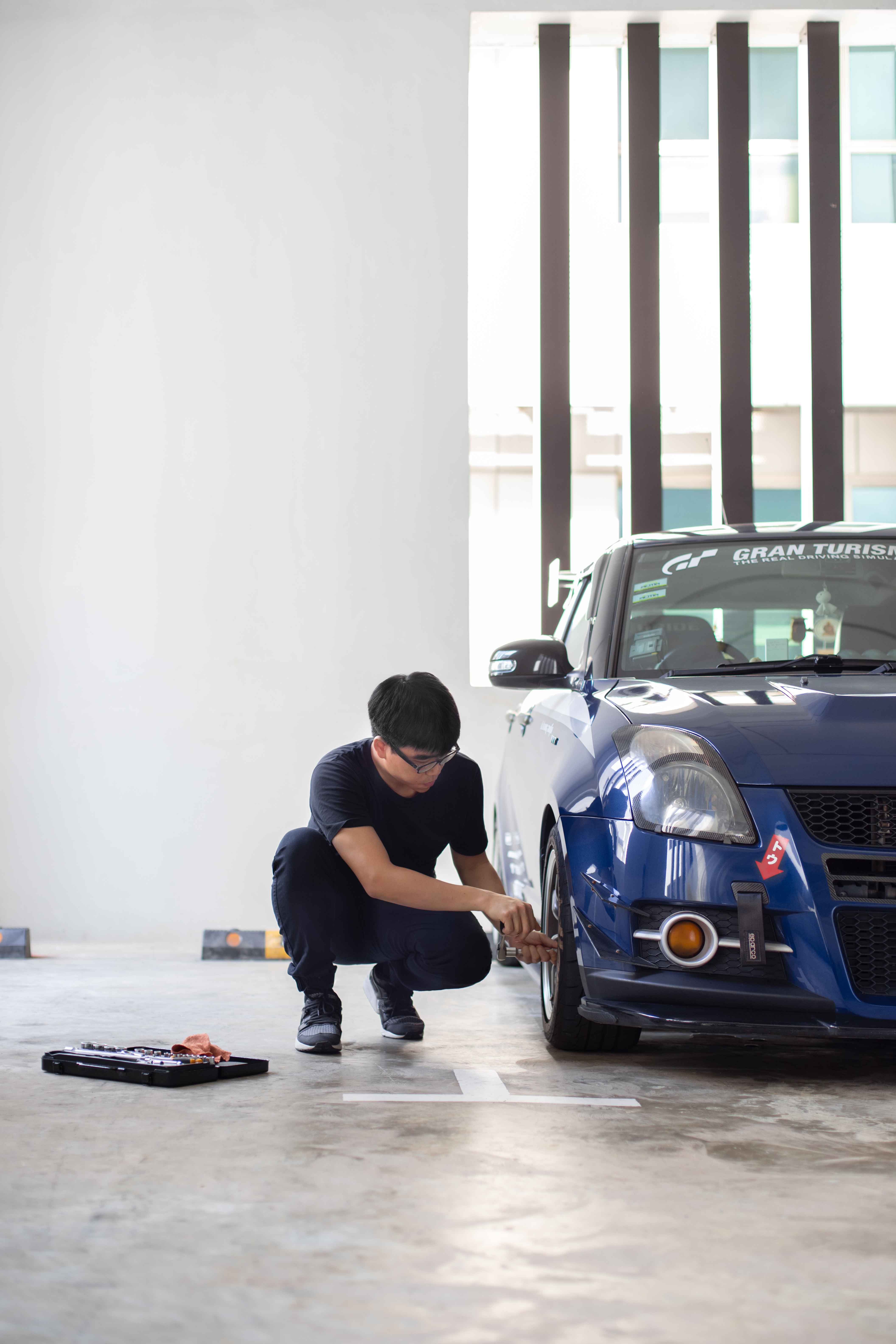 What was the moment that changed your attitude towards money/finances?
When I saw the figure in my bank account deplete during a jobless period. It was pretty terrifying to not have some money to fall back on.
What is financial independence to you? How do you gauge your financial health—are there certain things you consider key indicators that your finances are in good condition?
It would mean being able to support myself, and also having enough to give some to my parents. I believe after having set aside my monthly savings and expenses, I should not be left with a two-digit figure at the end of the month before my next paycheque comes in. With this and a consistent flow into a savings account, I think that is a good indication for me.
Time-wise, what are some ways you manage your time in between your day job, taking on commercial work, and working on passion projects?
My working hours are pretty much fixed for my day job, so I have the evenings and weekends free to work on any side projects. I'll have to reply personal emails in the day occasionally and even then, there's lunch time for that, so everything works out time-wise.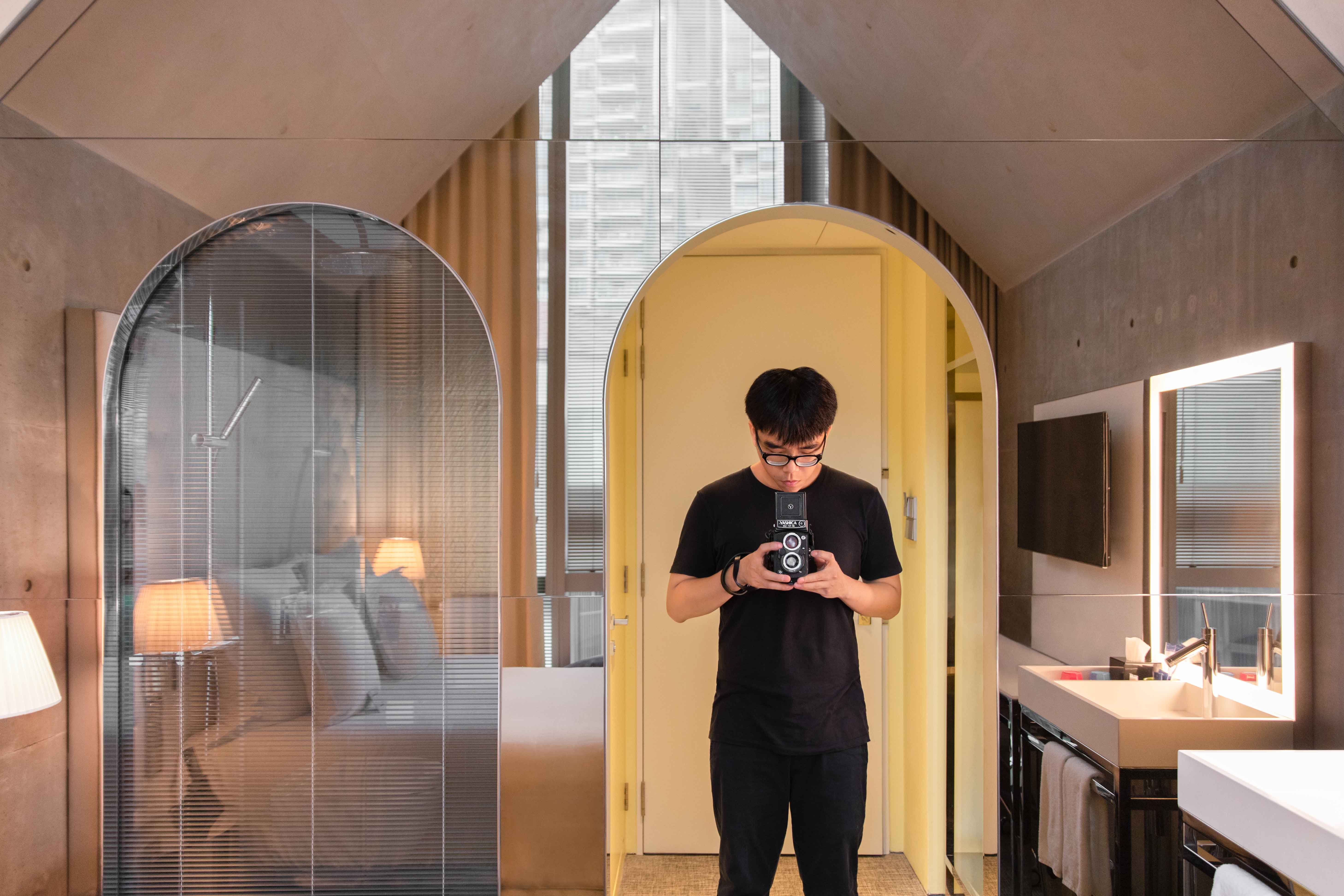 Do you have any tips for aspiring photographers, be it investing in equipment, or honing their skills or eye?
Photograph anything and everything. There're lessons to be learnt from shooting different subjects, and they can be applied interchangeably, whether you end up posting an image or not. When it comes to equipment, acquiring new gear can be fun and even addictive. But for the workhorse, make do with what you have. If it's a simple DSLR or mirrorless camera with a kit lens, stick with it for a while, maybe a year or more. You might struggle with the limitations, but this is when you learn your own photography tricks and discover your style.
Can you share about some of the most memorable projects you've worked on?
In 2015, I had the opportunity to create a display piece with a few of my collages for an exhibition by The Best of You. That was the first time any of my work was displayed publicly, which was a big deal for me. I also got to shoot some shoes for a product launch by Puma some time back, alongside other photographers. While the others photographed the shoes being worn, or in a studio set-up, I chose to create abstract and graphic images that looked nothing like conventional shoe photographs.
You've also had some experience with selling your work. How do you decide on the pricing of your work, and what were some things you had to learn when you first started?
When I first started out, I had to ask around to get an idea of what the market was like. I don't sell my work to make a living, so the price is sometimes secondary to other factors such as the value of the partnership, which is more important to me.
Tell us about the concept/inspiration behind your card designs for FRANK, which were taken in M Social Singapore. Can you tell us more about the spaces or features that drew your attention?
I wanted each card to showcase a different side of M Social Singapore, with the complete set tying them
together, so that when FRANK users get the different cards, it communicates the idea of M Social Singapore having something for everyone. I covered many elements of the hotel, but eventually narrowed it down to four themes:
1. The building's modern and clean façade,
2. The art on the premises,
3. The cultural elements in the interior design, and
4. The cosiness and comfort in the rooms.
What is the importance of family to you, and do you see your photography as a way to contribute to your family's expenses?
My family is the biggest part of my life, and they've been very supportive of my endeavours, which is something I'm very thankful for. Growing up, I didn't hang out a lot with friends so it was always my parents and I, and sometimes the extended family. For me, photography is still a hobby and sideline for now so I'm not sure how much it can contribute to my family's expenses, but it might just work out if bigger jobs come in.
What are some things you'd like to do in the future, or goals you want to achieve?
Definitely saving up for my own place, and maybe I'd like to start a drive-through business serving kopi or teh. No one has done that right?
What's one thing you think you should be doing more of, or that you wish you had more time to be doing?
Roaming the streets and spending my Sundays walking around with a camera, just exploring and shooting. I used to do that when I was in school, but there's so much to do these days that I haven't found the time.
Click here to find out more about the FRANK by OCBC collaboration with Wei Jiang and M Social Singapore.
Knowledge is money
What to read next