FRANK by OCBC x Our Singapore Reefs — A Sea Of Change
The goal: take on the ocean's trash. The solution: Dive in—literally. Our Singapore Reefs (OSR), made up of founders Tai Chong and Sam, and their colleagues Lynette and Yvonne, has made it their mission to clean up our seas, one discarded plastic bottle (and more) at a time.
But it's never easy to take on a cause that's bigger than yourself. In running a non-profit organisation, the team has seen its fair share of worries over funding and sponsorships. Still, four heads are better than one. By relying on each other's strengths, OSR has grown into a force to be reckoned with, and they say that their biggest joy is in seeing the impact they make not only on our reefs, but on each of the people they've come to meet through their work.
We met the team on a rainy Saturday afternoon, where they had taken time off their busy schedules to take part in the Asia Diving Expo. Our affable coordinator for the day was Sam, a marine biologist who says she'd be in her family business, selling baos, if her parents hadn't insisted it wasn't a job fit for a degree holder. Instead, she pursued her dreams and founded OSR along with Tai Chong, or more formally, Dr. Toh, also a marine biologist whose wife and young daughter watched from the sidelines as he got geared up for the dive. The duo were joined by Lynette, who went from studying business and tourism to science, and Yvonne, whose love for graphic design and the oceans, led her to combine the two. Ahead of a very special FRANK by OCBC x OSR dive clean-up trip on Saturday, 21st April—where a group of youth volunteers will join in for a firsthand experience of what troubles our reefs, in celebration of Earth Day and the International Year of the Reef 2018. We spoke to the team to find out more about what they do, why they do it, and how they keep on going.
two. Ahead of a very special FRANK by OCBC x OSR dive clean-up trip on Saturday, 21st April—where a group of youth volunteers will join in for a firsthand experience of what troubles our reefs, in celebration of Earth Day and the International Year of the Reef 2018. We spoke to the team to find out more about what they do, why they do it, and how they keep on going.
1. When was OSR founded? Can you tell us a bit more about it?
Tai Chong (TC): We conceptualised it in May 2017 and officially founded it in June. Our main goal is to raise awareness about marine debris. We go out in local waters a lot to dive and we see a lot of trash, but most of these places aren't accessible to the general public, so we wanted to create a platform for scuba divers in Singapore to go out and see our reefs and the problems that we encounter. Hopefully, that will ignite some change in their behaviour.
2. What was that moment that really pushed you to want to make a change?

Sam (S): I work as a marine biologist and my job is to restore and rehabilitate Singapore's coral reefs. When I was out on the field I saw a lot of marine trash but we had no time to collect them. I felt that it was important to educate the public about how it not only impacts the animals, but also us. A lot of our friends wanted to help but didn't know how to, because renting a boat can be quite expensive. We started by asking friends to come along on diving trips and to help with cleaning up. We knew there were a lot of like-minded people out there, so we wanted to start this community.
3. What are some common misconceptions that people have about our reefs?
TC: Most people don't know that we have reefs. We actually have one-third of the world's coral species here. Despite our limited space, we have all that vibrant life in our waters.
Lynette (L): The thing is, you can't see it most of the time. (laughs) Though, on a good day, when the water is a bit clearer, you can see quite a lot of marine life. People often think that nothing lives in our waters because it's murky, but the murkiness is due to sand and silt from land reclamation, and the water is actually pretty clean.
S: When people want to dive, they naturally want to go overseas where the water is clear and blue, and they'll get to see manta rays and whale sharks. But we actually have pink dolphins and turtles in our local waters.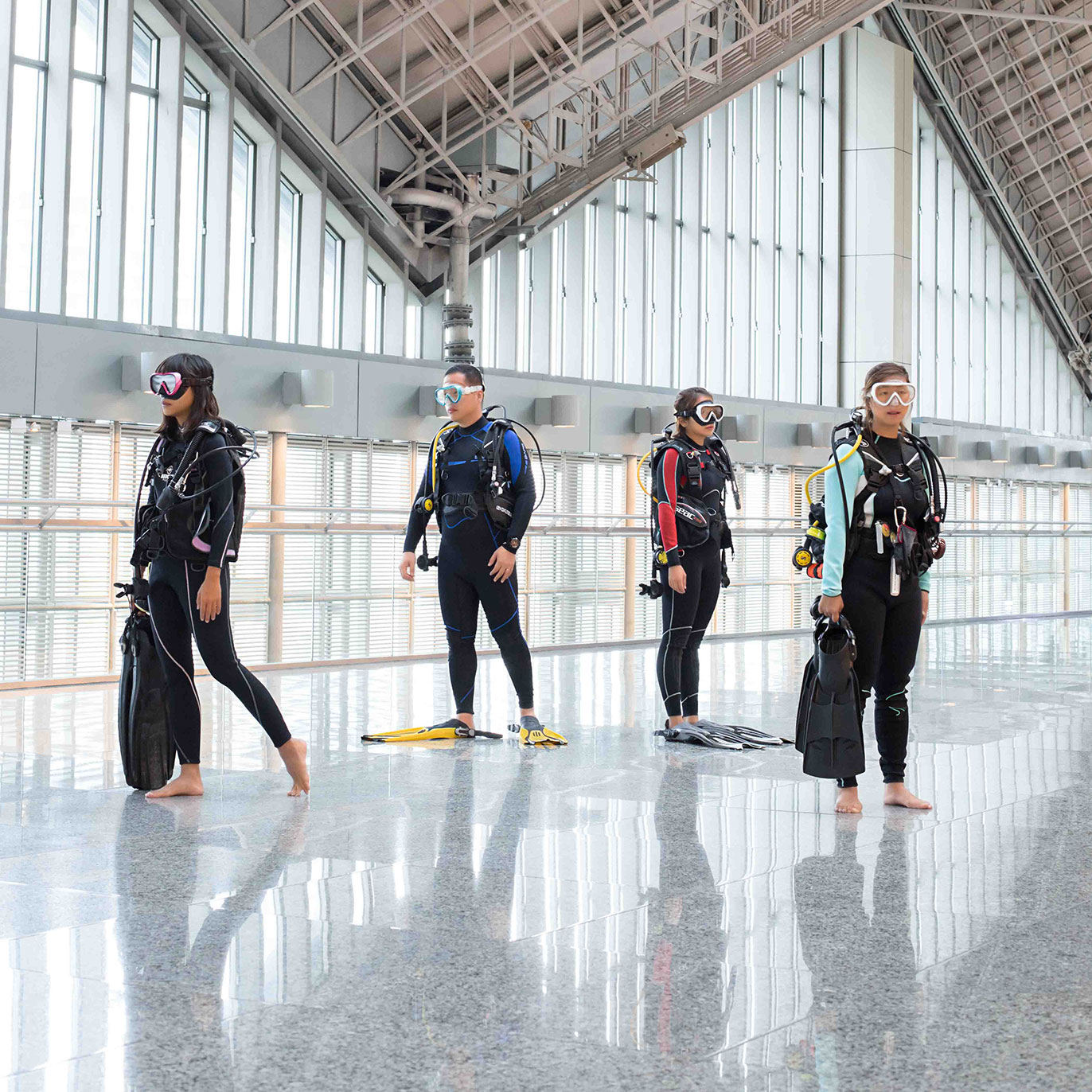 4. How do you balance your day jobs with OSR?
S: Work is always a priority. But with OSR matters, after work or on weekends, we usually try to divide up the work and help each other out—Lynette manages our social media, Yvonne works on the design, and Tai Chong handles the permits and liaising with government agencies and potential collaborators.
Y: You need passion. Because we all have day jobs, you need to make sacrifices, like spending time with friends, to work on things for OSR.
5. How did each of you come to be interested in marine life, and/or saving the oceans?
Yvonne (Y): I work in my family's timber construction business, but I was a graphic designer before that, and I wanted to use my skills for a cause. Since I liked the ocean, I decided to come on board OSR to create the branding and collaterals. It was a fit for me in terms of something I could channel my skills towards.
L: I wanted to be a dolphin trainer. (laughs) Before I left for my studies in marine biology, everyone was asking me if I was going to work in the zoo when I returned. But you just have to take the leap, and join volunteer groups or meet the right people. Later on, I found out that there were marine research and conservation groups, and even groups that were focused on specific animals. It's mostly underground, but it's an extensive community.
S: I always visited aquariums when I was younger and it was the only place I'd ask my parents to take me. Since then I'd had the idea of being a marine biologist—or a dolphin trainer too! And after junior college, I worked at the aquarium as a guide and in guest services. Educating visitors and seeing them gain an appreciation for marine life was meaningful to me. Later on, I got the chance to go to Africa on an internship to work with great white sharks, and going out to sea and assisting the researchers really made me want to be a marine biologist.
TC: I was a diver before I became a marine biologist. It was something that started by chance in 2005 and I just got hooked on it. In the water you see all these ecosystems that are lively and vibrant, but you also encounter things such as coral bleaching. At the time I didn't understand why it happened or what its effects were. Diving was the spark that ignited my passion.
6. Given that it's just the four of you, do you ever feel like there's no end to marine waste, or that what you're doing has no impact?
TC: We see impact on two levels. Firstly, it's the number of people who are interested in what we do–every time we organise a trip, all the slots get snapped up in 24 hours and about 90% of the people are new to what we do. We're reaching out to a lot of people, so that's a big impact in its own way. As for the trash, yes, it's never-ending—we can clean it up once and it'll build up again a few months down the road, but we shouldn't give up. We have seen some lasting impact; we visited one of the sites last October and when we went there again in February this year, the amount of waste had been significantly reduced to about a quarter of what it was before.
7. What are some of the most shocking things you've picked up from the reefs?
S: A washing machine. We couldn't remove it though. For safety's sake, we tell our participants to only take the items they can manage. We've also seen supermarket trolleys, motorcycle helmets, car batteries, paint cans, and even a mattress.
8. Can you tell us a bit more about how marine waste affects the ocean's ecosystem?
S: The most well-known example is turtles. Because their eyesight is not as good as ours, they mistake plastic bags for jellyfish which they usually consume. The plastic bags when eaten, cause a blockage in their digestive system. Besides that, fishing lines often get tangled in the corals. When you try to remove them, it sometimes breaks off parts of the fragile coral. That's heartbreaking because corals take a long time to form and animals make their homes in the coral so that's destroying their habitat.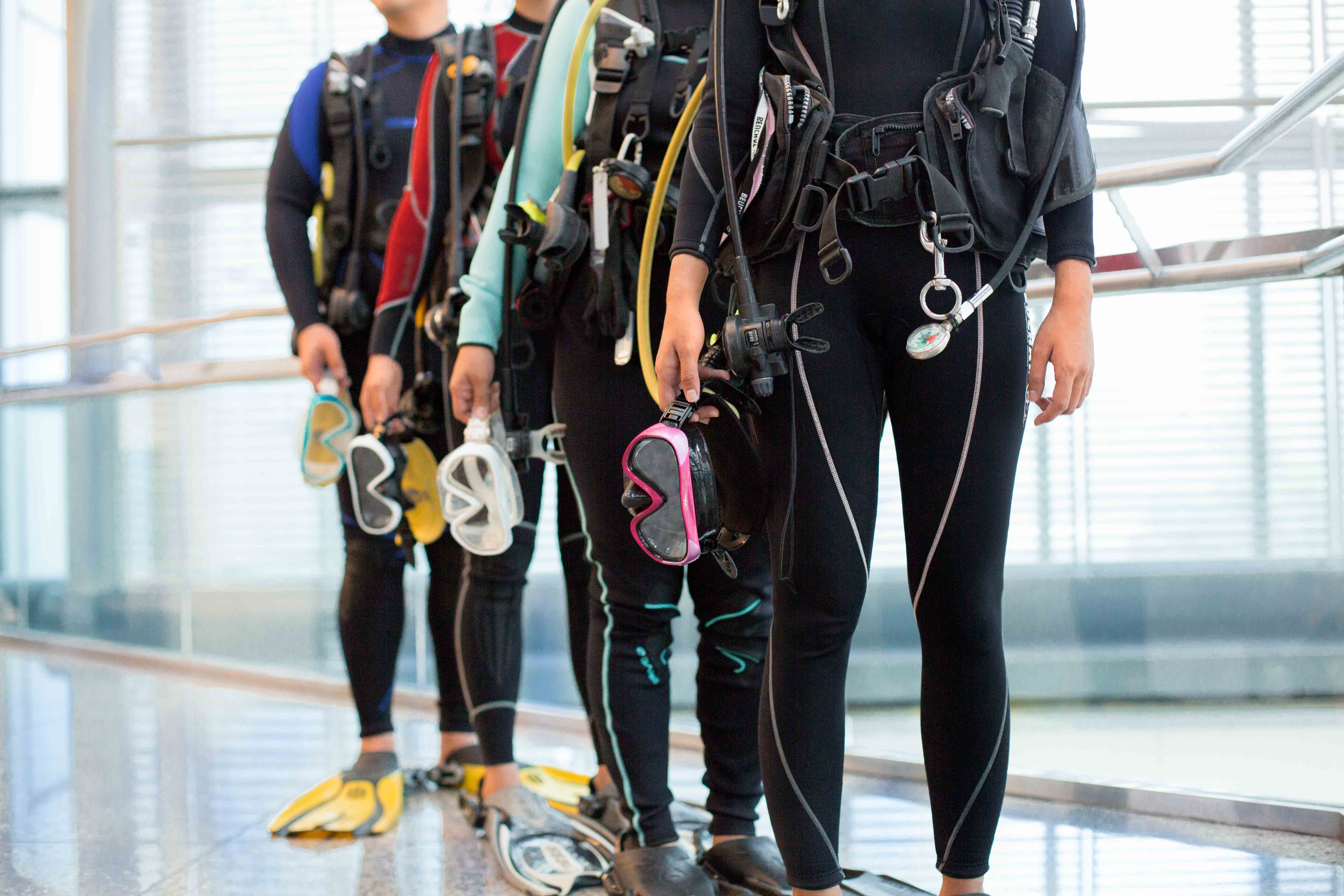 9. People don't usually link microplastics to health and how they impact our food. Can you tell us more?
S: Microplastics are defined as plastic particles, which are less than 5 millimetres in size. When some plastics are marketed as biodegradable, that doesn't mean that they don't cause any damage; they just disintegrate into tiny fragments. It accumulates in the intestines of marine creatures and that moves up the food chain until it comes back to us when we eat seafood.
L: We tracked non-toxic microplastics introduced to a barnacle larvae and saw that it remained in the barnacle throughout development, from baby to adult. We even published a paper on it.
TC: To avoid consuming microplastics, people should think about where their food comes from and how it's processed. For example, you can buy from credible sources and try to avoid consuming seafood like ikan bilis. Another way is to ensure you remove the innards, especially for things like anchovies, shrimps, and shellfish, because we often don't clean them as thoroughly as we should.
10. Besides going on dive clean ups, how else can someone contribute towards saving the ocean?
TC: I always think that the first step is to look at what's happening in your immediate community. There are a lot of free walks and marine or coastal cleanup activities people can join, even if they're not divers. Eventually, engaging in these activities will start to change your personal behaviour.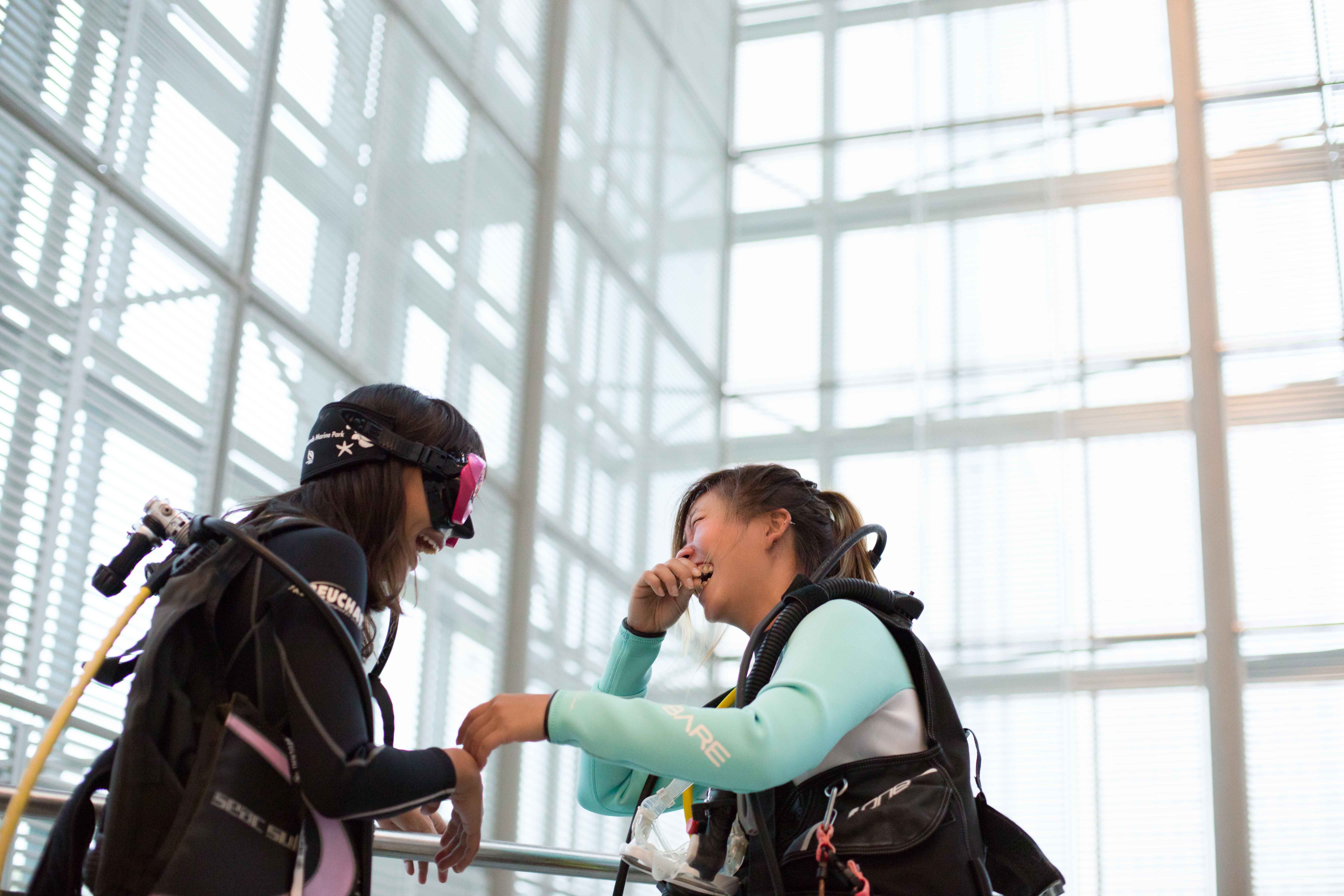 11. Are there ways that people can save money while saving the earth?
L: You can avoid single-use plastic products and generally consume less. Instead of using plastic cutlery when you take away food, have your own personal set of utensils that you can reuse. You might spend more at the outset, but the savings add up over time.
S: If you have to pay an additional 20 cents for a plastic container every time you take away food, imagine how much you'd save if you start bringing your own container. From our experience, the top three most common items of plastic waste we've seen in Singapore waters are drink bottles, food packaging, and cutlery. Plastic bags are actually not that common. Personally, I've started to use my own Tupperware containers when I buy food to go. I've even started buying hot instead of cold drinks, just so I won't need to take a straw.
Y: I don't think it's hard. On the one hand, I feel that it's not effective to be spending too much on 'sustainable' goods, because waste is generated in the manufacturing process of any product. I think that it's more helpful to reuse things, such as plastic bags and bottles, or at least to sort them.
TC: I think that small businesses can consider having less packaging. Although it's definitely an important aspect of branding, I think that the quality of your products is just as important. We can shift to more renewable materials or have less packaging overall.
12. Can you talk us through the financial process of founding OSR?
Y: A lot of the money we spent came out of our own pockets. We tried to keep things basic, even when it came to raising awareness—relying on online channels and social media, for example, instead of print collaterals, to save costs. For our dives, which are our main activity, we try to secure sponsorships to minimise the cost for our participants, so we'd write in to organisations like the Maritime Port Authority. Chartering a small boat costs between S$1,000–4,000; depending on the availability of the boats, we take between 10 or 30 people per trip.
TC: We've been in the red for a long time because it's all voluntary, but we're happy to spend that money if it helps raise awareness. One of the major costs comes from boat trips, but over the years we've been lucky to meet people who are willing to sponsor that because they believe in our cause. Even government agencies and brands like FRANK by OCBC have been reaching out to us, and they've been providing about 90% of the total cost so that's been a huge factor.
13. As a non-profit organisation, how do you raise funds for what you do?
Y: For this year's Chinese New Year, we created OSR red packets with designs that featured animals like the nudibranch and puns on the names of marine animals in Chinese. We're not registered in a way that allows us to accept donations, so we sold the red packets to raise funds.
TC: We've been getting a lot of one-time sponsorships and we're happy with that, but it's not sustainable. Our hope is that someone can provide us with a solution for a span of three to five years, so we won't have to worry about it and we can start focusing on other areas in the meantime.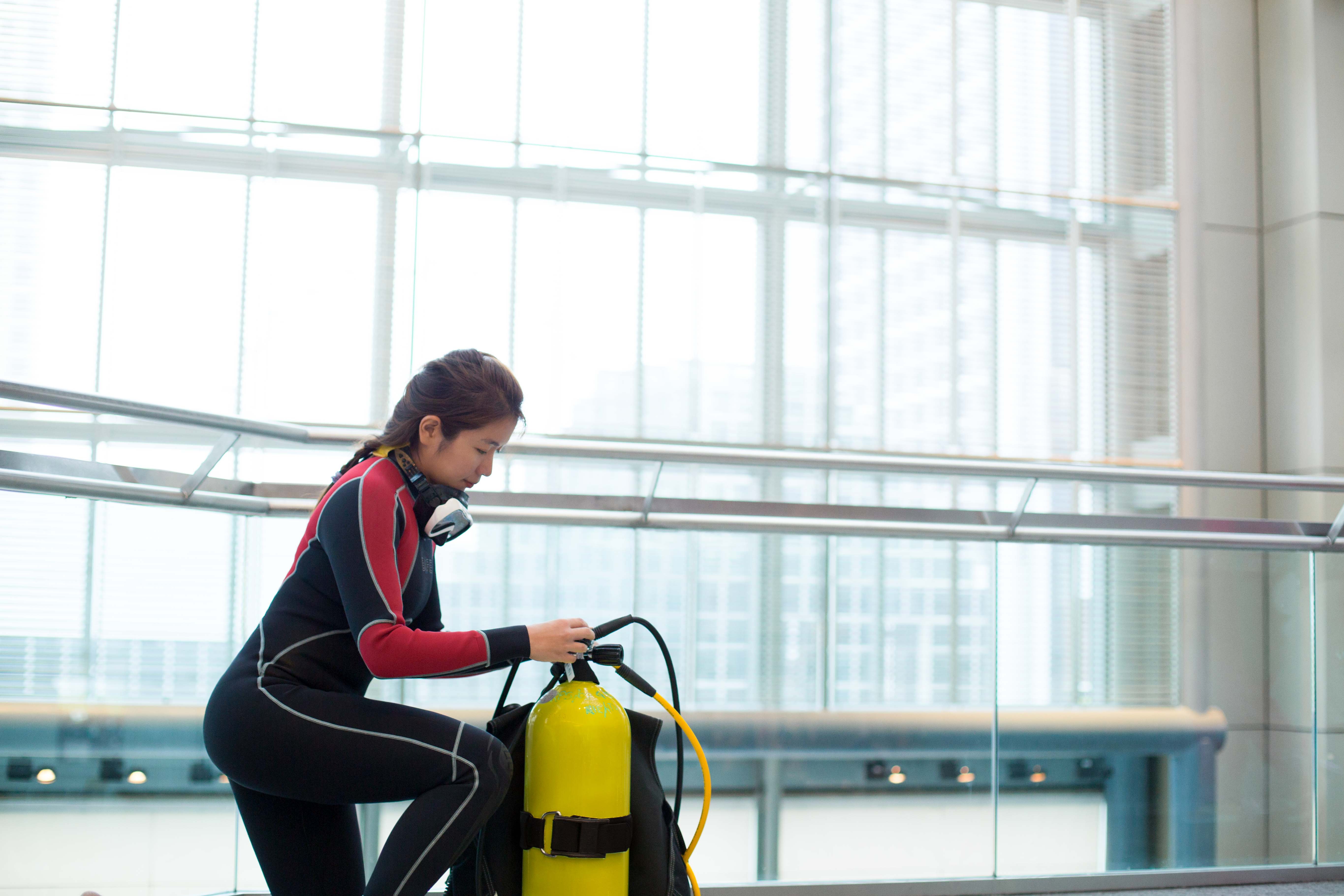 14. Who did you learn from in terms of running the organisation and operations financially?
TC: It was trial and error at the beginning. Sam and I brainstormed about how we wanted to do it, and it was a leap of faith. We weren't even sure if we could make it past our first year, but things worked out for us, and when we got Yvonne and Lynette on board they each brought their own expertise. More recently, I've been talking with colleagues and friends from other NGOs to get their advice on how to scale up our operations. Dr Goh (Wei Leong) from HealthServe has been a mentor and has given me a lot of advice. HealthServe started as a small company and now they're sustainable with their own staff. For now we're still thinking if we want to move in that direction, but if we want to scale up that's one of the options we can consider.
15. What are you thinking of when you mentioned scaling up?
TC: Now, the core team only consists of the four of us and each of us has a day job. We need a lot more people to cope with the logistics and publicity, so for now some ways we can scale up would be to increase the number of guides, so we can focus on building connections and developing partnerships, and training a team to assist with the operations. Another thing is that a lot of the admin and tracking of finances is done by us, so that's something we'd focus on if we do scale up. A lot of the money doesn't come from us, so financial governance is especially important to us because of accountability.
16. Were there moments that changed your attitude towards money? Or when did you realise you didn't manage money well?
TC: When I was studying I was really broke, so that forced me to be careful with managing my money. I had to be particular with every small decision—whether or not I should take taxis, and so on. So being aware of what I had and managing it well is something that's stuck with me until now.
L: It wasn't a revelation, I've always known it. (laughs) I had conversations with friends and they would mention opening a joint bank account, but they'd have to put down a minimum of $50,000. And I would be shocked that they had that much in savings to commit. It's good that my friends have financial plans like that, but I also recognise that we're on different life paths and we have different milestones to consider. Unlike my friends, I'm not looking to get married or have children.
17. Who manages OSR's finances?
L: Me! (laughs) I think it was helpful that we opened a new account for our finances and the principle was just that any money that goes in is meant to be saved, not touched. Yvonne also has a background in accountancy, so she'd help us check the sums and track the figures in a spreadsheet.
18. What are you guys working on right now, or a project you would love to undertake?
TC: One would be to infuse art into the trash we pick. Right now a lot of the trash we collect is just disposed of, but we're hoping we can curate an art event where we'd take over a space, and collaborate with artists and visitors/passers-by to create a structure made of trash. The other thing would be to work with other social causes; for example, with youths who are underprivileged or at risk and use diving as a sport to develop their interest and self-esteem.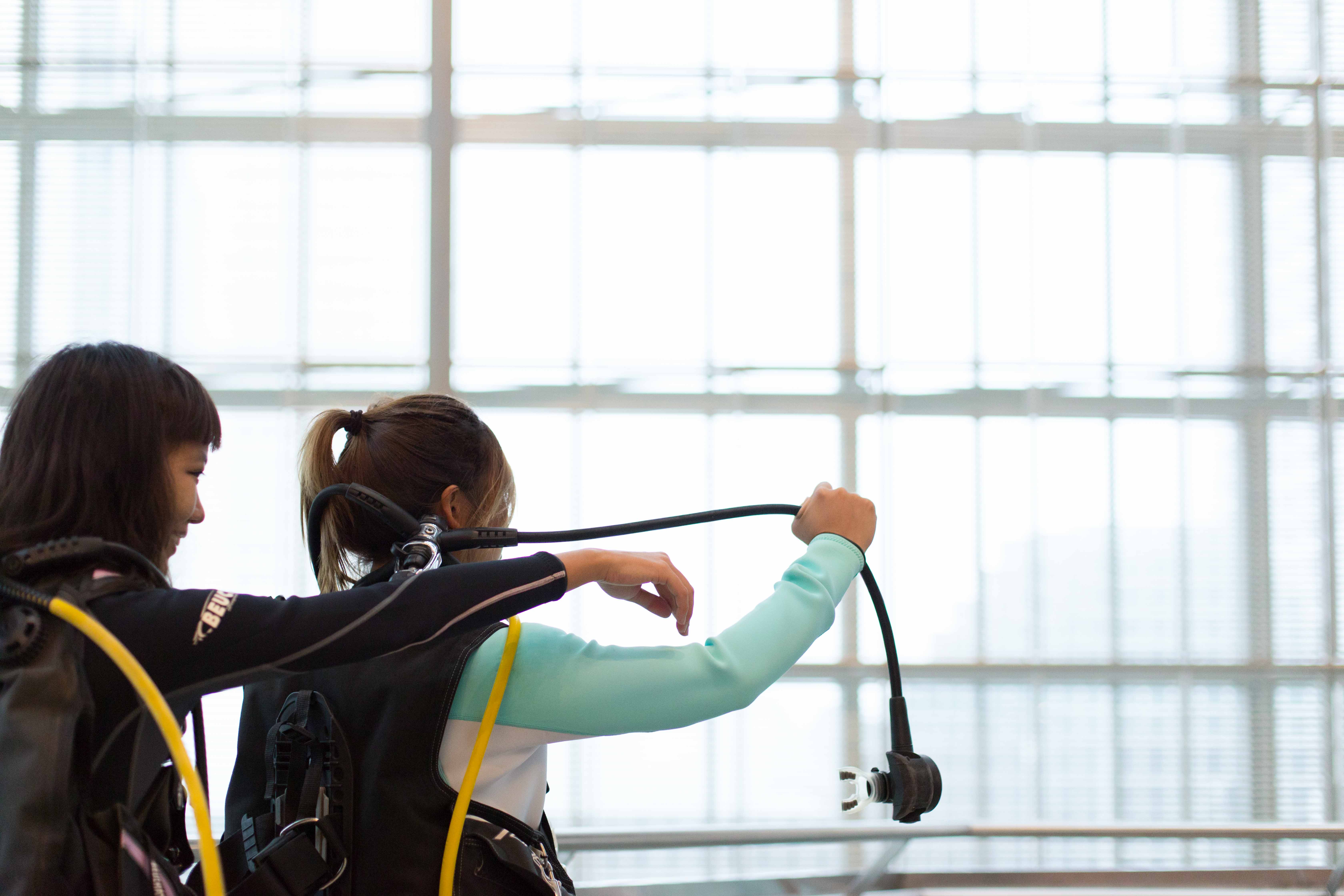 19. Lastly, who's your role model in life?
Y: One of my tuition teachers. I feel that his great vision and passion to help the youth and the nation would make him a good MP. His ability to understand and think empathetically was what inspired me to do this.
L: Actually, Sam inspires me a lot. I'm a lazy person and tend to give up on things easily when they're difficult or frustrating, but being in OSR and seeing everyone being so involved makes me eager to do more.
S: I find Tai Chong inspiring. He's very driven; when we have an idea for something he'll go ahead and do it. He also has to juggle his family life with work and the outreach we do.
TC: My mum. She's a very strong person; even though we're from different generations, she's very financially savvy and taught us to budget properly. She ingrained discipline in us and taught us to be neat. She's strong and she never gives up despite what life throws at her.
For more articles on all things FRANK, click here.
Knowledge is money
What to read next