Uncovering the Value of Fashion
Fashion journals and style blogs often liken branded goods as "investment pieces", in the sense that customers are rewarded for buying these exorbitant merchandises for their quality and durability.
---
A pair of thousand-dollar shoes worn every single day of the year means the individual spends about $2.70 a day to wear nice shoes. $2.70/day is a small price to pay to wear quality shoes, one would think. Perhaps the small number comforts the mind, but it really doesn't change the fact that you've spent a thousand dollars for a pair of shoes.
If you think about it, the term "investment piece" could actually connote a more financial meaning in terms of its appreciative potential.
---
There may be real value in fashion
While most investors would balk at the idea of putting their hard-earned money into a high-end accessory due to the fear of depreciation, this simply does not hold true for the majority of big-name luxury products. After all, quality and rarity are the twin attributes that enable these accessories to command a consistently high price in both the primary and resale market.
For instance, Hermès Birkin bags are famed for the exotic animal skins that comprise their main body as well as the meticulous level of craftsmanship put into their creation. In fact, due to its limited production numbers, the bag was previously known to have a waiting list, which could last up to 6 years! A Hermès Birkin bag was auctioned by Christies for $223,000 last year, while a one-of-a-kind, steel-framed model of the brand's 5016A wristwatch was auctioned off for an impressive sum of US$7.3 million in 2015. The jaw-dropping figures are not only awe-inspiring, but for astute investors, it is an opportunity to look at luxury goods as not just status symbols, but financial investments as well.
Unquestionably, there is a premium placed for the unique and rare. Art and design aficionados and vintage collectors place huge premiums on collecting very rare designer pieces. Dresses by Yves Saint Laurent for Christian Dior, or Marc Bohan for Christian Dior, Cristobal Balenciaga and Alexander McQueen originals have been known to capture huge premiums in the secondary market. So, there are buyers for such goods. Yet, sourcing for such potential opportunities involves a very keen eye and a great deal of knowledge about the industry and the history behind these pieces. Some people may have access to these goods without even knowing it. At times, these pieces can be auctioned in houses like Sotheby's and Christie's. We often recognise this as the exclusive domain of the über-rich and not those of mere mortals.
---
Online auction redux
But that is not necessarily true. Where there is demand and supply, a market forms. It just takes a platform to trade, and that has increasingly been the online channel. With digitisation, we see an auction redux, where a new secondary market is burgeoning for luxury goods. Buyers and sellers now have an accessible platform where they can come together to do such trades, though not for extremely rare pieces of course. Often, it is about regional arbitrage. It's not uncommon to hear people buying Prada from an outlet in Florence to sell at a premium rate in Singapore, or even as "death arbitrage" in the case of Alexander McQueen scarves post his death.
Real examples include websites like Chrono24, which is on its way to becoming the world's largest online platform for the luxury watch trade sector. Boasting a sales rate of 90% on its homepage, Chrono24 allows users to market their luxury timepiece to thousands of watch enthusiasts around the world. Other fast-growing online retailers of pre-loved accessories include The RealReal and Portero, both of which provide unfettered access to rare merchandise from premier brands like Rolex, Cartier and Chanel.
And this market is getting bigger. As reported by the Business Insider, the secondary fashion marketplace was estimated to have generated over US$12.5 billion worth of transactions in the U.S. alone during 2011. Once again, this success can be traced back to the rise of virtual avenues for luxury goods trading.
---
From bags to business
Buying and selling bags online may sound easy, and even fun. But it's never nearly as straightforward as it seems. Remember, these are illiquid investments and the only way one profits from them is to find a buyer and sell it at a premium, much like property. Like property, this itself is a function of a number of uncertain factors like the economic climate, the interest in the product, the pricing competition and a whole host of other issues. Doing this may actually be a full time job for some.
But for many of us, we buy a bag simply because we covet it. The idea of "investing" in a purchase made purely out of desire may compromise the fun or satisfaction we get from our buys, though it might not hurt to keep in mind that your purchase may one day appreciate in value sometime in the future.
Investing in luxury can be more than just trading goods, even though that in itself is a huge part of the fun. It could manifest in more conventional ways, such as the traditional stock picking. More often than not, we recognise the brand name, yet pay scant attention to the public holding companies pulling the puppet strings in the background. These bags and clothes are covetable for many reasons, primary among which are its strong marketing and branding, celebrity endorsements, clever advertising and exceptional quality and craftsmanship. The consistent effort required to maintain the desirability of a product takes great investment. To do so on a global stage undoubtedly requires very deep pockets, something well afforded by huge conglomerates.
Within this space are known luxury corporations like LVMH and Kering. They manage some of the best-known luxury brands in the world, some of which have endured for decades, or even centuries in a few cases. For example, storied fashion houses like Christian Dior, Louis Vuitton, Givenchy, Celine, Fendi and other well-known wine and spirit companies are managed by LVMH. Kering helms Gucci, Saint Laurent, Alexander McQueen and Balenciaga. Many of us may be familiar with these brand names to varying degrees, but few actually know that they are managed by a singular public company.
The prestige value associated with the brands under their belt confer these companies the pricing power they need to command robust operating margins. Moreover, due to the strong legacy created over the years, these brands enjoy a huge competitive edge with certain signature models being hard to replicate – like the Tiffany signature collection, the Fendi baguette or any Hermes bag. These difficult-to-replicate intangible assets allow conglomerates like LVMH, Kering and Tiffany & Co to enjoy wide economic moats, according to Morningstar.
---
Not always glitz and glamour
However, like many other businesses in this current economic climate, luxury continues to face some short to medium term pressures largely stemming from China. The slowing Chinese economy and related market tremors may continue to sap consumer sentiment in the near term and likely curtail the demand for luxury goods. This is especially pertinent with China having driven the retail momentum for brands within the LVMH and Kering group for the past few years.
More broadly, the sales to newly rich people in
emerging markets are intimately tied to the macroeconomic fortunes of China. Imbalances there could weigh
heavily on the luxury companies if a financial crisis ensues.
Interestingly, luxury sales might continue to be a casualty of the Chinese government's intensified anti-graft campaign to reign in corruption. Once, it may have been a practice to gift a high-ranking official an expensive Patek Philippe watch, now it is an open invitation to scrutiny, which everyone wants to avoid. Apart from the economic slowdown, strong anti-graft efforts by the government will result in luxury pullback. CLSA Ltd. estimates that almost a fifth of corporate spending in China is on corporate gifts. Sales sluggishness is certainly inevitable.
In addition, tourism, another sales driver in the luxury business, continues to face pressure from heightened security fears arising from geopolitical risks like the attacks in Paris and Istanbul. This market segment may also slow down due to currency swings that are causing shifts in consumer behaviour. Price differentials may encourage consumers to wait to make purchases in the most favourable geography.
---
Still a focus on Asia
Despite these headwinds, luxury firms are likely to continue to entrench their presence in Asia so as to ride the rise of the middle income and affluent class across the longer term. The global luxury market is still a huge business and may continue to enjoy high growth as Asia climbs the income ladder.
Indeed, it may well be Asians like us providing these companies with continued retail support. Yet, before one hurriedly reaches into one's wallet to dish out a credit card or two in the name of conspicuous consumption, it may be interesting to think critically if a single monogrammed bag and its associated company can potentially change the weight of one's wallet for the better. And no, to be clear, we're not talking about the leather.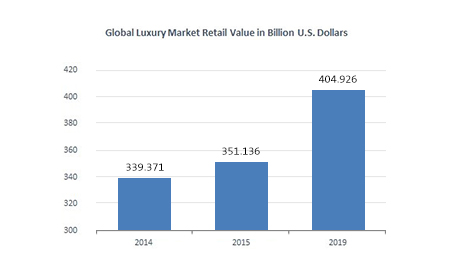 Source: Statista.com; Total retail value figures for the global luxury market (2014 – 2015) & its projected value in 2019.
---
Important Information
The information provided herein is intended for general circulation and/or discussion purposes only. It does not take into account the specific investment objectives, financial situation or particular needs of any particular person.
Please seek advice from a financial adviser regarding the suitability of any investment product taking into account your specific investment objectives, financial situation or particular needs before you make a commitment to purchase the investment product. In the event that you choose not to seek advice from a financial adviser, you should consider whether the product in question is suitable for you.
The information in this document is not intended to constitute research analysis or recommendation and should not be treated as such.
This does not constitute an offer or solicitation to buy or sell or subscribe for any security or financial instrument or to enter into a transaction or to participate in any particular trading or investment strategy.
Any opinions or views of third parties expressed in this material are those of the third parties identified, and not those of OCBC Group.
WRITTEN BY:


About Tan Siew Lee

Ms. Tan Siew Lee is the Head of Wealth Management and a member of the Wealth Panel at Wealth Management Singapore, OCBC Bank.