FRANK by OCBC x Linda Hao - Saving In Style
Fashion designer. Music DJ. Costume designer. Stylist. Teacher. And aspiring farmer. These aren't just jobs to Linda Hao. These are just some of many ways the passionate 28-year-old expresses her creativity and desire to better the world she lives in – proving that it takes more than just good fashion sense to make it in the fashion industry.
The name Linda Hao should sound familiar to most. Perhaps best known for her experimental, ever-changing sense of style, Linda's also quite the multi-hyphenate: she ran her own fashion label, Yesah, up till 2015; is still a regular fixture at high fashion events, sometimes as a guest, but mostly as a DJ; she's currently doing both freelance costume design work and styling; has started teaching the next generation about sustainable fashion; and is also thinking of opening her own community-living farm one day. Talk about having a full plate!
The 28-year-old originally moved to Singapore from Shanghai, China, in 1998, when she was just 8 years old. Her involvement in fashion started out when she was a teenager—her parents ran a bridal company, and her first foray into the industry was as a model. It's no surprise that creative work came naturally to Linda, and she later enrolled in Temasek Polytechnic's Apparel Design & Merchandising course. The tips and tricks she learnt from watching her parents run their own business helped her in starting Yesah, but her boundless desire to keep trying new things led her to pick up DJ-ing while she was still in school. She applies an exploratory attitude to not only her work, but also to life—it was this "try-and-see" mindset that's led her to meet many likeminded individuals, expanding her portfolio of work and myriad of interests. Still, she's had her fair share of ups-and-downs; she's learnt the hard lesson of the importance of rationing your income as a freelancer, balancing both creative and business roles, and, along the way, rediscovering what it means to be stylish while respecting the planet in an age of fast fashion. Linda is now a staunch believer in creating a more conscious, considerate industry, and true to her evolving nature, is already planning for what's to come next. We visited her in her studio in Johor Bahru to find out what she's been up to.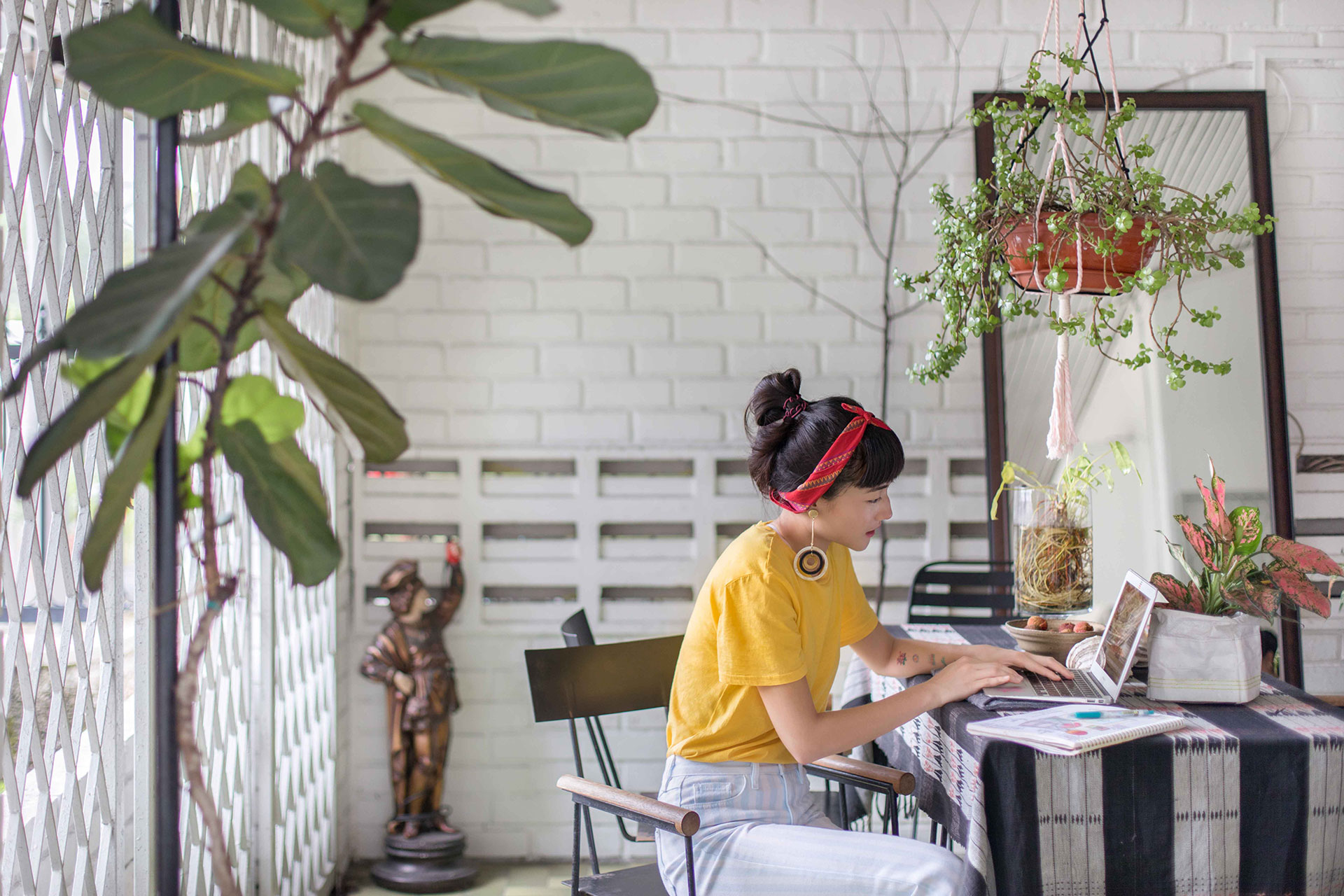 How did you get started on costume design? How different is it designing for a film as opposed to your own collection?

To me, any kind of garment design, be it costume design or fashion design, essentially requires the same skill set, whether you're designing for real people or a character in a film. When I was studying Apparel Design and Merchandising, I'd already had the thought that these were things I could do in the future, but it was just that I tried having my own brand as a fashion designer first, because that was my biggest desire then. Later, as I got interested in filmmaking, I started styling and assisting on set, and that was when I got jobs as a costume designer. I'd say I enjoy being a costume designer more than being a fashion designer, because you're designing just for a specific character, as opposed to having to cater to a public crowd. It's like a bespoke service, and it's a very intimate experience.
This was an unexpected surprise. The director enquired about my work and after hearing about the synopsis and art direction of the film, I was immediately interested to find out more. Visually, it's a mix of Indian and Chinese culture set in a retro futuristic world. It's the director's first-ever movie, and he's setting out to break a lot of boundaries for a 'typical Bollywood' film. The sound design is epic; that's all I can say for now!
I started out styling at (the now-defunct) Alexis magazine, so I did a lot of styling for photographers back then, mostly for smaller or personal projects.
Later on, I did more commercial work, like styling for advertisements. As time went by, I picked up bigger jobs.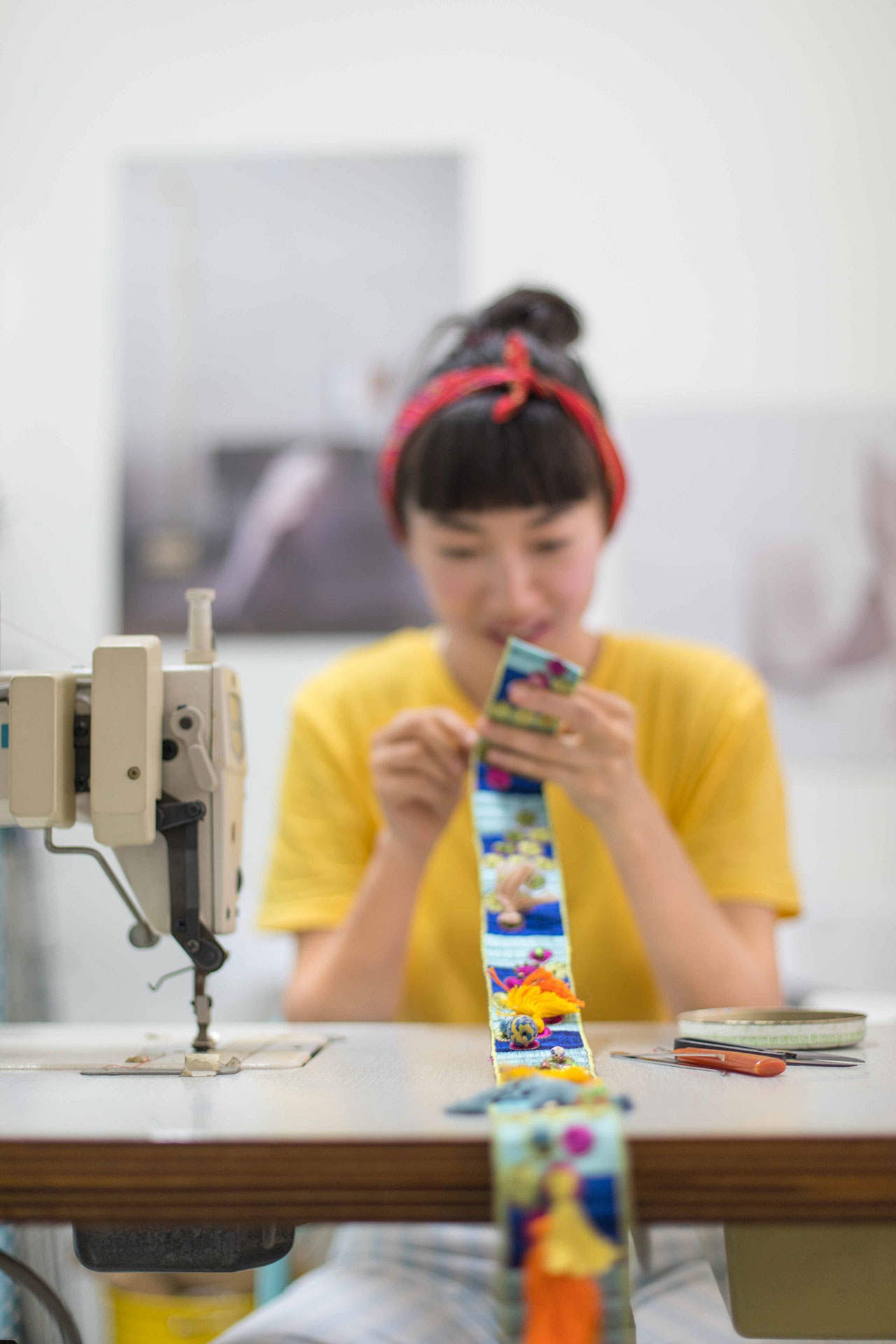 What are some common misconceptions people have about being a stylist? What are some of the biggest challenges (and also joys) that you face?
The biggest misunderstanding has to do with the job title. 'Stylist' just sounds cool, but if you have a project brief where you have to style five people with two outfit options each, imagine the amount of clothes you have to come up with. It doesn't appear out of thin air; you have to personally head down to the stores to pick up the clothes. There's a lot of communication work to be done in advance, especially if you're loaning clothes from big brands, and a lot of physical labour people don't really know about. The end result just appears on the model, but before that, this stylist might be working like a dog. You also have to be meticulous in order to take on this role properly.
My biggest joy would be getting to work with all sorts of people. As a stylist, I work behind the camera, which gives me a different perspective because I get to interact with the crew, and make connections. It's different from being in front of the camera, because you're treated differently on set. I'd say my biggest advantage is getting the chance to have intimate interactions with each person I style.
Can you share about your creative process behind your work?
It's actually a very long process altogether, and the only way to get inspired is without stress. Usually, whenever I get a new project brief, I need a lot of time to wander around by myself and find inspiration—it can happen any time, any day, while I'm cooking or enjoying the sun on a hammock. It usually doesn't work so well if I'm too stressed. Also, technically, it's always challenging to sustainably work with what you have instead of what you don't have. A design might sound nice, but when you realistically think about the construction and practical means, it doesn't work out so well or might end up creating a lot of wastage. There's a lot of time needed to constantly communicate, go through trial and error, wait for feedback, or end up not achieving what you expect. It's not as easy as it seems.
Favourite/most memorable project to date:
Sunshine, a short film, which I worked on with (local director) Jacky Lee. I was really young then, so I was trying my best to take on all the different roles in that production by myself. I was the actress, the stylist, and I was also giving creative direction on all the styling, makeup, and hair for my character and the others. It was very challenging, but I gained so much experience and learned so much from that.
There's a growing DIY/makers' culture here in Singapore—everything from crocheting to leather making. Why do you think there's been a resurgence of this lately, and where do you see it heading next?
I've been spending some time studying history and thinking about craft and DIY ideas, and I realised that this DIY culture has its origins in ancient techniques. I think it's a good thing that this culture is growing in Singapore, because it means that people out there are sharing their skills with the wider community.
It's a positive change, and one that shapes the kind of creative culture Singapore will eventually become in 10 or 20 years' time. Although I see this growing culture as something that's only emerged in the past five years, I do think it will be wide-spread in the future, because a lot of young people are interested in learning new things.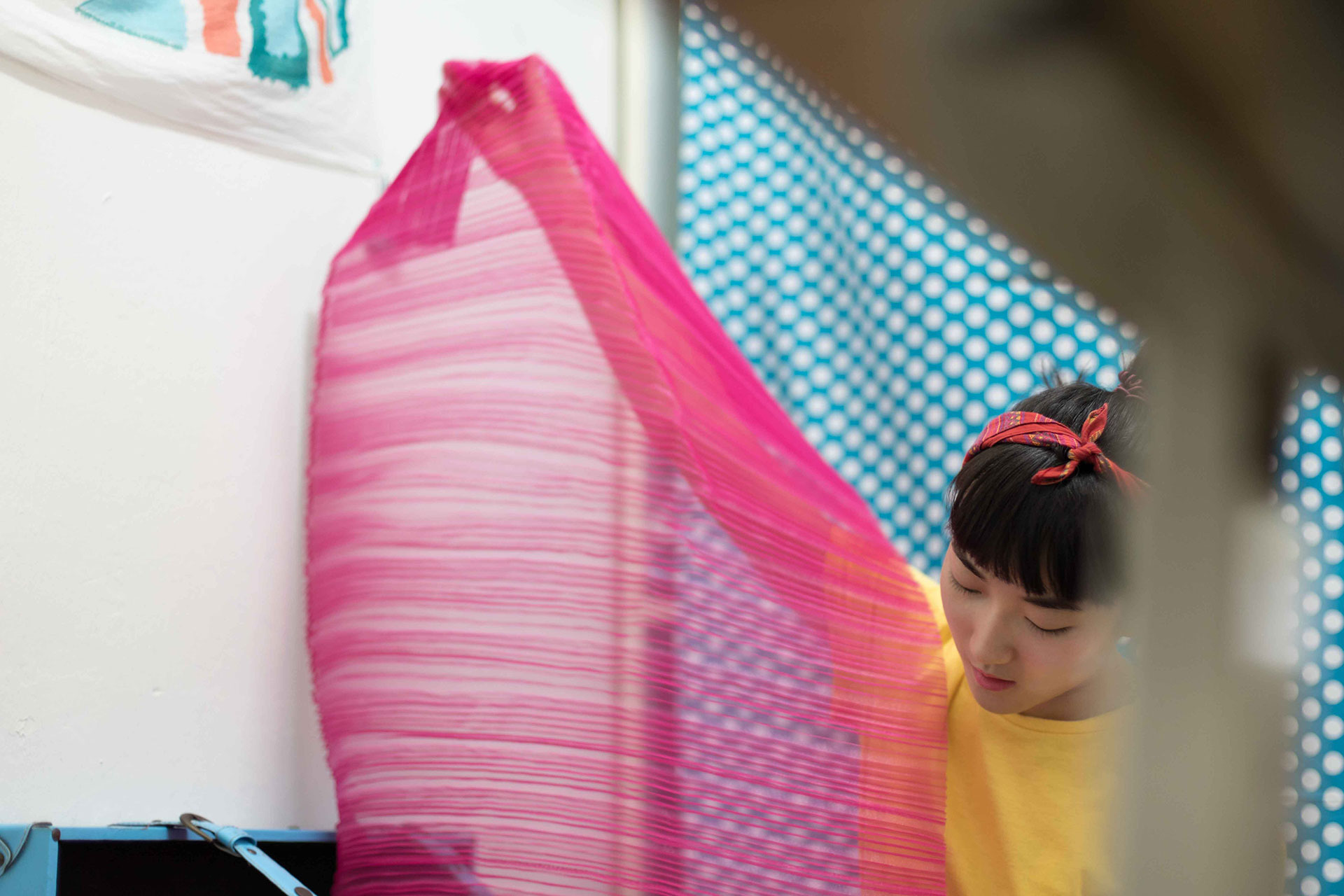 Fashion often gets a bit of a bad rep; people think of it as frivolous or linked to meaningless consumption and buy-and-throw culture. How do you think fashion can be a force for good for youths?
It really depends on us, and how we want to create this culture. Sadly, the rise of social media has really changed the way people think they should dress, or even what fashion is really about. Because of fast fashion and buy-and-throw culture, I think a lot of people forget that fashion is something that actually involves a lot of skill and craftsmanship. I think that the only way to move in a better direction is for people to ask themselves how they can contribute to a more positive future of fashion. As a designer, I feel responsible because what I put out can influence people, and that's why it's important to me that I adopt a sustainable approach, even in the way I handle my business. That's just what I can contribute personally, but I hope that more designers think about the consequences before they start a project or put something online.
What are some things people should consider before buying a piece of clothing?
Can you share three tips to be fashionable without breaking the bank?
1. Build up your self-confidence. That's the most important. The only way you can look stylish is when you feel comfortable in what you're wearing.
2. Observe your body and know your body type. Everybody is different, and it's important to know what suits you. Look at online references that are reflective of your own body. Even if you see a lot of people following trends, and many celebrities wearing certain clothes, they might not suit you at all.
3. Be yourself, and be adventurous and dare to try. Many people get their fashion information online, and that becomes their bible. However, I think it's important to keep trying new things that you like, because you'll never know if you might look good in it till you try. Eventually, you'll build your own style. DIY-ing also helps in expressing your own style, while saving money you'd otherwise spend on new clothes—for example, if I have a pair of old jeans that I'm bored of and want to give them a fresh look, I just need to spend some time deconstructing/remaking it. I can also embroider old hats to give them my own style. The DIY approach can extend to every item in my wardrobe, basically! You can also share or trade items with your friends. It's fun, and free at the same time.
I think that these three steps are important in developing a style that is individualistic and comfortable to anybody else's idea of what is cool.
Where do you shop, and what do you look out for?
I usually shop when I travel, and I buy a lot of handmade items because of the quality and workmanship. A lot of people might think of wearing handmade and vintage clothes as just another trend, but the reason people do that is because the fabric, cutting, and workmanship that you find in vintage clothing are 100 percent different from the way clothes are made today in fast fashion chains. It's also very important to know which fabrics suit your skin, and which cuts are flattering. When you shop, don't just go with what's on sale or on offer, but try things on. If it looks good but is uncomfortable or doesn't look right, don't bother.
We've heard you have thoughts about revamping and restoring Yesah. What brought that about? What do you think you would do differently/the same?
The reason I took a break was to analyse what I'd done, what I had contributed as a fashion business, how I had failed, and how I could improve. During that time, the only way that Yesah could move towards a sustainable future was to recycle, reuse, and remake. That gave me the idea to do this revamp. Instead of buying and selling, I wanted to use what I already had to create something that's still stylish and wearable for a long time.
Who did you turn to for big financial decisions? Who mentored you to grow your business?
My family, because they financially supported me from the beginning. They invested in the business, even though it wasn't a big amount. Whenever I had doubts or problems with budgeting, I would ask my cousin whom I'm close to, and for the bigger decisions I would consult my father. He's a creative consultant who's had his own business for many years, so it's very natural for us to talk about our ideas at home. He definitely played a big role by supporting me in my own decisions and plans because he believed in me, which is something not everyone would do.
Something you wish you knew before you became a designer/entrepreneur:
When I was studying, everything was in books or your imagination, which creates an appetite to design many different things. But when you come out into the real world, you realise that so many of your ideas and designs can be destructive to nature. That's something I wish I'd known earlier; I only learnt about it when I was sourcing for materials on my own in China, visiting factories and understanding the whole world of making a garment, and manufacturing for a fashion business.
What was the moment that changed your attitude towards money/finances?
The biggest moment came about two years ago, when I took a break from my own brand. I was just juggling too many things, and at that point the brand was expanding so quickly that I couldn't handle it. It was selling in many places throughout Southeast Asia, and also in the United States and United Kingdom. I had to be the merchandiser, accounts person, designer, and creative director. I had to fork out money for the marketing plan, and to make the clothes, and I didn't have time to think about whether I had enough left to feed myself. All this money was constantly going out, but nothing was coming back. Even if some money came back in, it had to be directed to something else—making another collection, for example, or buying something. There wasn't a break for me to accumulate my savings, and it had a really big impact on my life. Ever since I pulled myself back up to save enough, I've had a clearer head on how to manage better for myself, whether it's for my business or as a freelancer. I know what I need and how much I have to earn in order to survive.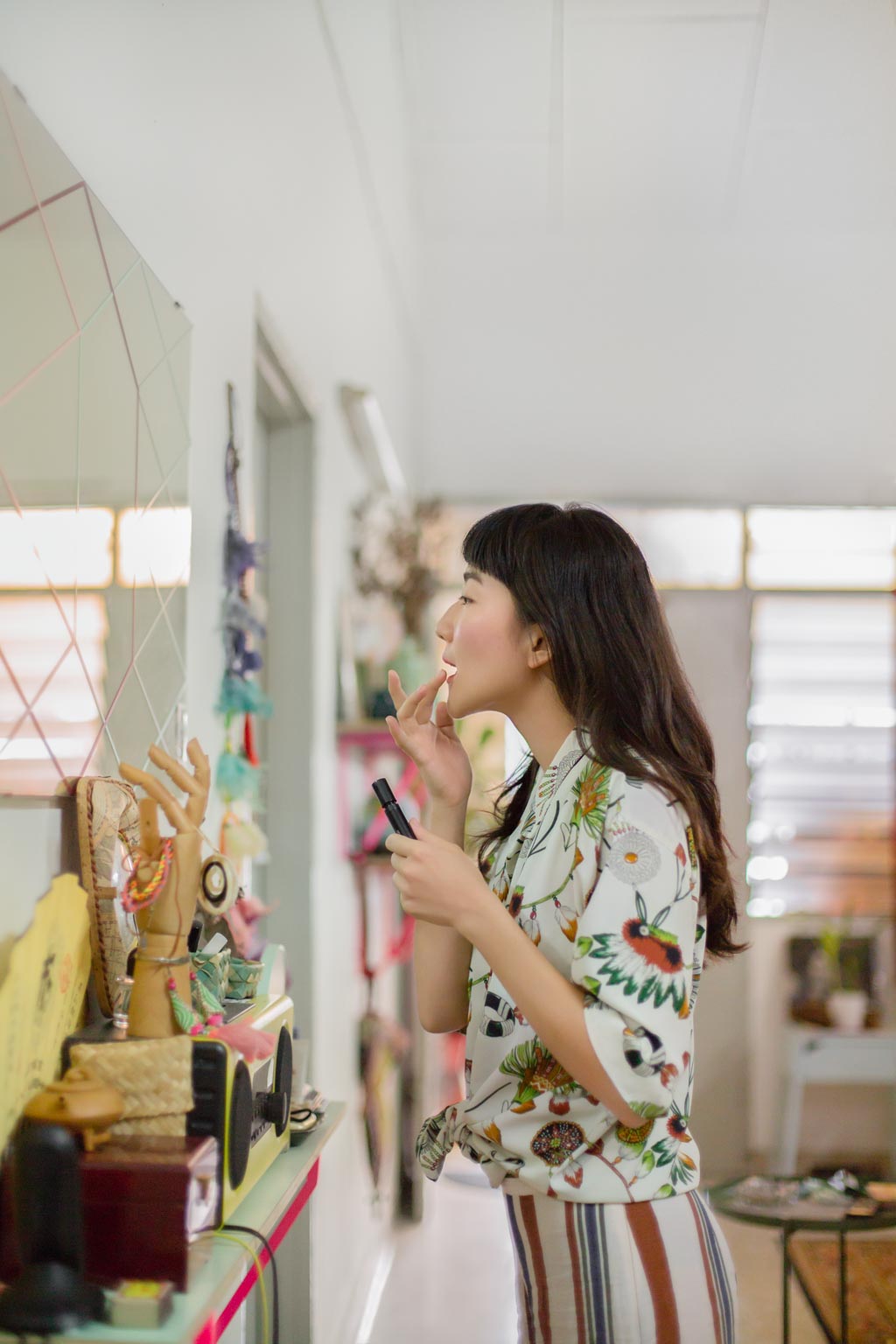 How do you make sure you're protected in the gig/freelance economy?
A lot of the time, you work with new people and new companies, and you need to understand that they each have their own policies. I'd say it's based on mutual trust, and it's good to meet your client face to face, ensure that you have the same understanding, and build that trust in order to move forward. When I have doubts or questions, I always call up my friends who have a lot more industry experience in terms of quotations, working with clients, or pricing their work. I'm quite an easygoing person, but when it comes to work you need a third- party's perspective.
What are you saving up for or working towards?
I'm constantly interested in learning new things, so farming is something I've been actively pursuing in the last year or two. If I could save up enough, I'd want to own a piece of land in order to build a self-sustainable community home and farm. I'm working towards that sharing community lifestyle. It might be 20 years from now, but it will happen one day.
You're currently working out of your studio in Johor Bahru. If you could work anywhere you wanted, where would you go?
When I was doing my research about starting my own farm, I discovered that Thailand is full of environmental initiatives, such as sustainable farms and communities. There's Myanmar too—basically, places that have lots of potential for future development as opposed to Singapore, where everything is already so developed and there isn't much room to do more. It's in going to a place that hasn't developed much that you can shape its growth. What's important is being practical and staying within your means, and for me being practical means moving somewhere only if I'm sure I can afford it. For now, that's limited to Southeast Asia, but if some day the opportunity comes along for me to move somewhere further away, like New Zealand, I might do just that.
Currently, you're also teaching art-related electives part-time in secondary schools, and you're a part- time Playmaker at Playeum. We see you moving towards education—why is this so?
It started when I learned more about the truth behind fashion. I felt that the only way to progress was to start from the beginning, and educate the next generation. People have told me that they were inspired by my story, and I realised that if I wanted to inspire anyone, it should be children, because it has to start from a young age. I also wanted to challenge myself by venturing into another field to learn different things, and learn how to effectively contribute to a community. When I teach part-time, it allows me to have a closer connection with real students who aspire to be designers and artists.
What's one thing you think you should be doing more of, or that you wish you had more time to be
Taking care of my own health, which is why I've been practicing yoga and cooking for myself. And if we're talking about style in general, I think health is a big part of that as well. If you have a healthy body, mind, and attitude, you will never go out of style or look bad. If you're stressed out or worrying too much, you won't look good even in an expensive outfit. I think that beauty truly comes from inside—if you take care of the inside, it will show on the outside.
Knowledge is money
What to read next