FRANK by OCBC x Linda Hao — Material Matters
All-round multi-hyphenate Linda Hao is no stranger to most, and perhaps equally well-known is her penchant for vintage clothing and personalising her pieces with embroidery, embellishments, and other DIY crafts—just some of the ways she keeps her wardrobe fresh without contributing to the cycle of fast fashion. Besides approaching Linda to design a limited-edition FRANK card and conduct a DIY workshop (more details at the end of this post!), we also photographed, filmed, and interviewed her to find out what she's been up to of late.
Linda's place in Johor Bahru is a cosy two-storey bungalow in a quiet neighbourhood not too far from the causeway. The bright pops of colour inside the house are a reflection of her myriad of passions: from her furniture and assorted trinkets, to the vintage suitcase—a treasure chest of fabrics she's collected—in her sewing room, these are all pieces and things that find their way into or inspire her designs.As we watched her work,deftly stitching sequins onto an old t-shirt or teaching us how to make our very own tassels, Linda shared with us about how she got started in DIY, and the lessons she's learned from her years of practice.
Linda attributes her interest in fashion to her family, who provided her with her first exposure to craft and DIY—her mum ran a bridal boutique, and Linda remembers following her around the studio and factory, and always being surrounded by sequins and fabrics. While it laid the foundation for her label YESAH, Linda believes that her practice has been a source of personal growth as well: "Working on embroidery helps develop your patience, and the more you work on it, the longer you can devote to staying in one spot. It's part of my lifelong learning journey, and it's something that comes naturally to me."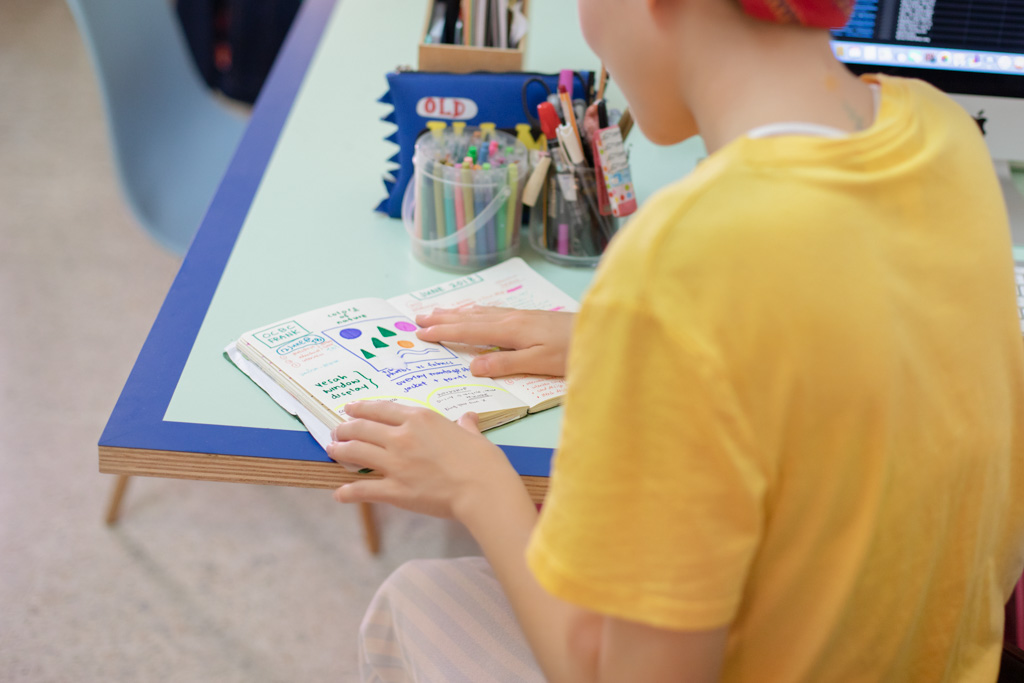 Besides having become a part of her lifestyle, DIY's spirit of individuality and exploration is something Linda embodies. "When I've made something for myself, I don't even want to wear other clothes—why would I want to wear something that's mass-produced and that so many other people would be wearing?"
This belief in creating value and deriving joy from your own creation is something she would like more people to experience, starting with her workshop—she hopes that participants will bring along their old items of clothing and revive them with the techniques she will share.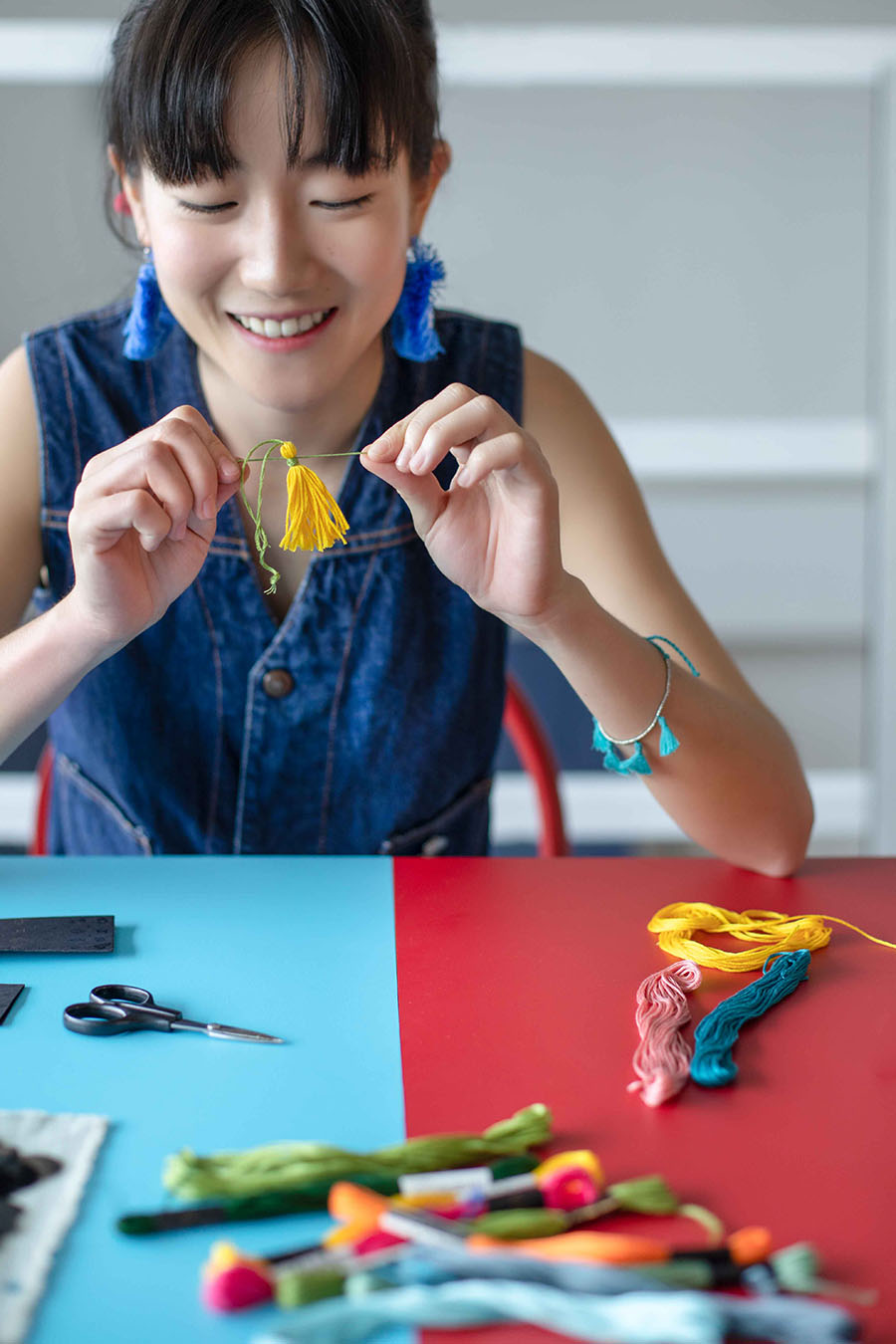 Linda Doing Things Her Way
What's the first thing you ever DIY-ed? What about your most memorable project?
Looking back, the first ever collection that I made was quite memorable. It was quite remarkable because I was only 18 or 19 and in polytechnic at the time. My mum still had her own factory then, so I decided to use her leftover materials to create my own collection of skirts and apparel. I was so young and knew nothing, but I decided to go ahead and just do it, though with a lot of help from my mum and her workers. I used to just follow her around the studio, but that was different because it was my first time working on something of my own, under her guidance.
Was it your mum who taught you how to sew?
Yes, and she learned it from my grandma. It was just a natural thing for me, because at home I was surrounded by all these people who were very hands-on. My mum grew up in a time where people would sew buttons onto clothes for others just to make some extra income, even if it was just 10¢ per button. That was their way of life; they became crafty not by choice, but as a means of earning a living. It was just what women in that era did: stitch and sew, and make their own blankets and cushion covers.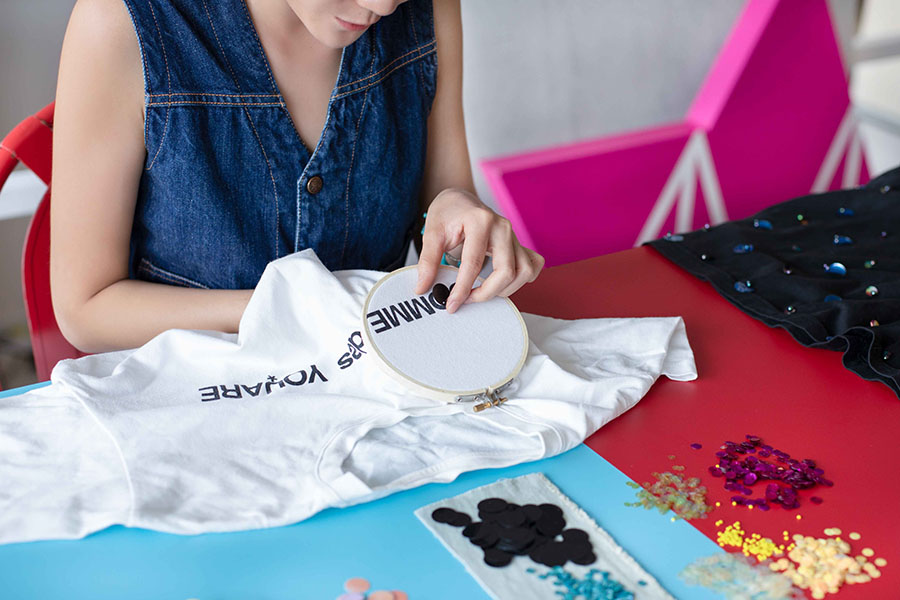 What are some common misconceptions people have about upcycling or DIY?
The most common would be that you need some kind of artistic background or skill to be good at it, but it's not true—if there's one thing you need, I'd say it's the patience to focus on a piece of work for a long time. As long as you have that, and the willingness to learn, you can do anything. You shouldn't stop yourself from trying just because you're not a 'creative' person, or you've never done any arty things before.
Most people limit themselves in this way because they think they don't have what it takes to be creative. But the truth is that everyone starts out that way, even myself. Skills have to be built up over time, and I got to where I am today by constantly trying. I think people would have a completely different take on arts and crafts if they were willing to just let themselves try it once.
What do you think is good about upcycling?
Globally, the fashion industry is the second largest contributor to pollution, and a large part of that is because of fast fashion and overproduction. Of course, because I used to be in fashion, I'd often receive clothes from sponsors, but I would also buy a lot of clothes myself. At one point I stepped back to look at all the stuff I had accumulated, and it made me realise that I really didn't need much of it. If we think about it, how much clothing do we need to own, having just one life and one body? So instead of constantly buying new stuff, upcycling provides you with a way of sustaining and renewing your own wardrobe in creative and fun ways.
Another part of it is how your garments can tell a story, or represent part of your life, identity and culture. Till this day, I have my grandmother's shirt that she wore at her wedding, and my mum's blazer from the '80's. These are things I'd keep with me, because it tells a story of who I am and where I'm from. As an approach, upcycling is a really good tool because it allows you to learn the importance of how a piece of fabric is constructed.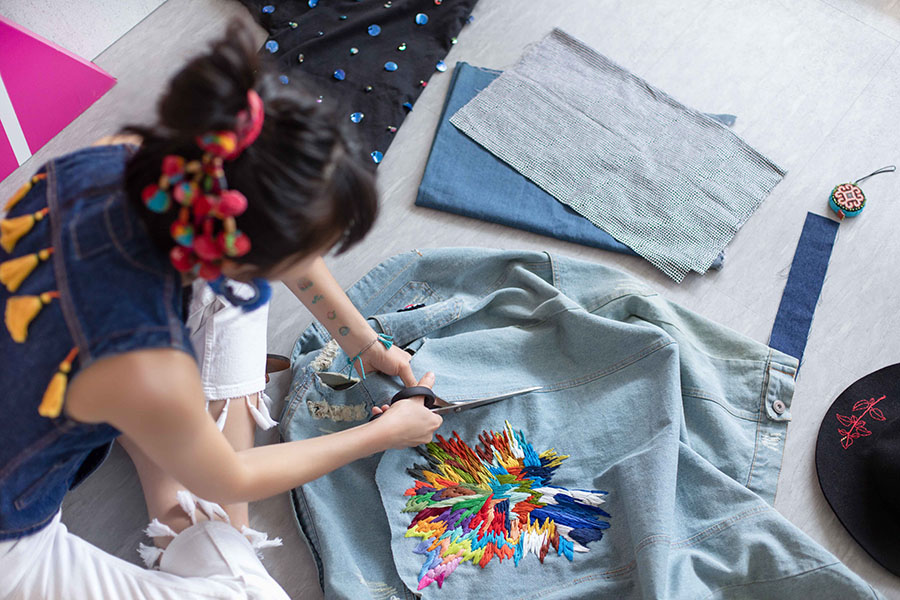 What are some tips you have when it comes to DIY?
Working with what you have is something everyone can start with. You should start by working with the materials you already have on hand, instead of spending money on buying new materials. Also, there's a lot of trial and error involved in DIY, so it's absolutely normal if something doesn't turn out like you intended on your first try. For beginners, I'd say to practice as much as you can, and keep at it until you can perfect your skills. The willingness to try and fail is very important.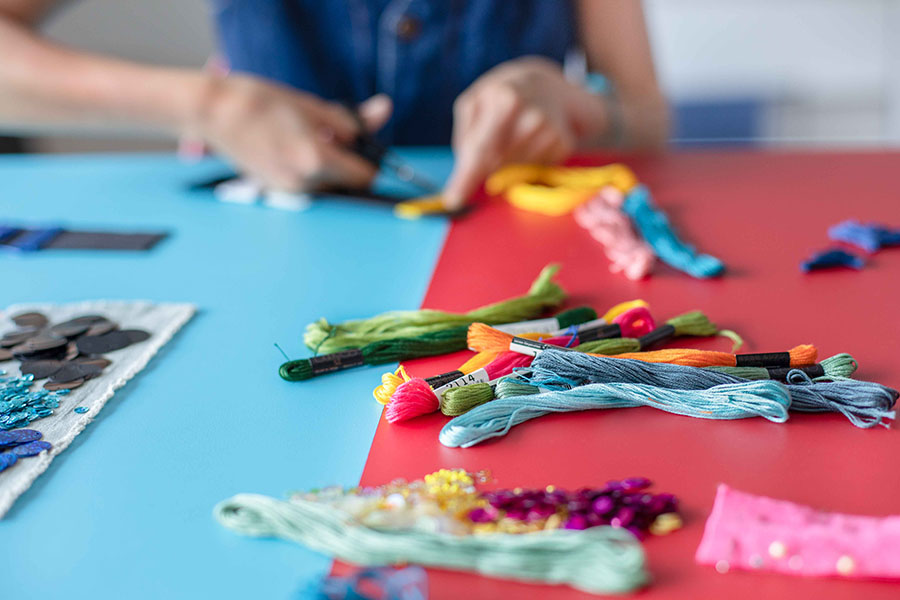 Here's Linda's final card design for FRANK, titled 'Threading Dreams'. Available here for both the FRANK Debit and Credit Card.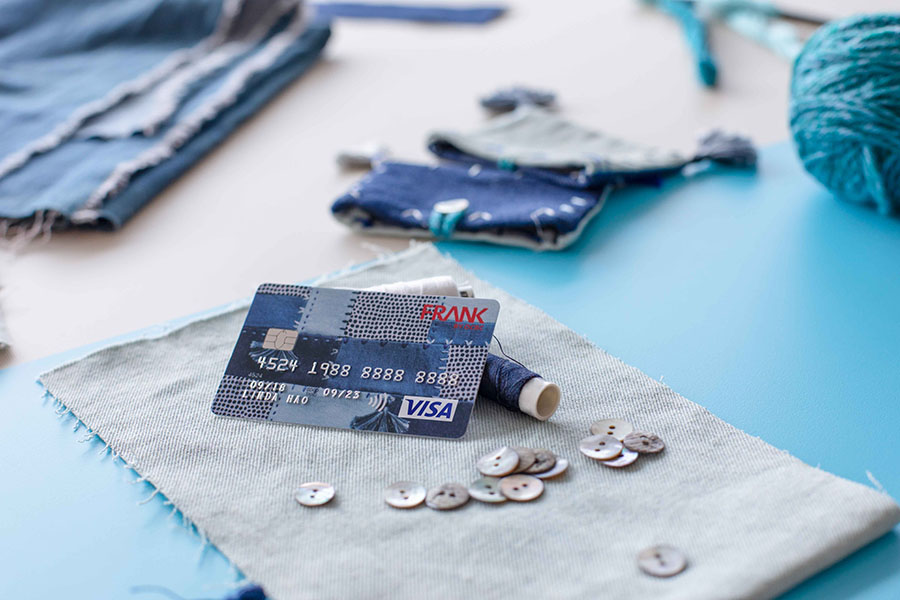 Linda will be leading a DIY and craft workshop at Lyf at the Singapore Management University on Saturday, 22nd September, for 20 lucky participants. Bring your old clothes, and Linda will teach you how to give them a whole new lease of life. More details here.
Read our full interview and watch our video with Linda here.
Knowledge is money
What to read next