We Asked 4 Millennials How Much Insurance They Have And What They Actually Know About Their Plans
Most of us spent our teenage years wishing for adult life. We grew up wanting the freedom, the monthly kaching, and to not have to cram for exams. But when adult life finally hits us in our faces along with the many adult responsibilities, we wonder why we were so stupid to wish for time to have passed faster.
Of the many responsibilities, one of the biggest headaches is insurance. Let's face it, most of us hate dealing with insurance even though it's supposed to be good for us.
I'm not sure about you, but when it was finally (or dreadfully) time to buy a policy to insure myself, I wondered how other people did it. I had no idea what I needed, what was good for me, and whether I'd be ripped off with a crappy plan.
I'm pretty sure many other millennials feel the same way about insurance. And who has the time to read through the entire policy and T&Cs anyway? How much do you really know about your policies then?
I spoke to four millennials to see how much they know about their own insurance.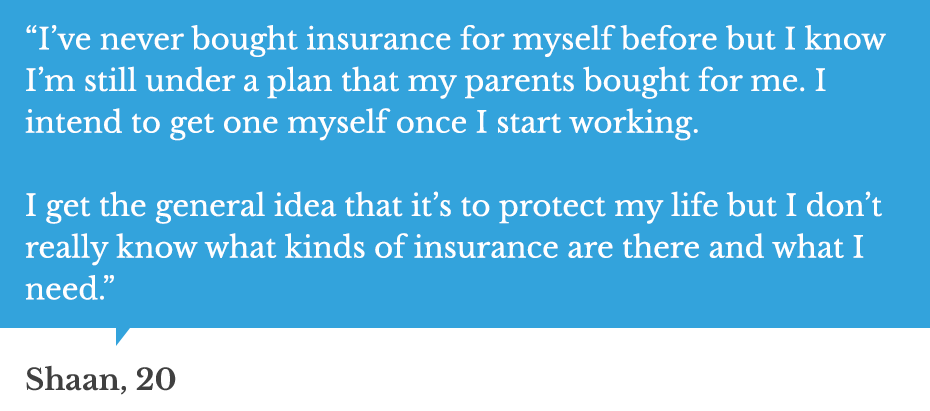 Pro-tip on what to look out for as beginners:
There are several things to know before buying a plan: the policy term, sum assured, and hospital preferences.
You can also 'customise' your policy by adding riders – which are additional options to cover you in more areas on top of the 'default' plans offered.
If you're concerned about your finances, there are also different ways you can pay your policy premiums. Opt to pay your premiums at one go (lump sum payment), or break them up into annual or monthly instalments if you need to 'spread out the damage'.
Above all, don't be afraid to ask insurance agents questions. It's more important for you to know what you're buying than be worried about them getting annoyed.
Still not sure what you need exactly? Set up an appointment with FRANK by OCBC here!

Pro-tip on knowing the different types of insurance coverage:
In case anything happens to you, you'd want to find out how much you are covered for under policies your parents bought, and to review the sum based on life stages.
Also, did you know that it takes more than one layer of insurance for you to be fully protected?
The four main layers of protection are Hospitalisation, Life Insurance, Critical Illness, and Endowment.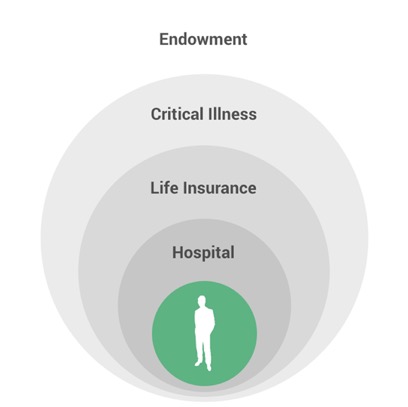 The closer the layer is to you, the more important it is. It doesn't mean that you have to buy every type of insurance either. You just need to know what each type of insurance does for you, and get what you need.
In Marc's case, he should check on how much hospitalisation coverage he has in his existing policy for a start, as it's the most important layer of protection. The other basic coverage to look out for is Personal Accident, which will cover Marc's hospital bills if he happens to meet with an accident.
For more details on each layer, head over to FRANK by OCBC's website here. They've broken it down to very simple terms for the beginners!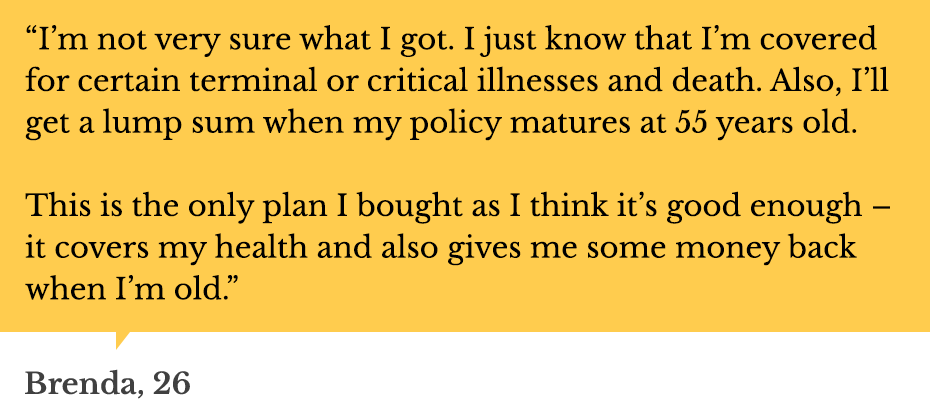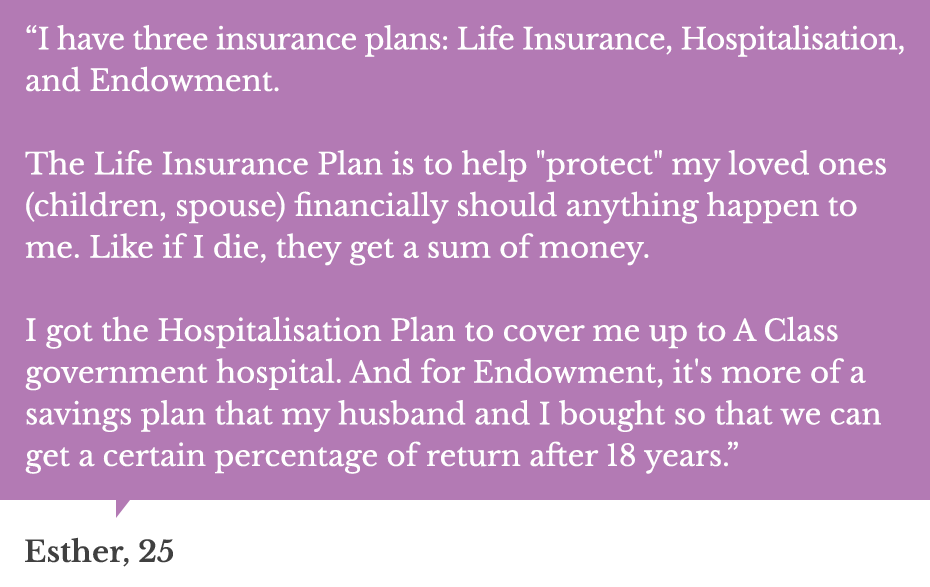 Pro-tip on Endowment VS Savings VS Life Insurance Plans:
What Brenda described is an Endowment Insurance Plan, which helps to grow your wealth while providing you basic insurance coverage.
The returns you get may not be as high as stocks and shares, but Endowment Insurance Plans are less risky and give you better returns than a deposit account with a bank.
There's a difference between a Savings Plan and an Endowment Insurance Plan too. Where Endowment Plans give you coverage on certain things like critical illnesses or death, Savings Plan don't.
Then there are Life Insurance plans, which are designed to not just help you, but also your family.
Should you happen to pass away, get diagnosed with a terminal illness, or have a total permanent disability, a Life Insurance Plan will grant you (or your beneficiary) a sum of money that will help greatly in that time of need.
You can find more information here.
Pro-tip on Life Insurance VS Hospitalisation VS Endowment Plans:
You can never be too sure when it comes to health, so it's important to be fully aware of what kind of coverage you get under different insurance plans.
Hospital bills can add up to a hefty amount and a Hospitalisation Plan helps cover the expenses for treatments and staying in hospital wards. Note that there are limitations though.
Treatments for certain critical illnesses may not be covered under the Hospitalisation Plans, which is where Critical Illness Plans come in. A Critical Illness Plan will cover the expensive treatments for illnesses like stroke and cancer.
Learn more about the differences in Hospitalisation, Life Insurance, and Critical Illness plans here.
As a millennial, I fully understand the pain of paying a few hundred dollars a month on something that doesn't give you immediate gratification.
But from another perspective, you're actually diligently saving this amount in a bank every month – a bank that will actually help you in times of need in the future.
Learn more about the different types of insurance and how it covers you differently at FRANK by OCBC.
For more details, head over to FRANK by OCBC here.
Or set up an appointment with OCBC here.
This article first appeared on Millennials of SG, and was written in collaboration with FRANK by OCBC.
For more articles on all things great, click here!
Knowledge is money
What to read next