Forget MBA, Study Design – Design Lecture Series #01
In this series, Jin will show how design can help solve problems and drive innovation, even in what we would typically consider non-design-oriented domains such as banking
---
When I went to university, all I knew was this:
"I want to experience the world, and I want to create something."
As a high school graduate, I didn't know what it meant. What line of study will bring me there? With this vague thought in mind, I chose 'International study and foreign language' as a major in the thinking that this is the closest to what I wanted to do.
After a few months later in my first year of the university, I was having lunch with my mentor from my teenage time talking about my new life as a university student. From the conversation with him this line struck me.
---
"To lead the 21st century, you must study design."
With my very shallow knowledge about design, in the next semester I changed my major to 'design' sheerly following his advice. I soon realised the world of design was vast! I started immersing myself the broad range of design disciplines from graphic, products, interaction, typography, media and car design.
And that changed my life. That was 18 years ago!
I never knew until recently how tremendously design education shaped me, and how useful it is in the world of business. Through having gone through the broad spectrum of design education, I learned the common underlying principles; the way designers solve a problem!
Having been in the various industries such as consultancy, pharmaceuticals and financial services for my entire professional life, I see the value of design even in these non-design-oriented domains in solving problems and business innovation.
If you are studying or studied design in the university or poly, that's great! You will see how to use design better as your career advances. If you studied other topics, design can be learned as a problem solving tool that complements your skill sets.
With this blog series, I intent to demystify 'design' in the world of business, and share with you why 'design' can be your career development topic.
Stay tuned!
POSTED:
December 15, 2014
WRITTEN BY: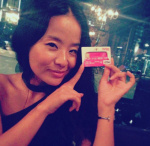 About Jin Zwicky
Jin is Vice President in Group Customer Experience at OCBC Bank. She designs the banking experience by day, studies fashion / style by night. She carries her pink FRANK credit card behind her phone wherever she goes.