6 Painless Ways to Network Better
It's more than a business buzzword. Networking is about genuinely maintaining relationships with people you already know, says Segment Manager Kenny Loh.
---
We can all agree that networking is important in the journey to further our careers. But up until recently, whenever I was pushed to network by friends or family, I wasn't keen.
Why? Well back then, I used to think it meant that someone would just try to sell me something I didn't need. Or that networking was all about deadly keynote speeches on painfully familiar topics. But then I realised that my understanding of networking and creating connections with people was, despite my youth, pretty old school.
When you cut to the chase, networking is at heart simply about tapping into existing relationships, helping them out, and making an effort to stay in touch. And if you're socially awkward like me, this is good news — because it means you can tailor it to your own style. In my case, this means adopting a fuss-free, natural approach. Here's how I started out.
---
"Revisit social networks"
These days, keeping in touch is so easy that we sometimes forget how to do it well. After all, why pay for overpriced networking seminars when a free pass to staying connected is right there via your social networking accounts? I mean, who knew they might be useful for something beyond killer memes and cat photos?
But used wisely and with respect, apps like LinkedIn, Facebook and Twitter can be used to better understand what your friends and acquaintances actually do for work — and how they got there in the first place. Study your friends' LinkedIn profile and their listed certificates. Then think about how they may be connected to other people you know. Working out how a colleague is related to your secondary school friend might eventually lead to surprising opportunities — or chances to work on something interesting together.
---
"Help others hook up"
Chances are, you probably practise this among your friends: but helping others to make job connections is not only helpful - it's good business. A plausible scenario could be: "Oh, you're after a junior accountant? Let me hook you up with my friend: she is scoping out new jobs." In a similar way in which your aunt recommended you to tutor her friend's son, helping link people up shows intuition, and sets you up for others to look out for you, too.
---
"Do lunch"
It may sound like a dating strategy, but at times, all it takes to stay in touch with your ex-colleagues and old schoolmates is to ask them for a weekday lunch. People tend to be more up for talking about work over lunch, and the chat will place you in their "work orbit". You know what they say: food brings people together.
---
"Learn the story behind the face"
Life lessons don't only come from TED Talks. They're grabbed from the little stories people share with you over a beer or coffee when you ask good questions. Over Friday drinks, ask your friend's new acquaintance how they got into their field of work: later, if something's interesting, note it down. Through understanding people's journeys, you can help figure out your own next steps.
---
"Acquire a new skill"
Our closest buddies are often the ones with whom we shared memories of learning something in school or NS. Singapore citizens should make use of the $500 SkillsFuture Credit to widen their social circles. New friendships made over a street photography course could put you on course to a fresh start.
---
"Keep being you"
While I'm no extrovert, I do appreciate friends who have big, bold personalities. But it's funny, people seem to welcome my unique chatting quirks: and that I don't try to be anyone else. Networking isn't about making a big con: just relax, and stay in your lane. And for all you know, your next boss might also be into running at MacRitchie, a fellow DC Comics nerd or an a capella singer like you. Either way, once you get a feel for it, you'll be surprised at the insights you were missing, before you even started looking for them.
---
WRITTEN BY: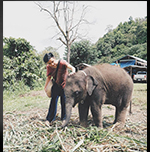 About Kenny Loh
Kenny is a Segment Manager on the FRANK team at OCBC. Outside of work, he loves the outdoors and is on a mission to travel the world and capture it through his lens.