BANKING ON THE BEAT
Becoming a full-time musician in Singapore is never easy, especially given the unpredictable demand for performing arts. But, with hard work, dedication and, most of all, proper financial planning, success will come knocking eventually.
HIGHLIGHTS
THE HIGHS, THE LOWS, AND ALL THE RIGHT NOTES.
We all love stories where sheer hard work and doggedness pay off, and Charlie Lim's is no exception — from investing heavily to launch his album and being a one-man show, to having his very own concert.
We talked to him to find out more about his journey and even got a couple of helpful tips for those who're looking to pursue music.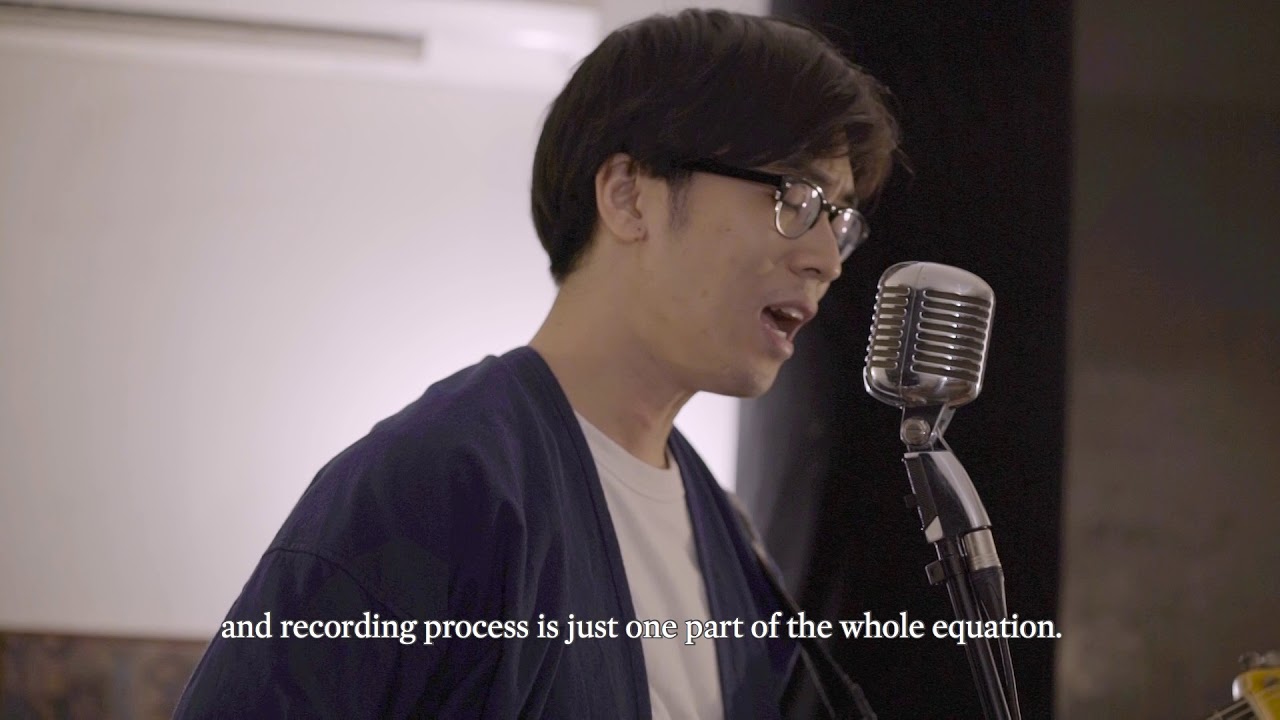 INTERVIEWS
CHARLIE LIM
As far as first impressions go, Charlie Lim is just like his music — introspective, understated, and thoughtful. He carries the calm confidence of someone who believes in letting his work speak for itself.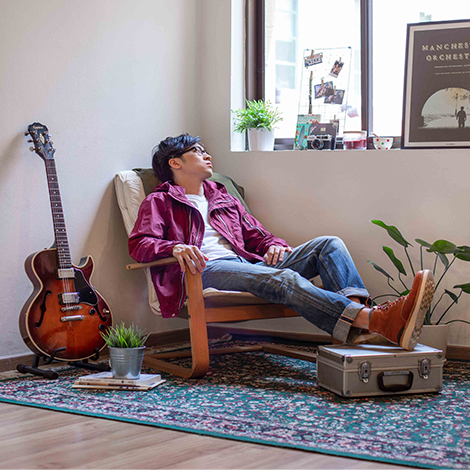 PHOTO SERIES
A PENNY A DAY, KEEPS THE WORRY AWAY.
"I used to have to empty my bank account each time I headed into the studio, and that was quite a trying time... Having savings as a buffer helps to take away a lot of that anxiety, so I can focus better on the projects at hand."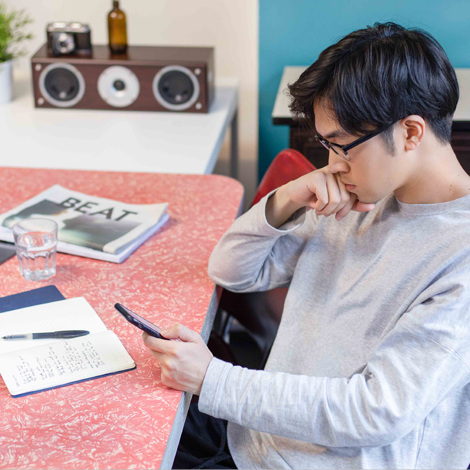 PHOTO SERIES
ALWAYS HAVE A PLAN B TO PLAN Z
"[My parents] advised me to have a backup plan in case music wasn't something I ended up doing for the long run. I jumped headfirst into it only after getting my Bachelor's degree in Music. That way I could still make a living teaching music."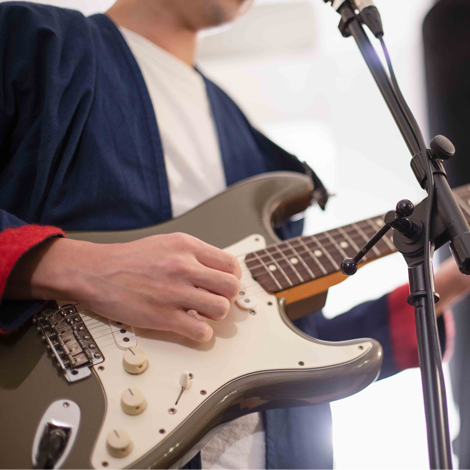 PHOTO SERIES
BETTER SAVE THAN SORRY
" I put all my life savings into making my first record and my music videos, and I would view each gig with a do-or-die attitude. I still have that mindset, but... I'm better at planning ahead [now]"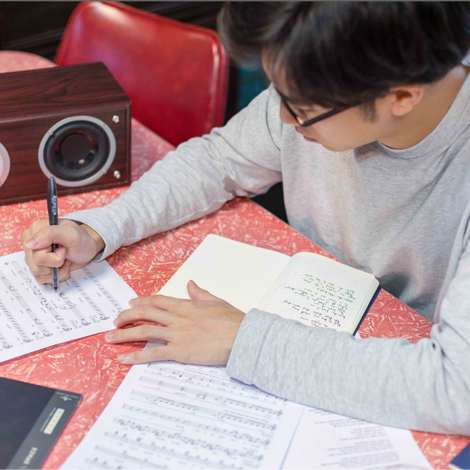 PHOTO SERIES
GOOD HEALTH PAYS IN THE LONG RUN
"… start looking more into insurance and health... Many musicians tend take our health for granted; an injury can put us out of work for a long time, and that's especially hard when most of us work on a freelance basis.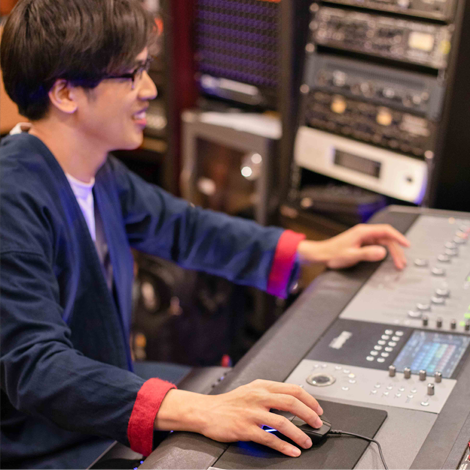 PHOTO SERIES
SET A GOAL. THEN STRIKE GOLD.
"If you're starting out, it's important to have a clear understanding of what you're trying to achieve, whatever your idea of success might be. You might have a distant goal, but you can set short-term goals for yourself as well."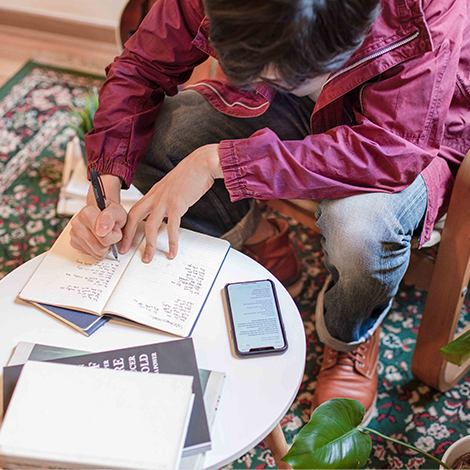 CARD DESIGNS
IN TUNE WITH YOUR STYLE
Ditch boring, faceless credit cards. Switch to one that's really you. With a choice of 120 (yes, 120!) chic designs, FRANK is the perfect way to express yourself. And your passions.
Love music? Get your groove on with the specially created Music series of card designs.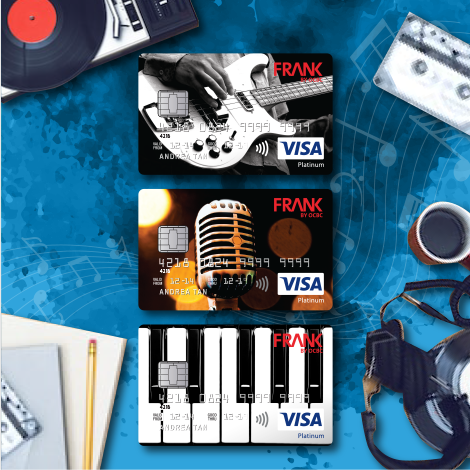 CONCERT
THE MAN. THE MUSIC.
'Charlie Lim – Live in Concert' is happening on 7 December 2018, at The Star Theatre. FRANK by OCBC is the official banking partner for the event. Hurry over to SISTIC, pick the best seats and pay with your OCBC FRANK Visa Credit/Debit card to enjoy. Terms and conditions apply.