GET POTENTIALLY HIGHER RETURNS WITH CAPITAL GUARANTEE UPON MATURITY
Safe just got interesting with GREATAssure Endownment Insurance
GreatAssure Endownment Insurance doesn't just guarantee 100% of your capital back upon maturity. It even earns you up to 3.01%p.a. This is not a fixed or savings deposit, but a non-participating endownment insurance plan.
Key Benefits
1

Potential upside to grow your wealth

Earn potentially higher returns of up to 3.01% p.a. upon maturity

2

100% capital guaranteed upon maturity

Be assured that your capital is 100% guaranteed when the policy matures, regardless of market conditions

3

Guaranteed acceptance

Hassle-free application without medical underwriting.

4

Short premium payment term

Pay yearly premiums only for the first 5 years of the 10-year policy term. The Guaranteed Survival Benefit will pay off 100% of the annual premium for the remaining 5 years if the insured person survives. What's more, get a 2.5% premium discount if you make a lump sum upfront payment.

5

Insurance Coverage

Receive coverage for death, terminal illness (TI), and total and permanent disability (TPD) throughout the policy term.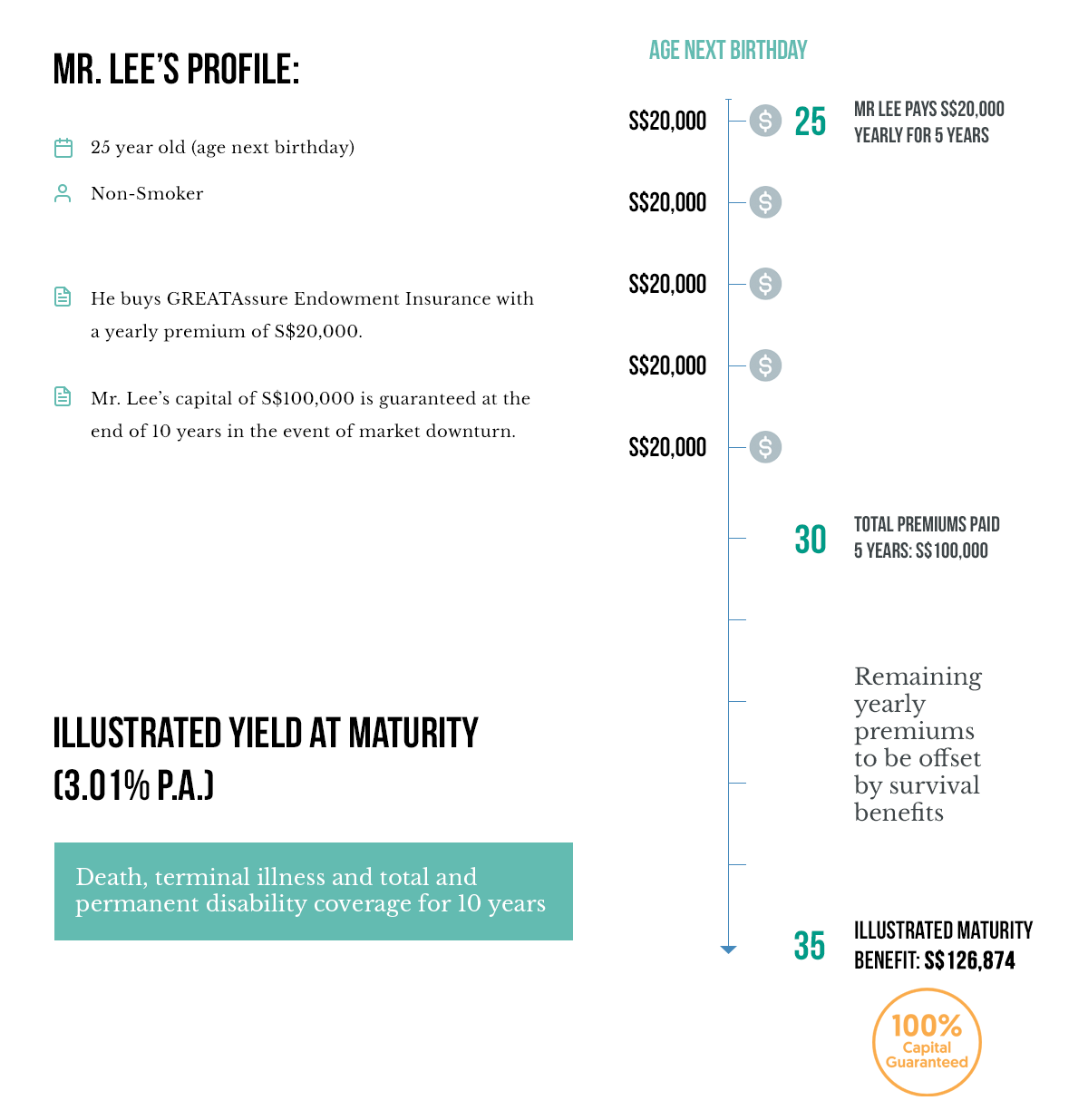 Capital is guaranteed upon maturity, provided no withdrawals are made. The figures used are for illustrative purposes only and are rounded to the nearest dollar. Please refer to the policy illustration for the exact values. The maturity benefit is based on an illustrated crediting rate of 4.75% p.a. Based on an illustrated crediting rate of 3.25% p.a., the maturity benefit will be S$113,160 and the illustrated yield at maturity will be 1.55% p.a. The actual benefits payable are dependent on the actual crediting rates and charges, as well as the amounts of any miscellaneous debts and partial withdrawals made. The crediting rate is non-guaranteed and is dependent on the future performance of the non-participating fund.
Make An Appointment
Talk to a certified financial planner
Still clueless? This is where a financial planner can help. They can look at your cash-flow, risk, investments, desired retirement, etc, then advise the best course of action.
No matter how little you have, early financial planning is a must. Your financial planner can help you understand how much you will need for the future.
Chat with us
Once you submit your details, the OCBC Insurance Team will call you back to arrange for a suitable time and place to meet you.